As surveillance technology becomes more affordable and readily available, it's increasingly easy for the stalker-on-the-street to monitor your every movement with his own spy kit!
Says an article via ABC News,


An aspiring 007's dream, SpyAssociates.com markets everything from a "SpyHawk" real-time GPS tracking system and "StealthCam" alarm clock that hides a video camera, to a nearly $2,000 counter surveillance professional package...."Greed, lust and fear are the three high-growth industries and this covers all three," said owner Jeffrey Jurist, adding that his clients include law enforcement, individuals, private investigators and corporations. "Everybody's watching everybody. It's just a matter of whether you're aware of it."
While several people quoted in the article claim that taking such measures is merely to confirm what they already know, it's obviously a bridge too far, and invasive technology like this can help jealousy cross the line from suspicion to stalking. The article sites the example of one woman whose ex-husband had installed a GPS-enabled cell phone in her car that both revealed her location and recorded her conversation, as well as spyware that showed him her email and browsing history, as well as all her financial information and passwords. Her ex was jailed as a result, but this is just one example of an increasingly common scenario.
Obviously, if someone is really unhinged, they're going to stalk regardless. But if a person is not prone to stalking, can the ready availability of such technology really push him over the edge? Power corrupts, and these devices impart a lot of power. Regardless, it does seem like there should be regulation of the sales of these "spy devices," at least akin to the licensing required for gun possession. Good to see the "greed, lust and fear" industries haven't been affected by the recession, though!
G/O Media may get a commission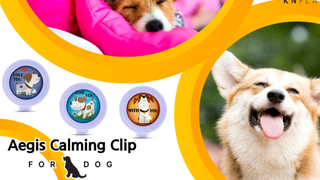 20% off
Aegis Calming Clip for Dogs
When Lovers' Quarrels Go Hi-Tech [ABC News]