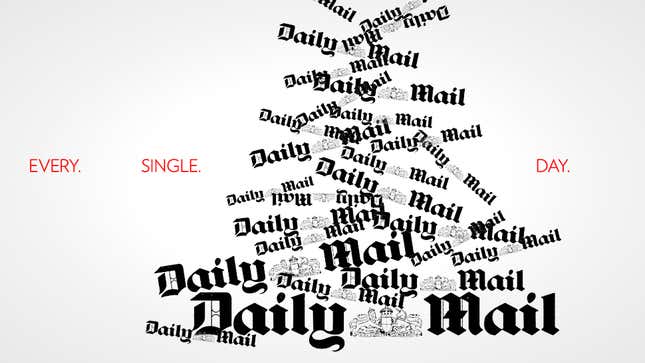 I need to make an announcement regarding my credibility as a potential future professional woman and as a human being capable of empathy. I read the Daily Mail. Every single day.
That feels good to say. I once admitted that I read the Daily Mail (or "DM" as us regular readers call it) to a lawyer friend of mine, and she scoffed so hard I thought she broke her jaw. "Why don't you just read The Independent?" she scoffy scoff scoffed. Why don't I read The Independent?! Who am I, some fancy prince? A wise little lord parading around in my tailcoat and cravat, filling my elegant mind with news of the day? No. No, ma'am. I AM A MONSTER.
I'm admitting this to you now because I know I'm not the only one who suffers from this particular affliction. I want you fellow DM beasts to know you're not alone. But guys, that website is awful and we should probably stop reading it. We have to stop reading it! I can't stop reading it. Why can't I stop reading it?
DM represents everything that a self-identified feminist and crusader for social justice ought to despise. DM snarks harder than anyone in the game. Everyone is either too fat or worryingly thin. The site makes sure to point out when someone is gay, lesbian, or transgender, almost delightedly so when that particular detail provides no relevant context to the story. Female celebrities don't just go to events, they flaunt their lady bodies all over the red carpet! In DM's universe, body parts are shoved in, spilled out, flashed, or displayed.
The "reporting" is lazy—often stories are copied from other sites or follow a predictable script. It's like a celebrity gossip MadLibs of doom: "[Lady Celebrity] looked [emotion] as she cavorted through [glamorous city/charming European hamlet] with [Male Celebrity]." Nowhere is this more evident than the "post-baby body" template, which reads thusly: "Just [measurement of time] after giving birth to her [son/daughter], [Lady Celebrity] has already bounced back to her pre-baby shape!" If the Lady Celebrity has failed to bounce back or if DM has determined her weight loss is implausible, then Lady Celebrity is either "embracing her new curves" or is wearing Spanx.
DM is truly a grotesque spectacle of humanity from which I cannot turn. Alongside the run-of-the-mill celebrity tabloid stuff, DM runs the "outrageous" news stories that reputable outlets tend to ignore. This includes in-depth stories about lady chainsaw murderers, satanic sex cults, animals experiencing emotions, and racist Dunkin' Donuts customers. Suck on that, CNN!
Why the hell am I visiting this garbage site? It's all terrible! Not worthy of my eyeballs, any of it! Well, for one thing, the (creepily anonymous) staff writes some of the most hilariously fictional copy I've ever read. They really take you on a journey. First they find and publish a photo where a celebrity's face happens to be doing something weird. They then construct an entire narrative based on that face. For example, Lady Gaga is clearly "downcast" after being spotted under an umbrella in New York. Cara Delevingne is "absolutely shattered" while waiting for her luggage at baggage claim. Kanye West is "grumpy" because he's "pining" for Kim Kardashian. And this incredible photo set of Katherine Heigl "looking a bit confused, possibly having an inquisitive conversation"…well, if you saw a thumbnail of that and didn't click on it, you're a better man than I.
Perhaps it's the pleasure of looking itself that's so satisfying about a site like DM. I won't lie—there's something really marvelous about turning off the "intelligence" part of my brain and turning on the part that wants to participate in some light-hearted narcissistic scopophilia. I also feel a sense of perverse bliss in reading an outrageously sexist headline because sometimes it's good to remember that EVERYTHING IS AWFUL. Or maybe I love DM so much because one time they ran a picture of Ryan Reynolds sitting in a dunk tank with a caption that described him as "chilling in the hot tub."
I know I should be ashamed of my Daily Mail addiction, because that whole site is a shrine to everything that our dumb culture needs to deconstruct. But I'm not ashamed! Every decent freedom fighter worth their salt needs a break every now and again. Maybe I read DM for one hour a day (umm), but I spend the rest of my time calling out racists, sexists, and body-shamers in real life. (That's how I got invited to all the cool law school parties.) I mean, I bet Gloria Steinem reads Daily Mail! She wants to see Miley's twerking video just as badly as the rest of us! Okay, probably not. But you know what? I still have to live in this society, even though I'm trying to dismantle the unsavory parts. And sometimes society wants me to look at Taylor Armstrong's butt.
Meagan Hatcher-Mays is a recent graduate of Washington University Law School in Saint Louis. She does a significant amount of yelling on Twitter.
Image by Jim Cooke.