It's Thanksgiving evening, roughly 7:30 p.m. "Are you sure you don't want to bail?" my mother-in-law asks, with barely concealed concern, as we approach the exit for the Secaucus, New Jersey Walmart. I promise I'll text updates and swear that if something goes hideously awry and I'm marooned in a sea of big-box parking lots, I'll check into the nearby Courtyard Marriott. And I made sure to pick a Walmart without a history of tramplings, pepper spray incidents or disorderly conduct arrests.
Nevertheless, I remove my dangling earrings before bouncing out of the car. Just in case.
Black Friday has a reputation as America's annual low point. Depending on your perspective, it's either a testament to our materialistic excesses or a vivid example of the stark gap between rich and poor. Regardless, it's widely considered a shit-show, a spectacle—a bunch of damned adults duking it out for discount TVs. An actual headline from last year: "Calm Black Friday: Only 1 Death, 15 Injuries Attributed to Big Shopping Day." Any incident anywhere in the country instantly becomes a national news story and an opportunity to opine on The Way We Live Now. Plus, it's creeping steadily into Thanksgiving itself, with stores opening at 6 p.m., dragging poorly paid retail workers away from their families.
So I volunteered to cover the Thanksgiving-evening kick off to this annual retail orgy by finding a local Walmart and spending as long as I could inside. To tell the truth, I didn't mean to volunteer; I tossed the idea into the Jezebel group chat, thinking somebody else might be keen on a caper. I'd already promised to spend my weekend reading ten Nicholas Sparks novels, in an attempt to understand the source of his appeal/force myself into an emotional meltdown. (Look for part two of our special ongoing series, Kelly Ruins Her Own Thanksgiving, later this week.) It was immediately assigned to yours truly.
True confession: late-night Thanksgiving Walmart shopping is something of a tradition for the women in my family. Years ago my mom, aunts and grandmother would ditch the kids and make a trip to the store in Hazlehurst, Georgia. Even Black Friday can sound more appealing than a horde of sugared-up kids under 10. Plus my husband had to work Friday and I didn't, leaving me planless. So I said fuck it. Why not?
G/O Media may get a commission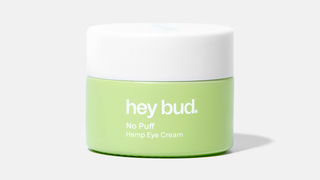 15% off
Hey Bud - No Puff Hemp Eye Cream
And so there I stood, in the parking lot of a Walmart, committed to spending the next 12 hours at one all-night Black Friday sale or another. I wouldn't stop. I wouldn't sleep. I'd just shop 'til I dropped sometime the next morning.
It took an hour and fifteen minutes just to get inside. (While waiting, I read A Walk to Remember.) It's clear that after years of breathless stories about bad Black Friday behavior—especially that 2008 trampling death—Bentonville preps as though for a cat-five hurricane and not a bunch of deal-seekers. Only so many shoppers were allowed inside at once, and everybody had to wait patiently in an endless line that looped back and forth inside crowd-control barriers, like we wanted to ride the world's shittiest Ferris Wheel. I was stuck between a dude hopping up and down to keep warm and another dude who wasn't great with personal space.
But despite the cold and the crowd, spirits were high. As we grew closer to the doors, especially enthusiastic shoppers began to whoop and woo every time another batch was admitted inside. Although I did hear a skeptical woman ask, "How many TVs they got?" as a crew left the store pushing an overloaded cart. (Six, for the record.)
Inside, it took a good half hour for my fingers to thaw, and I spent it careening around a Walmart that'd been turned into a labyrinth for crowd-control purposes. Parts of the personal care section had been roped off so nobody could cut the check-out lines, which were accessible only through women's apparel. Generally, traffic flowed like a lazy river, in clockwise fashion around the center of the store, skirting electronics in the back. In the middle of the aisles were bins of fleece pajamas and DVDs. Staples like baby clothes were blocked off by towering stacks of deals, deals, deals. Entire swaths of the store were deserted—nobody was wasting time in the grocery section. There were Walmart employees stationed everywhere, waiting to stomp out any problems. When I drifted too close to the line for iPads, a pair of associates swooped in to make sure I was where I wanted to be.
The vibe: intense. Everybody in that store had a plan. Everywhere you looked there were shoppers inspecting circulars outlining the deals. Several carts were full of toys, and I spotted at least one woman pouring over a Christmas list. But the electronics were the real attraction. Every thirty minutes or so, a line would materialize for yet another sale. I saw shopping carts piled high with multiple flat-screen televisions. The display TVs blared a commercial featuring Melissa Joan Hart, urging us all to return at 6 a.m. for another round of sales at 30 percent off.
Despite all the stories about wild brawls, this particular Walmart was completely drama-free. It was like attending a NASCAR race without any wrecks. Sure, there were sheriff's deputies stationed prominently in the electronics section and the check-out lines, and I heard at least one employee murmur into his radio, "Are any of the guards with you? We've got a situation." But whatever the situation was, it was diffused before I found it.
Around midnight, after taking refuge in the frozen food aisle, basking in the soothing hum of the coolers and staring blankly at some unappealing frozen Mexican food, I reached a crisis point. Clearly, I wasn't going to catch any Jingle All the Way antics. And there's only so many people you can watch purchase discount flat-screens before your situation begins to pall. Most of the good stuff was gone, anyway—the aisles were still packed, but by this point associates were selling vouchers for TVs you could pick up later. It was tempting to haunt the frozen food section for a few more hours, but this just didn't feel like a Walmart that'd get weird at 4 a.m. (Having spent plenty of time in rural corners of the American Southeast, I can reliably spot a weird Walmart.)
Tl;dr: I was bored out of my fucking mind.
So I decided to try Target. There was a store right down the road, open straight through Saturday. And obviously their housewares and clothing are vastly more appealing anyway, right? Plus: the McDonald's in the Walmart was closed, and I needed warm caffeine. Deal-breaker.
But first, I took my purchases to a cashier: some miniature Christmas ornaments, hand lotion, two small baby gifts, a package of electric toothbrush heads, some disgusting but delicious frosted soft sugar cookies, a backup battery pack (best money I ever spent) and two books (another Nicholas Sparks novel and a real romance novel, for when the Sparks got to me). None of it was on sale. Somehow, this came to $90. I think I understand how Black Friday works, now. I Black Friday'd myself.
I decamped to Target around 12:30, and found it looking like a tragic birthday party for a particularly unpopular kindergartener. There were employees everywhere and a big "LINE STARTS HERE" Black Friday display with balloons, but barely any shoppers compared to Walmart. I grabbed some yoga pants (their plus-size selection has not improved, by the way) and hid in a flimsy dressing room, eating those disgusting Walmart cookies and plotting my next move while listening to Target employees talk about how soon they can go home. I tried another another Nicholas Sparks novel (The Wedding, the sequel to The Notebook) and felt ill. (Which might've been the cookies.) Target, clearly, was a massive bust.
So I hopped on my cellphone and double-checked that the Macy's at Herald Square stayed open all night. Confirmed; I just had to make a 2:24 bus to the Port Authority Bus Terminal in Manhattan, the stop less than a mile away. But I had to book it—if I missed my ride, there wasn't another until 4:24. So I hit up the in-store Starbucks (yup, they made the baristas work, too) and embarked.
At which point, I realized that mile-long walk included several blocks of steep, steep hill. Fuck Google Maps, and fuck New Jersey. I made it to the bus stop with minutes to spare, covered in sweat and wheezing like Piggy from Lord of the Flies. This is pretty much the dress code for the Port Authority at 3 a.m., so I was fine.
By the time I roll into Macy's, everyone looks tired. The employees look tired. I look tired. The international tourists whose internal clocks were suited to being awake at 3:30 a.m. look tired. I watch a woman toting bags on both arms look dejectedly at her Starbucks cup upon realizing it's empty. "I'm trying to keep my mind off my arthritic feet," a woman in the elevator explains after taking charge of a lost pair of tourists. There are Au Bon Pain napkins scattered sadly across the floor of the Women's section. My mental state is such that I consider purchasing not one but two $70 poncho-style sweaters.
We've reached a lull in the evening. I'm browsing coats, bleary-eyed, when I hear a couple of Macy's associates. One is genuinely curious what would bring a customer into the store at this hour. Is it all people who just got off work? Her coworker is firmly convinced it's the deals, which she swears are the best of the year. Are they, though? Isn't it cheapest to wait until January, when they slash the prices? WHY ARE WE HERE?
At this point, I take refuge in another flimsy dressing room for an hour.
I would like to note, for the record: Every employee I encountered Thursday night was unfailingly pleasant and helpful. They might've been pissing and moaning in the back room, and I heard a couple of Walmart employees discussing the coffee situation with the seriousness typically reserved for national security matters, but in front of customers, they were all complete pros. Which I found impressive because if I'd been required to work on Thanksgiving, my attitude would've stripped paint at 40 paces.
Around 5 a.m., I make another lap. Everyone is trudging. Several people are sound asleep in chairs in the shoe section. Others are stationed in corners guarding huge piles of bags, hunched over their phones. I pop over to Old Navy, which has roughly the same amount of foot traffic as your average Wednesday afternoon, which is disorienting because there are no windows and for all I know it IS a Wednesday afternoon. I wait in line for H&M, which opens at 6 a.m. A 20-something is handing out scratch-off coupons, promising at least one contains a $300 discount. Mine is just $25 off $40, and when I get inside I try on two sweaters. Both are hideous and stained.
I return to Macy's, curious whether the morning crowd has arrived. Everyone still looks worn-down. I spend far more than I should on a tube of Dior lipstick and stop by the ABP upstairs for a breakfast sandwich, which I barely touch because I'm still queasy from those vile Walmart cookies (which I've since chucked). There's at least one family with small kids already lining up to see Santa. Shift change has arrived.
As dawn breaks, I head for my final stop, which is Bloomingdale's. I arrive at Bloomingdale's to find that Will.i.am (yes, that Will.i.am) has commandeered a large chunk of the arcade floorspace and is demoing Pulse, his wristwatch DJ device. There are leggy models filtering through the crowd, offering closeups of the gadget. There are a bunch of people taking cellphone pictures. Will.i.am is wearing a leather jacket and a beanie and doing a little dance with his hands. Will.i.am encourages everyone to encourage their nieces and nephews to investigate STEM careers.
At least, I think I saw Will.i.am demoing his wristwatch DJ device on the first floor of Bloomingdale's on Black Friday. At this point both my camera and my GoPro were dead, and I was leaning against an escalator to stay on my feet. It may very well have been a hallucination.
Hallucination or not, nothing will top Will.i.am DJing at Bloomingdale's, so I stumble outside onto 3rd Avenue and hail a cab, exactly twelve hours after I hit the Walmart parking lot. I go home, crash for several hours, then wake up and order the only two things I really needed (bras) online, from the warmth and comfort of my couch. I may never return to a brick-and-mortar retailer.
Acquired: Two paperbacks, baby gifts, assorted Christmas decorations, new electric toothbrush heads, a back-up battery pack, one overpriced tube of lipstick and my cat's deep disapproval.
Cost: Approximately $130, a good night's sleep, one earring, twelve hours I could've been watching White Christmas. Also, my in-laws have realized just how bonkers I am. Suppose it was bound to happen sooner or later.
Illustration by Tara Jacoby. Video by Nick Stango. Image via Getty.