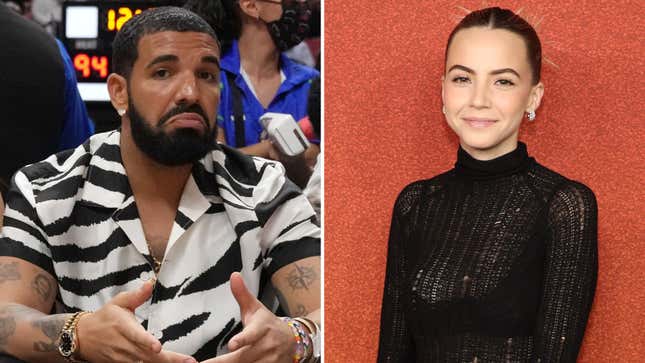 Bobbi Althoff is a 26-year-old TikToker and momfluencer whose podcast, The Really Good Podcast, has been going viral, largely thanks to the hilarious deadpan affect she adopts, and the number of interviews she's landed with notoriously media-shy celebs, including Lil Yachty, Tyga, and our co-star of this week's Internet Beef: Drake. Rihanna's ex appeared on Althoff's podcast in July—one of his first real interviews since 2019. Althoff only launched her podcast in June.
Despite her podcast's very brief existence, her interview with Drake immediately went viral and got over 10 million views. Clips from it have littered my TikTok for weeks, but I'm neutral on Drake so I usually swipe through. I did recognize Althoff's face—namely from her interview with Mark Cuban where she asks him for $20,000; he says he could but that would set a bad precedent; and she responds "But please?" However, I only today learned her name.
Before we get into what happened (or didn't happen??), here are some other facts that might interest you.
Althoff has two children, whom she refers to on social media as Concrete and Richard.
If Drake looks familiar to you, it's because the Canadian actor starred as Jimmy on Degrassi: The Next Generation for eight years.
Althoff has gone viral before, mostly for videos documenting her second pregnancy and her life as a mom.
Drake is Drake's middle name. His first name is Aubrey. He told Althoff he chose the one-syllable Drake because a shorter name would make him more successful. He's doing pretty well for himself so, sure.
Due to her seeming overnight success, people think Althoff is an industry plant. And, because her dad is a handyman who worked on Snoop Dogg's neighbor's house, a nepo baby.
After their interview was first published, Althoff told Cosmopolitan that Drake followed her after her interview with comedian Funny Marco went viral, and so she DMed him to ask if he would be a guest. He agreed, sent her his touring schedule, then she flew to Memphis to interview him in a bed backstage at the FedEx Forum. "The idea behind it was that I want to do [the interview] so bad that [I] bothered him while he was going to bed to do it," she told TODAY.

The interview is purposely deeply awkward and hilariously uncomfortable. She asks how much money he has ("a significant amount," he says); she tells him she's never heard him rap ("Are you gonna be one of those people who's like, 'I've never heard you before?'" he replies); she asks him to describe his type ("I appreciate beauty in many forms") to which she responds, "You are so desperate." It's all very cringe-y and a lot of fun.

At one point, Drake asks if she'd ever go to one of his shows; she asks, "Are you inviting me to one of your shows?" and he says "Yeah, I'd love it." Which brings us to today.

On Sunday, Althoff posted a TikTok of herself at...a Drake concert. She's standing still while her friends dance around her, fully inhabiting her deadpan character, and captioned the post, "Really in my element here @ this guy's concert." By Monday morning, people on the internet noticed that the two had unfollowed each other...and the interview had been scrubbed from Althoff's YouTube and Instagram.
And now we sit here wondering why. Some have speculated that Althoff's TikTok at his concert was being one step too far (unlikely); others commented that their interview was too awkward and that none of it was tongue in cheek (which would be deeply weird if true); and others have suggested that this is a marketing ploy and that the video hasn't been scrubbed, just been made private for now. I think this is probably the most likely scenario—Jezebel didn't cover the initial interview in July but here we are writing about the fallout a month later.
Whatever the case, I have thoroughly enjoyed my afternoon of learning about Althoff. So if there is drama, she's gained herself a defender, and if it is all a ploy for clicks, then she's successfully gained herself a new fan. Drake is still fine, I guess.