On Sunday, porn porn performer Lily Adams took to Twitter to accuse a director, who goes by the name Stills By Alan, of sexual assault. A day later, Gamma Films, which works with Alan as a contracted director for the popular lesbian studio Girlsway, announced it had suspended him pending an internal investigation, reports the New York Post.
This allegation of sexual assault follows others that surfaced within the porn industry last year, including those against performer Rico Strong and director Just Dave, and involving a shoot for feminist porn production studio Erika Lust Films.
Adams, 22, began her series of tweets with, "Okay y'all, bear with me bc this is really painful to talk about and my hands are literally shaking as I type this because I'm so nervous of the backlash." She continued, "About 2 years ago @Stillsbyalan asked me to come over for coffee and a 'go-see' since I had never shot for Girlsway before." Go-sees are in-person meetings between performers and directors. "I was new to the industry and he invited me to his house, but I was too naive then to realize that is a major red flag," she said.

She alleges that once at his house he told her to get undressed. "Again, I thought this was typical go-see procedure. But then he stuck his dick inside of me, and I'll admit I did consent to that. I mean, I never said yes but did not say no either?" Adams continued, "BUT THEN, he had the nerve to shove his dick all the way in my ass without permission," she wrote. "I tell him to please take it out, it hurts (because I had only had anal sex one time before). He said something along the lines of 'I'm old enough to be your father, you do as I say.'"

G/O Media may get a commission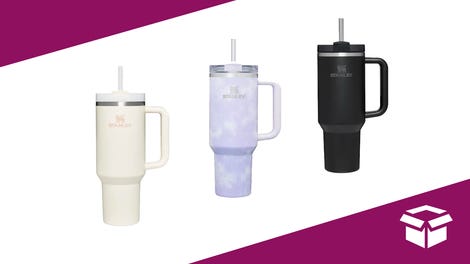 Up to 45% off
Stanley Cup Sale
Then Adams wrote, "So, completely traumatized, I laid there crying into the pillow while he continued to force his way into my ass, harder and harder each time. Not even caring about my pain." She later added, "I cried about it for months." (Stills By Alan did not respond to Jezebel's request for comment.)
In a statement, Gamma Films said it was "proactively encouraging, supporting and cooperating with the individuals involved to report their statements to the appropriate authorities to ensure that there will be a thorough legal investigation." Alan frequently directs for Girlsway, a site founded by Bree Mills, a popular director that Jezebel profiled last year. Currently, Alan is nominated for both Director of the Year and Best Director for a Girlsway film at this year's AVN Awards, the so-called Oscars of porn.
Adams also alleged in a tweet that "not too long ago" she received an "anonymous, encrypted" email, which she screenshotted. The alleged message accuses Alan of additional abuse, and alleges that Mills had "silenced" those claims. (Mills did not respond to Jezebel's request for comment.) Adams wrote, "I just think it's time somebody spoke up, because I've heard that MANY other girls have had this issue with him, they've told me personally. But of course none speak up bc they fear getting blacklisted."
Then she added, "But fuck getting blacklisted. Fuck an industry that protects rapists and nominates them to be 'best director' etc..to see that makes me sick to my stomach. To see that makes me relive the pain. To see that makes me want to die."
This morning, Mills posted a statement to Twitter reading, in part, "An extremely serious statement was made, one that I, alongside Gamma Films, am actively encouraging be brought to the appropriate authorities by both parties involved so that an official and legal investigation can take place." She added that Gamma Films will be drafting "formal, documented codes of conduct," and that "we will ensure that... that there will be no toleration for misconduct."