After showing a Spring 2016 collection that included fashion Tevas and late '90s style rave looks, Alexander Wang hosted a ten-year anniversary party meant to recreate the atmosphere of famed Miami "gentleman's" club King of Diamonds, as catered by Hooters.
Wang's fashion afterparties are notoriously conceptual affairs, and often have the best live shows—the weekend's performers included Lil Wayne, Ludacris, A$AP Ferg, Tinashe, and Just Blaze. With Wayne on the roster, the King of Diamonds theme perhaps made sense; he frequents the famous club, the subject of many rap songs, and the pole dancers came with fake ten-dollar-bills emblazoned with Wang's face, presumably for making it rain (that is, if counterfeit money can be considered "rain").
Incongruously, the party was both sponsored and catered by Hooters, with women in the breastaurant chain's signature t-shirts handing out sliders. As several friends from or familiar with Miami put it to me, nobody from King of Diamonds would ever eat at Hooters (come on, now), nor did Wang apparently hire any of its current or former famous employees, like retired dancer Tip Drill, who appeared in Nicki Minaj's "Beez in the Trap" video, or her best friend Skrawberry.
Pole dancing on one hand is an admirable display of athleticism, and I'd never cast aspersions on any woman doing it to pay her bills, especially in cities like Atlanta and Miami where dancers are as culturally and monetarily powerful as nearly anyone who comes to see them. (Though even with that in consideration, even the most famous clubs have been accused of exploiting their dancers and violating labor laws.)
Adding in the Hooters element is doubly ignorant of the culture in which Wang seeks (and gains) caché; the chain has been hit with racial discrimination lawsuits, for one, as well as its own labor laws violations. It's not entirely clear what Wang was going for here, besides his interest in rappers (many of whom are clients) and, perhaps more pressingly, tapping into what rappers find cool.
The Hooters element made it seem as though he was trying to be funny, or that objectifying women of a certain perceived class in a room full of America's most famous and rich—Kim Kardashian, Kylie Jenner, Lady Gaga (who now looks identical to Die Antwoord's Yolandi Visser)—is cheeky. Also, putting the two together shows Wang does not understand, nor care, about the difference between King of Diamonds dancers and Hooters servers, or the differing levels of agency each group possesses. There's something very craven and thirsty about it.
G/O Media may get a commission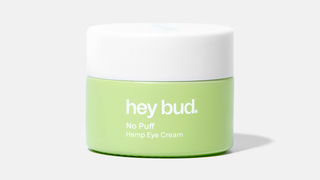 15% off
Hey Bud - No Puff Hemp Eye Cream
This is not to say that fashion has an expectation to not be craven, or even particularly aware of the absurdity it's putting forth (there's a reason Zoolander's "Derelicte" spoof remains hilarious). Wang himself has just launched a celebrity-studded charity line for the youth activism website DoSomething.org. But, you know, #Sponsorships and #Brands are very on trend.
---
Contact the author at julianne@jezebel.com.
Image via AP