AncestryDNA and Spotify have teamed up to offer users a playlist based on their Ancestry results, and I'm sorry to report that the colonizer section of my playlist fucking sucks.
Before I go any further, let me say this: Yes, I gave a spit sample to Big DNA™. As a black American and descendent of slaves, I have no idea where my ancestors came from beyond the nebulous region that is West Africa. A lifetime of hearing classmates break down their ethnic backgrounds into eighths and fourths like a baking recipe has made me feel some kind of way, and my curiosity overrode any and all legitimate scientific grey areas and privacy concerns. Call me boo boo the fool when I discover my clone or find myself framed for a crime, but for now I have no regrets.
I do, however, regret some of the results of this playlist feature.
The first step to this curated playlist is narrowing down the top five results from your AncestryDNA results.
When I first received my results in early 2017, my top ethnic region was Senegal. But thanks to Ancestry updating and enhancing their reference samples, I started off my playlist adventure with the realization that Senegal actually represents a mere blip of my ethnic roots. I was admittedly bummed out—Senegal seems cool—but I moved on. As of right now, my top ethnic region is "Cameroon, Congo, and Southern Bantu Peoples" at 26 percent, followed by Mali at 20 percent, Benin/Togo at 18 percent, England/Wales/Northern Europe at 13 percent, and Ireland/Scotland at 11 percent.
Okay, got it:
G/O Media may get a commission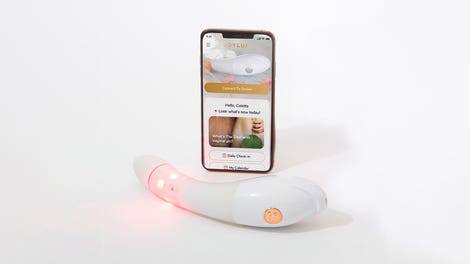 $50 Off
Joylux vFit Gold Device
Then came the playlist. I didn't expect to be familiar with any of the African music, and what I heard sounded interesting enough.
One major stand out for me was a song called "Diaraby Nene" by Malian singer Oumou Sangaré. Listen, I don't even know how much trust I can put into these regional results—what the hell does "Mali: 20 percent" mean anyway?—but I felt this song in the depths of my soul. Wow, the motherland jumped out!
My problem with this entire affair rests in the British Isles portion of the playlist.

Admittedly, I'm an Anglophile who could spend an inordinate amount of time talking about British alt rock of the '80s, Brit pop of the '90s, and the British indie/garage rock revival of the '00s. I am also an expert on the Spice Girls. It's obnoxious, but I know my shit! I can say, with confidence, that despite bringing a grim, nonconsensual scourge upon my DNA, the English, Welsh, Scottish, and Irish do a pretty good job with that whole music thing.
So why is that portion of the playlist such ass? Let's go through the most disappointing ones:
"Pocket Full of Sunshine" by Natasha Bedingfield
TAKE ME AWAY!!!!!!!!!!!!!! A SECRET PLACE!!!!!!!!!! A SWEET ESCAPE!!!!!!!!!! TAKE ME AWAY!!!!!!! This song is a low-key banger, but I certainly don't feel in tune with any British roots listening to it. I'm just reminded of Emma Stone singing it in Easy A.
"Love Song to the Earth" by Paul McCartney, Fergie, Bon Jovi, Sean Paul, Sheryl Crow, Natasha Bedingfield, Nicole Scherzinger, Colbie Caillat, Leona Lewis, and so many other people that I can't bother to name, many of whom aren't even from the U.K. or Ireland.
This was done for charity, but dear God is it corny. And of all the Paul McCartney songs to choose... interesting. Okay, moving on.
"Warwick Avenue" by Duffy.
Damn, remember Duffy? I don't really, either. Anyway, nothing particularly wrong with a British singer who takes vocal cues from black soul singers of yesteryear—RIP Amy Winehouse—but I definitely don't feel in touch with my roots here.
"Guiding Light" by Foy Vance featuring Ed Sheeran.
Of course, with my luck I end up with the Ed Sheeran playlist. Snooze.
One of the only saving graces of this particular musical section of my DNA was the inclusion of a grime song by Bugzy Malone. And even then, there's better grime out there, innit?

The rest of the English/Welsh/Scottish/Irish songs on the playlist are largely inoffensive, but aren't interesting enough to write about. They're neither household names nor cult favorites, which is a shame, especially on the British front. The U.K. is regarded as the birthplace of some of the most exciting trends in music, and all I got was a pocket full of sunshine?
Or maybe I'm just expecting too much from a Spotify/AncestryDNA playlist. Yes, that's probably it.
Take a gander at the playlist in full, if you're so inclined.