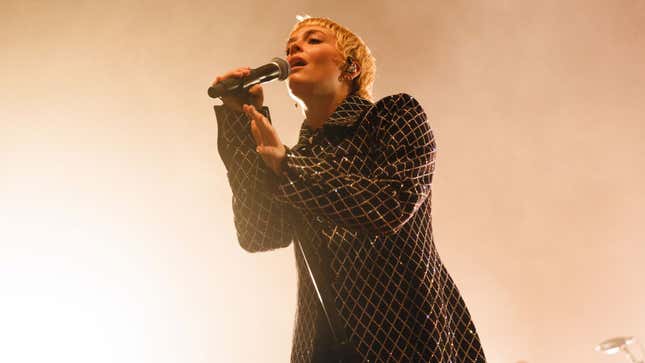 In the days leading up to Maggie Rogers' stop at Radio City Music Hall for The Feral Joy Tour, I considered listening to her latest album, Surrender, constantly and on loop. As a teen, this was my way of "studying" for a concert: If I knew all the words better than the other sweaty bodies in the pit, that would somehow prove me to be a superior fan to everyone else in the crowd. But as I learned more about how Rogers made Surrender—and her careful intention behind it—I chose, instead, to enter Radio City as in the dark as I could.
Even though Surrender was composed entirely during covid isolation, Rogers said she wrote her sophomore album with the intention of playing it live—and over the course of the night, she wrung dry every second of her time on stage. "Whenever I'm in love, I feel it in my teeth," she says in a pre-recorded monologue, before bursting onto the stage, belting out the long, dynamic, singular note she typically sings in the middle of "Overdrive." Without a single word, the music leaps straight out of her body, erupting in a way that can be described as nothing other than feral—with a disposition as holy as it was wild, I couldn't think of a more apt name for her tour.
This animalistic quality of joy is at the center of Surrender, an album inadvertently about our most intense emotions—elation, rage, desire, and longing—and our right to give in to all of them. "[Surrender] can have such negative connotations, but to me it is such a positive thing," she told Teen Vogue when the record was first released. This intense catharsis was the same energy that undergirded songs like the high-pressured rock tune "Shatter" (sung with breathless desperation), and even the incredibly moving ballad "Horses."
Arriving at a show is not unlike arriving at a house of worship—that feeling was especially exacerbated Wednesday night by the elegant carpets, mirrors, and chandeliers that deck every inch of the 91-year-old music hall. Church and concerts both contain the slow shuffle of a congregation (this one, mostly made up of leather-clad teens and 20-somethings) hoping to be transformed, in some way, by the time they leave. This is pretty much what drew Rogers to Harvard Divinity School in the first place. "I was constantly put in this sort of nontraditional ministerial position where I was being asked for moral and spiritual guidance even though that wasn't the job I signed up to do," Rogers said of her career in an article published ahead of her Harvard graduation, where she received a masters degree Religion and Public Life. Her thesis (also entitled "Surrender") compared public performances—like concerts—with spiritual experiences.
"I'm in this phase of integration right now, where I'm just coming back to tour after thinking about touring," she told L'Officiel in December. "It feels really awesome because I'm able to bring this other level of intention. I'm able to bring this other bit of research to it, and I'm starting to connect the dots." Despite her reservations about being sought after like a spiritual figure, if last night was any indication of her scholarly musings, then her argument about the power of concerts holds true. 





It's a testament to a musician's artistry when your body recognizes a song before your brain can recall the title; I found this happening to me more than once over the course of the show, as it seemingly did to the throngs of friends and lovers that were packed in the third mezzanine with me. We erupted in screams as old favorites like "Love You For a Long Time," "Light On," and of course, a groovy rendition of "Alaska," played, the lyrics flowing out of our mouths—sometimes through tears. The entire mezzanine rose from our seats when Rogers first came on stage, and throughout the generous two-hour, 18-song set (which included a surprise duet of "Strange Overtones" with David Byrne), we never sat down. It turns out I didn't need to study for the show at all—with a performer like Rogers, the music was already within me, waiting to be drawn out.
One of my personal favorite moments of the night was Rogers' duet with longtime friend and collaborator Del Water Gap, who also opened the show with an electric performance donning a black cape and heeled boots. The two sang "New Song"—with Rogers on banjo and DWG on acoustic guitar—a haunting, deliciously harmonized melody they wrote in an NYU dorm when they were both 18. As a longtime fan, it felt almost nostalgic to see different versions of Rogers speaking to one another in song, like when "Want Want," a song about caving into overwhelming desire, was immediately juxtaposed with "Say It," which is all about the tricky nature of romantic restraint.
In another life, I would've tried to record my favorite songs and obsess over taking the perfect picture for Instagram, (much like my two friends who arrived an hour early to pose repeatedly over the balcony ledge,) in an effort to prove I was there. But being in the presence of a vocal powerhouse like Rogers—bursting with levity and grit during every song—convinced me that I was better off leaving my phone in my back pocket and soaking in every last second of the sacred ephemera unfolding before me.
There are multiple moments throughout the show that could've been considered the finale: "Horses," which invited us to surrender to animalistic freedom; "Light On," which would've left us lovedrunk on the capriciousness of young love; or even "That's Where I Am," which would've gifted us with the warm feeling of an artist's devotion to her fans. But Rogers (thankfully) kept stretching the night out, only departing after a solo acoustic performance of "Different Kind of World," in which she leaves us with the hope of just that: A world in which we feel more deeply, dream bigger, and love harder.
Rogers first played Radio City at her NYU graduation in 2016, which was also the first event at which her viral hit "Alaska" was performed live. She promised herself then that she'd be back for it in ten years' time—a promise prematurely fulfilled that still exceeded all expectations. "As long as you keep showing up," she said to the crowd. "I'll be here."
I know I will, and I pray to every god out there that every sweaty, dancing, joy-filled body in there will, too.