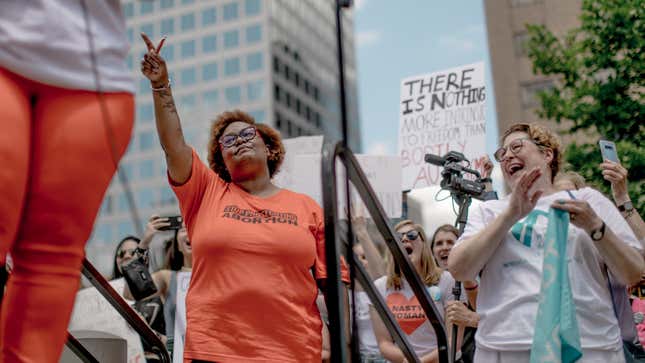 In Missouri, where the state's last remaining abortion clinic is in a legal battle to keep its doors open, Republicans have imposed another invasive and unnecessary requirement for anyone obtaining an abortion: now, patients must undergo a pelvic exam at least 72 hours prior to the procedure.
A pelvic exam "includes putting your fingers and other instruments in the vagina, when really that gives no medical information," Dr. Colleen McNicholas of the St. Louis Planned Parenthood Reproductive Health Services, Missouri's last abortion clinic, told MSNBC's Rachel Maddow. "It doesn't do anything to help the patient, or myself, choose what is the best approach for their abortion care."
The restriction is one of many designed by Missouri Republicans to deter people from seeking abortions. Similar to bans in Georgia and Alabama, the state recently passed a law banning abortions after eight weeks of pregnancy, and then quickly moved to shut down the last remaining clinic in the state. That would make Missouri "the first state without a place for women to legally have the procedure since 1974, the year after the U.S. Supreme Court guaranteed the right to the procedure," according to the Los Angeles Times.
In an interview with the Los Angeles Times, Dr. David Eisenberg, medical director of Planned Parenthood of the St. Louis, called it a violation: "What I realized was I effectively have become an instrument of state abuse of power," he said. "As a licensed physician, I am compelled by the state of Missouri to put my fingers in a woman's vagina when it's not medically necessary."
Kawanna Shannon, the Director of Surgical Services at the clinic, said that women were "traumatized" and "disturbed" by the fact that they had to "get undressed to get a pelvic exam to get an ultrasound."
"We let them know that we do not agree, and that the state of Missouri is requiring us to do this to them," she said, "We make it very clear that this is not our doing, we do not want to violate your rights, we do not want to make you do an unnecessary, invasive procedure that we would not do at this moment."
"We either have to ask patients to subject themselves to a state sanctioned, essentially, sexual assault," McNicholas said, "or they can't have an abortion here in Missouri."
This is what they want. And it's fucking cruel.