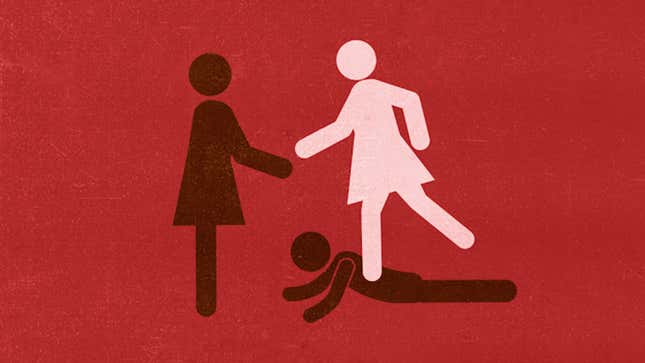 I don't know what to do with good white people.
I've been surrounded by good white people my whole life. Good white people living in my neighborhood, who returned our dog when he got loose; good white teachers in elementary school who pushed books into my hands; good white professors at Stanford, a Bay Area bastion of goodwhiteness, who recommended me M.F.A. programs where I met good white writers, liberal enough for a Portlandia sketch.
I should be grateful for this. Who, in generations of my family, has ever been surrounded by so many good white people? My mother was born to sharecroppers in Louisiana; she used to measure her feet with a piece of string because they could not try on shoes in the store. She tells me of a white policeman who humiliated her mother by forcing her to empty her purse on the store counter just so he could watch her few coins spiral out.
Two summers ago, my mother showed me the welfare reports written about her family. The welfare officer, a white woman, observed my family with a careful, anthropological eye. She described the children, including my mother, as "nice and clean." She asked personal questions (did my grandmother have a boyfriend?) and wrote her findings in a detached tone. She wondered why my grandmother, an illiterate Black mother of nine living in the Jim Crow South, struggled to find a steady job. Maybe, she wrote in her loopy scrawl, my grandmother wasn't searching hard enough.
This faded report is the type of official document a historian might consult if he were re-constructing the story of my family. The author, this white welfare officer, writes as if she is an objective observer, but she tells a well-worn story of Black women who refuse to work and instead depend on welfare. Occasionally, her clinical tone breaks down. Once, she notes that my mother is pretty. She probably considered herself a good white person.
---
In the wake of the Darren Wilson non-indictment, I've only deleted one racist Facebook friend. This friend, as barely a friend as a high school classmate can be, re-posted a rant calling rioters niggers. (She was not a good white person.) Most of my white friends have responded to recent events with empathy or outrage. Some have joined protests. Others have posted Criming While White stories, a hashtag that has been criticized for detracting from Black voices. Look at me, the hashtag screams, I know that I am privileged. I am a good white person. Join me and remind others that you are a good white person too.
Over the past two weeks, I've seen good white people congratulate themselves for deleting racist friends or debating family members or performing small acts of kindness to Black people. Sometimes I think I'd prefer racist trolling to this grade of self-aggrandizement. A racist troll is easy to dismiss. He does not think decency is enough. Sometimes I think good white people expect to be rewarded for their decency. We are not like those other white people. See how enlightened and aware we are? See how we are good?
Over the past two weeks, I have fluctuated between anger and grief. I feel surrounded by Black death. What a privilege, to concern yourself with seeming good while the rest of us want to seem worthy of life.
---
When my father was a young man, he was arrested at gunpoint. He was a Deputy District Attorney at the time, driving home one night from bible study when LAPD pulled him over. A traffic violation, he'd thought, until officers swarmed his car with shotguns aimed at his head. The cops refused to look in his wallet at his badge. They cuffed him and threw him on the curb.
My father is mostly thankful that he'd stayed calm. In his shock, he had done nothing. That's what he believes saved his life.
I think about this while I watch Eric Garner die. For months, I avoided the video, until we arrived at another officer non-indictment. Now I've seen the video of Garner's death, as well as a second video I find even more disturbing. This second video, taken immediately after Garner has been killed by a banned chokehold, shows officers attempting to speak to him, asking him to respond to EMTs. They do not yet know that he is dead, and there's something about this moment, officers shuffling around as an EMT seeks a pulse, that is so bafflingly and frustratingly human, so different from the five officers lunging and wrangling Garner to the ground.
In the wake of this non-indictment, a surprising coalition of detractors has emerged. Not just black and brown students hitting the streets in protest but conservative stalwarts, like Bill O'Reilly or John Boehner, criticizing the lack of justice. Even George W. Bush weighed in, calling the grand jury's decision "sad." But even though many find Garner's death wrong, others refuse to believe that race played a role. His death was the result of overzealous policing, a series of bad individual choices. It would have happened to a white guy. The same way in Cleveland, a 12-year-old Black boy named Tamir Rice was killed by officers for playing with a toy gun. An unfortunate tragedy, but not racial. Any white kid playing with a realistic-looking toy gun would have been killed too.
Darren Wilson has been unrepentant about taking Mike Brown's life. He insists he could not have done anything differently. Daniel Pantaleo has offered condolences to the Garner family, admitting that he "feels very bad" about Garner's death.
"It is never my intention to harm anyone," he said.
I don't know which is worse, the unrepentant killer or the man who insists to the end that he meant well.
---
A year ago, outside the Orange County airport, a white woman cut in front of me at the luggage check. She had been standing next to me, and soon as the luggage handlers called next, she swooped up her things and went to the counter. She'd cut me because I was black. Or maybe because I was young. Maybe she was running late for her flight or maybe she was just rude. She would've cut me if I had been a white woman like her. She would've cut me if I had been anyone.
Of course, the woman ended up on my flight, and of course, she was seated right next to me. Before the flight took off, she turned to me and said, "I'm sorry if I cut you earlier. I didn't see you standing there."
I often hear good white people ask why people of color must make everything about race, as if we enjoy considering racism as a motivation. I wish I never had to cycle through these small interactions and wonder: Am I overthinking? Am I just being paranoid? It's exhausting.
"It was a lot simpler in the rural South," my mother tells me. "White people let you know right away where you stood."
The problem is that you can never know someone else's intentions. And sometimes I feel like I live in a world where I'm forced to parse through the intentions of people who have no interest in knowing mine. A grand jury believed that Darren Wilson was a good officer doing his job. This same grand jury believed than an eighteen-year-old kid in a monstrous rage charged into a hailstorm of bullets toward a cop's gun.
Wilson described Michael Brown as a black brute, a demon. No one questioned Michael Brown's intentions. A stereotype does not have complex, individual motivations. A stereotype, treated as such, can be forced into whatever action we expect.
I spent a four hour flight trying not to wonder about the white woman's intentions. But why would she think about mine? She didn't even see me.
---
In elementary school, my older sister came home one day crying. She had learned about the Ku Klux Klan in class that day and she was afraid that men in white hoods would attack us. My father told her there was nothing to worry about.
"If a Klansman sat at this table right now," he said, "I'd laugh right in his face."
My mother tells stories of Klansmen riding at night, of how her grandmother worried when the doctor's son—a white boy—visited her youngest sister because she feared the Klan would burn down their home. When I was a child, I only saw the Klan in made-for-TV civil rights movies or on theatrical episodes of Jerry Springer. My parents knew what we would later learn, that in the nineties, in our California home, surrounded by good white people, we had more to fear than racism that announces itself.
We all want to believe in progress, in history that marches forward in a neat line, in transcended differences and growing acceptance, in how good the good white people have become. So we expect racism to appear, cartoonishly evil like a Disney villain. As if a racist cop is one who wakes in the morning, twirling his mustache and rubbing his hands together as he plots how to destroy black lives.
I don't think Darren Wilson or Daniel Pantaleo set out to kill Black men. I'm sure the cops who arrested my father meant well. But what good are your good intentions if they kill us?
---
When my friends and I discuss people we dislike, we often end our conversations with, "But he means well."
We always land here, because we want to affirm ourselves as fair, non-judgmental people who examine a person not only by what he does but also by what he intends to. After all, aren't all of us standing in the gap between who we are and who we try to be? Isn't it human to allow those we dislike—even those who harm us—a residence in this space as well?
"You know what? He means well," we say. We lean on this, and the phrase is so condescending, so cloyingly sweet, so hollow, that I'd almost rather anyone say anything else about me than how awful I am despite how good I intend to be.
I think about this during a car ride last weekend with my dad, where he tells me what happened once the cops finally realized they had arrested the wrong man. They picked him up from the curb, brushed him off.
"Sorry, buddy," an officer said, unlocking his handcuffs.
They'd made an honest mistake. He'd fit the description. Well, of course he did. The description is always the same. The police escorted my father onto the road. My father, not yet my father, drove all the way home without remembering to turn his headlights on.
Brit Bennett recently earned her M.F.A. in creative writing at the the Helen Zell Writers' Program at the University of Michigan. She is currently a Zell Postgraduate Fellow, where she is working on her first novel.
Illustration by Jim Cooke.