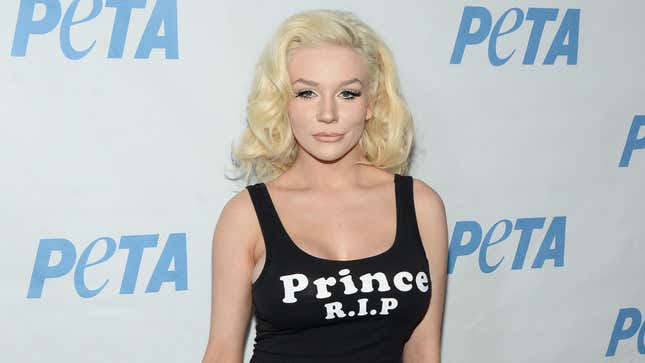 Good news! The International Alliance of People Who Do Gender is proud to welcome our newest member, Courtney Stodden, who revealed on Instagram Wednesday that "my spirit is fluid with a kaleidoscope of color."
Crush of the Week: Daniel Radcliffe's Weird Al
Here's Stodden's full statement:
They/them/theirs. I don't Identify as she or her. I've never felt like I ever fit in anywhere. I was bullied horribly in school because I was different. The other girls never understood me. It got so bad that my mom pulled me out of school. And still, i don't fit in. I never really connected with anyone my age. My spirit is fluid with a kaleidoscope of color. #bekind #beopen #loveyourself
I love good news, especially on a Wednesday! The International Alliance of People Who Do Gender gets stronger, more populous, and powerful by the hour.
---
I don't have anything productive or nice to say about whatever is happening in this photo, but I do want to point out how incredible Marge's facelift has looked this season.

Now a photo I can be properly rude about. Can I just... delicately... and just for a second... point out how fucking tan Teresa and Dolores are recently? Ladies! All that spray-on bronzer can't possibly be good for you.
---
Oh, look, the Secret Society of Supervillains hung out—with Dorit Kemsley and Crystal Kung Minkoff no less!

---
Watching Gemma Collins's Instagram Live chats is an experience I can most closely compare to the sensation ASMR supposedly gives everyone else.
---