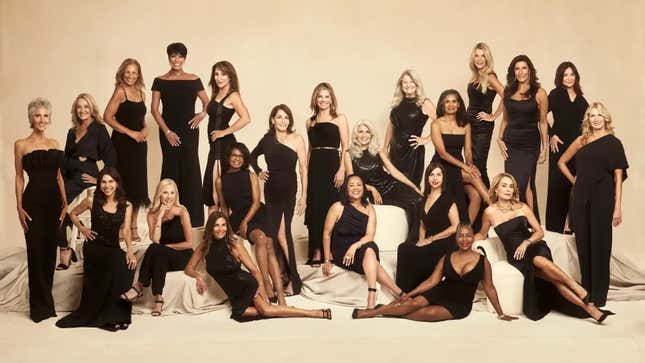 I divested from the Bachelor Nation in 2017 after Rachel Lindsay chose (and is still seemingly happily married to) Miami chiropractor Bryan Abasolo over brooding Midwestern personal trainer Peter Kraus. Not only was I not happy with Rachel's choice, but I realized it wasn't worth getting worked up over split hair decisions between nearly identical men with marginally different ab routines.

'More to Love' Existed Precariously Between Empowering and Exploitative
But after learning about the Golden Bachelor, a spinoff centering around senior citizens that premieres September 28, and pouring through the intros of the 22 contestants, all ages 60+, I am ready to devote four billion hours a week—which is the time required to adequately consume a season—to these golden oldies.
A few weeks ago, ABC introduced us to Gerry Turner (pronounced GARY, not like geri-atric fyi!!), our 71-year-old Golden Bachelor and a retired restaurateur from Indiana. After his wife of 43 years passed away quickly and somewhat unexpectedly in 2017, he's now looking for someone to spend the rest of his active life with. I do have a theory that this country would not be able to accept a Golden Bachelor who is divorced or forever single, because that would simply complicate the narrative of true love and second chances. We'll have to patiently wait for a thrice-divorced, 65-year-old Golden Bachelorette, which I will tune into because that sounds fun. For now, Gerry's kindly Midwestern misunderstanding of social media and uncomplicated affection for his late wife makes for the perfect bachelor. I digress...
What really got me hooked on the promise of this show was meeting the contestants. While I wish more than three of them had grey—excuse me—silver hair, I was genuinely charmed by a lot of them. Two enjoy swimming with sharks, one identifies as a "glama" (a glam grandma), and another spends her time foraging for mushrooms in New Jersey. There's one Wheel of Fortune winner and a woman with three master's degrees. Many of them have happily enlisted in the Great Pickleball Wars of our time.
The trailer introducing the women shows them twirling around to Cher singing "Do you believe in life after loooove?" and it turns out many of them do. "I'm 66 and my heart is open," says Susan, a wedding officiant and golfer from Pennsylvania. A handful of the contestants list their previous, decades-long relationships, and more still rattle off how many grandkids they have. "I think at our age we've worked hard to build rich, fulfilling lives," says Joan, age 60, which I think gets to what I find so charming about this batch of women.
There's certainly no shortage of opportunities to eye-roll over their romanticism about true love and soulmates, but the desperation or anxiety about time running out that you can sometimes sense in younger contestants on these shows isn't there. And I think that's just because with age, you mostly learn to calm down about those things, or you've seen (and experienced) five-year plans completely collapse without derailing an entire life.

That general optimism and perceptive attitude also makes me less worried about the women who will inevitably be sent home. As 65-year-old Jeanie from Tennessee, who loves Oprah, Dolly Parton, and Zumba, writes in her bio, "I know that I'm strong enough to be alone, but my life would be more fulfilled with someone to share it with."
There's a self-ease and comfort radiating off these women and frankly, it makes me want all of them to find love! Does Gerry have friends?!