At a recent meeting, we tried to come up with ideas for fashion week stunts. Bear costumes were suggested. So were shepherdess outfits, and paper bags, a la Buckethead. (All these suggestions were mine.) We went with the doll.
It's not that there was anything wrong with these other ideas, but I didn't happen to have a bear costume handy. Dolls, on the other hand, I had in profusion, and I knew exactly which one would accompany me: one Loretta Longlegs, so-called due to a perceived resemblance to Loretta Young and some foot-long gams, she's a vintage boudoir doll with a model's languor and a sparse head of hair.
Fashion, as anyone who's seen Zoolander knows, is hard to parody. Wear something absurd and chances are there will be ten people wearing something ten times more absurd, and a million times more expensive, in deadly earnest. (Or maybe "wittily," it's hard to tell.) But I didn't recall ever seeing someone carrying a doll with them — less a doll in a miniature replica of his own getup, which quickly became central to the idea.
It wasn't just a stunt: I kind of liked the idea, some relic of an American Girl-deprived childhood. The sheer narcissism of it struck me as funny, but there's also something undeniably uncanny about a lifeless familiar — and the fact that I'm actually of child-bearing years made it extra-creepy. I was thinking, of course, of Baby Jane, the glassy-eyed doll who performs "Letter to Daddy" with a grotesquely aging Bette Davis. But the idea (since this is fashion week and everyone talks about their inspirations all the time) also hearkened back to one of my favorite eccentrics of all time, one Joe Carstairs. Joe Carstairs was a flamboyant lesbian womanizer who made herself queen of her own island and traveled everywhere with a doll called Lord Tod Wadley, whom she dressed in a series of matching outfits.
My own doll's wardrobe was considerably more limited, and I knew we'd be limited to what I could replicate with my meager sewing skills. An old tee-shirt presented itself, and I decided to whip up a small-scale replica of a 30's-style dress whose lines would be easy to approximate. The resulting garment was not a thing of beauty, but when we were both dressed and coiffed, the resemblance was obvious. Mission accomplished.
G/O Media may get a commission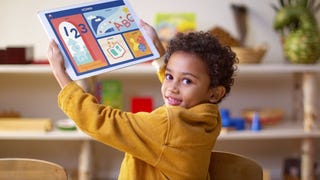 30-Day Free Trial
Homer Learn & Grow Program
2pm: I'd decided to bring Loretta Longlegs to the Monique Lhuilier show, and set off at midday from my Brooklyn apartment for Lincoln Center, bearing the doll in my arms. The spectacle immediately caught the attention of a little girl (delighted) a group of teenagers (jeering) and a guy who muttered under his breath that that shit was fucked up. A toddler passing by in her stroller held out her arms and started to cry. "Can I have the baby? Can I have the baby?" she implored. It's hard to tell a child that no, she can't have the baby because you, an almost-30-year-old woman, need to dress it up like yourself and carry it to a fashion show for semi-ironic purposes. I comforted myself with the thought that she couldn't see how sparse the back of the doll's hair actually was.
2:20 It was quickly becoming clear that, if one has ambitions of dressing a large doll like oneself and parading about New York City, it's essential to cultivate a look of icy hauteur. I practiced this on the subway, doll perched on lap. I noticed a woman move away from me.
2:50 By the time my train arrived in midtown, I was starting to feel apprehensive and stupid and my hauteur was faltering. Two bums had jeered at me and more teenagers had cackled. Teenage cackling never becomes bearable.
2:55 I advanced from Columbus Circle towards Lincoln Center, hoping I could fly under the radar, escape without too much mockery, and call it a day. Then, a small group of Japanese tourists stopped me and asked, by means of gestures, if I would pose with them. Um, sure. I did, bemused.
2:57 As soon as I stepped onto the plaza, a flashbulb popped. Startled, I held the doll protectively against my chest. And then, suddenly, we were surrounded by snapping cameras, by flashbulbs, by photographers shouting at me to look up, look down, remove my glasses, adjust Loretta Longlegs. Several bent down and moved close to get shots of the doll.
2.59: Hurriedly, I reached for my phone.


"Who made your dress?" demanded a hastily-scribbling reporter. "And who made the doll's dress?"
3:00: I moved towards the main pavilion, but was stopped every few steps by someone with a camera, or a notebook. "And who's this?" people would ask, or "so, is she enjoying fashion week?" At first, I didn't really know what to say, but within moments, was throwing off rejoinders.
"It's her first Fashion Week, she's shy," I said to one, and "y'know, when I was getting dressed this morning, it occurred to me that the outfit needed something. And that something was a large doll dressed exactly like me."
Not once did anyone ask "why" I was carrying a large doll in a matching outfit; at Fashion Week, it seemed, this was de rigeur.
3:05 We mounted the steps to the theatre. "Aw, you have a little friend," said a guard, patting it on its sparse head instead of looking at my press pass. I wondered, briefly, if people thought I was mentally handicapped.
3:07 Inside, I fielded photo requests from French, Italian and British photographers. I was becoming an old hand. "Girl, I love it," said one fashionista in an ostrich coat. And "very Baby Jane," said a gent in kabuki makeup, approvingly. I favored one and all with an indulgent smile befitting the visionary carrying the vanity doll.
3:10 In the show, the doll perched on my lap. Occasionally, I whispered an observation in her ear; I was getting into this.
3:30 Afterwards, there were more cameras. "I just read about this on Twitter!" I heard someone say.

3:45 I thought it might be effective to smoke a cigarette with the doll hanging negligently from one hand. I granted an interview to a morning daily.
3:47 Young Hasidic man approached and asked if I was a model. Made the mistake of saying Shana Tova and had to hear about how my dad's intermarriage was ruining the faith.
4:05 Doll and I agreed to enter some Banana Republic modeling competition.
4:06 Various people asked me if the doll and I dressed alike all the time. I said of course.
4:07 Was filmed as part of a street-style documentary.
4:09 Mentally-ill person approached me and asked if the doll contained my soul. I said I didn't think so.


4:30 While blogging the show — doll arranged besides me — was accosted by some TV station who insisted on conducting very stupid interview with doll even after I explained that due to legal reasons I would do all Loretta's speaking. Did not stop interviewer from giving doll stupid high-pitched baby voice and making various coarse jokes about her attempting to grope his crotch. I was stony-faced.
4:40 Jenna appeared in the midst of this, and looked confused.
4:43 A woman came up and said the doll and I had a "sexy Amish" thing going on.
4:45 I got cold and put on a sweater. Was told to remove it by someone, so the doll and I would look more alike.
5:00 Stuck doll in bag and finished work.