Plastic is choking the Earth at an alarming speed, a fact I and everyone reading this blog should think about every time we toss a disposable straw or the plastic packaging encasing a new set of stainless steel straws. And it appears plastic literally choked one short fin pilot whale, who was found in Thailand last week with 17 pounds of plastic in his stomach. The whale died five days later, with no small thanks to humans' reliance on this increasingly toxic waste.
As reported by Reuters, the sickly-looking whale was spotted in southeast Thailand on May 28, prompting veterinarians and Thailand's Marine and Coastal Resources Department to work to heal him. On Friday, the poor thing reportedly regurgitated five plastic bags and died shortly after. An autopsy revealed the whale had swallowed at least 80 more plastic bags, which experts say made it difficult for the whale to hunt and find food.
Ultimately, the plastic proved fatal. After all, as one marine biologist told Agence France-Presse, "If you have 80 plastic bags in your stomach, you die."
Thailand is a major producer of plastic, though the bags the whale swallowed weren't exclusively local. "Somehow they were from another country, they were not from only Thailand," veterinarian Dr. Watchara Sakornwimon told Sky News. Sakornwimon says the whale likely mistook the floating bags for food. "Because its the ocean and he's a whale he can travel around the world. So he ate plastic bags wherever he was that day before he became stranded," she said. According to Sakornwimon, the whale was starving and emaciated when veterinarians managed to get to him, probably because instead of eating nutrients, his stomach was filled with this:
G/O Media may get a commission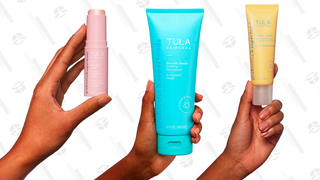 Certainly, the plastic problem isn't limited to whales in Thailand. Eight million tons of plastic end up in oceans worldwide each year, and lots of that waste finds its way into marine life. In 2017, a whale washed up on a beach in Norway with 30 plastic bags in its stomach. That whale ultimately had to be euthanized.