Windsor—What does it take to get the perfect shot of the newly married Harry and Meghan from the cheap seats? Turns out it's a £25 fleece Union Jack blanket, three pairs of socks, four cups of wildly overpriced coffee, and the kindness of several royal enthusiast strangers.

Oh, and a complete disregard for one's own comfort and common sense.
I spent all of Friday—when I wasn't hunting for a power outlet—debating with myself whether to stick it out overnight. The last train back to London, where I was staying because this blog unfortunately isn't a morning show pontoon boat floating on an endless lake of TV money, left at quarter to midnight. There was no convenient 24/7 diner, and while there were groups who'd already been camped out for days on Windsor's high street, close to the castle's entrance, I had no intention of waiting out on the cobblestones or simply walking in circles for hours.
But there was the possibility of the Long Walk, which is essentially Windsor Castle's front yard: a 2.64 mile avenue flanked by grass that had been prepped for the festivities by the addition of trailers selling coffee and sweets and fish and chips, like a county fair.
G/O Media may get a commission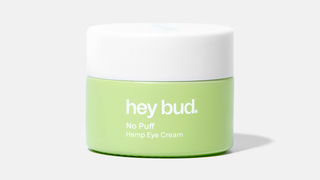 15% off
Hey Bud - No Puff Hemp Eye Cream
As sunset drew closer, I stopped by the local Marks and Spencer—the sign changed for the day to read "Markle & Sparkle"—and bought a sweater and a five-pack of lightweight socks. The local outdoor store would have been a better move, especially since it was running a special royal wedding deal on camp chairs, but they'd already closed. When I asked about whether people could camp out along the Long Walk, one of the volunteers—a no-nonsense older woman from Yorkshire—immediately advised against it. "It was absolutely bolted last night," she said, adding that it would be "nithered" in the coming night, which she clarified to mean very, very cold.

As night began to fall, I walked up and down the Walk, talking to people already established on the barriers. "The atmosphere is so good, it's really worth doing," said one of a pair of middle-aged British women—one from Buckinghamshire, the other from nearby Staines. At their feet sat festive clear umbrellas with dancing red lights. "We're very proud of the royal family," she said, explaining she attended most occasions, from Diana's funeral to the Queen's Jubilee. " I suppose you could say we're royalists. We're very proud of our royal family."
"It's just very British—no one else has got it," she added.

Another group of women, from the UK and South Africa, had an impressive encampment with picnic blankets encircled by fairy lights. "It's an historical occasion. Why would you miss out?" asked one of them. She also cited the atmosphere: "It's almost like strangers are your friends—it's weird."
I asked if they'd learned anything particularly useful in the camping department from their previous royal-watching adventures; "Clearly not, because we are still not warm," she replied. "But we have brought more wine."
"Wine? You want wine?" a middle aged man in the neighboring group asked her.
Most of the campers were older, or at least part of a multigenerational group. But I also came across a trio of local women in their 20s. One of them, Penny, would be holding onto a stretch of the barrier for an entire crew including her mom, who lived nearby. "It's our hometown. There's just such a buzz, such an atmosphere," explained a friend in a leather jacket. "Everyone loves Harry," added a second friend, smoking a cigarette. "I think Harry's the public's prince."

Eventually I looked down at my phone and realized it was too late to make the last train. I was committed.
Most of Windsor was shut down, and even the pubs were emptying out. But one of the local shops, clearly catering to tourists, had no intention of missing out on a jackpot. They'd kept their doors open, selling fleece Union Jack blankets, supposedly marked down from £40 to £25. In no other circumstances would I have bought one. They were blasting Lady Gaga, encouraging a party atmosphere to the extent that three tourists were dancing around inside to "Born This Way." I bought the blanket.
When I made my second loop on the Long Walk, this time looking for a friendly looking spot, Penny spotted me. Her friends had gone home for the night, but she'd already bonded with nearby a middle-aged couple from Essex and two other parties, a couple from Seattle and a mother and daughter from Northern Ireland. They'd planned to return in the wee hours, but they'd left their camp chairs—wisely purchased at that outdoor store. The trio—all of whom pronounced my name like it rhymed with "telly"—invited me to stick around through the night.
We weren't the hardest-core encampment. The real die-hards had been around for days, closer to the castle. This was the crowd that had arrived at the relatively casual hour of 5pm on Friday. There was a certain level of self-awareness; in the very coldest hours, the wife from Essex kept saying, half to herself, "I must be mad."
I didn't kid myself that I was going to get any sleep. Instead, I curled up in my priceless Union Jack, looking like Questionable Judgement Spice, and read to distract myself from the cold that was seeping into my bones. (I gradually layered up to three pairs of socks.) Unwisely, I propped my feet on the metal barrier in front of me, despite it being cold as shit. Earlier in the day I'd stripped down to my base layers and wished I'd gone without leggings, because it was so warm, even by the river.
All night, Thames River Valley police strolled up and down the avenue, so friendly that after a decade of scowling NYPD officers it was a little unnerving; at one point, a group called the Street Angels came by to check on everyone, handing out lollipops. (Apparently they check on the drunk, the homeless, the lost—anybody out at night who appears they could use some help.) All night, a bright light from the media tower at the end of the Walk shone in the corner of my eye.
Around a quarter to 4 a.m., people with tripods began appearing on the gravel—media people heading toward the various press encampments. Everybody began stirring, accepting they'd gotten as close to sleep as they were going to get. I had the first of several cups of coffee, purely out of the desire to warm my chilled bones.
"I can't believe I'll ever be hot again," said one American woman, upon hearing the day's weather forecast.
But everything began to pick up speed as 5 a.m. approached, bringing the sunlight. A woman appeared with her grown son, both of them wearing light jackets covered in Union Jacks. They spent the day drinking canned gin and tonics. It was clear that this man was to some extent humoring his mother, but that once she'd talked him into going, he had a genuinely good time.
The Jumbotrons that would show us the ceremony switched on. The crowd began to build, people with chairs and coolers streaming into the park. The sun rose and burned the dew off the grass like we were in a lavish Jane Austen adaptation. I felt warm enough to sit down, back to the barrier, and take a brief catnap. A local pop choir set up next to us, leading everyone in an Elton John singalong. It began to feel like the Fourth of July fireworks in New York City. I highly recommend the experience of watching a British person politely but firmly inform an encroacher that in fact this is their prime spot on the barrier, thanks very much.
From the time Harry and William appeared on the nearest screen, the crowd was riveted, cheering for the pair. "There's the boys!" I heard a woman shout nearby. Queen Elizabeth II appeared; "She's such a precious little baby," I heard an American voice somewhere behind me gush. "She's a bundle of joy." The atmosphere ratcheted another notched toward electric when everyone realized that the Rolls Royce carrying Meghan and her mother from nearby Cliveden House would pass us. The caravan shot past, with barely enough time to register a veil and a flash of tiara.

When the screens showed Harry watching Meghan's entrance, an "awwww" passed over the entire crowd. Periodically, corks popped; there was clapping along to the choir's "Stand By Me." I was surrounded by people who feel a genuine connection to Harry, even if it's one-sided; several seemed to get genuinely emotional in the way you might at any friend's wedding. As the ceremony wound down with "God Save the Queen," the crowds on the Long Walk sang along and waved their Union Jacks furiously.
Finally it was over, the couple loaded into their carriage to parade through Windsor. The crowd behind pressed us forward, everyone leaning up and over with their iPhones and cameras. After maybe 20 minutes, we finally heard the approaching horses. The cheering swelled. And then there they were, gliding toward us. It was a crawl compared to Meghan's first flying trip past, but it was barely more than the length of a few of breaths. I had just enough time to register that Meghan had looked almost directly at us and waved; I didn't even really look at Harry, mostly catching the vulnerable back of his neck as they drove away.
I was exhausted, lightly sunburnt, and hungry. I faced hours waiting to cram my way onto a train back to London and a proper bed. I would have had a better view if I'd stayed home and watched the broadcast. But by God, I earned the bragging rights, and I'm going to shamelessly dine out on this for the rest of my life.