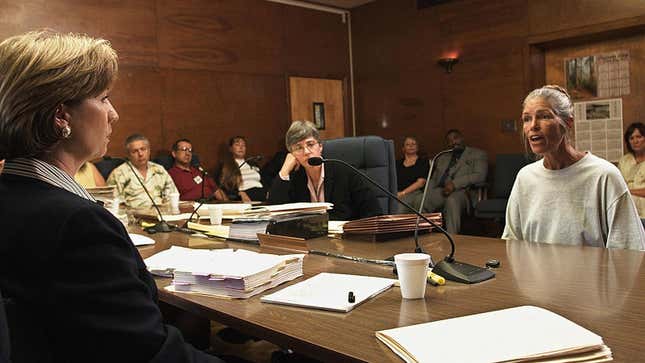 After spending 53 years locked up, Leslie Van Houten is a free woman. The former "Manson Girl" was released from prison on Tuesday, after being repeatedly denied parole over the course of several years (most recently in 2022, when California Gov. Gavin Newsom overruled the parole a board had recommended the year before). According to the New York Times, upon release, Van Houten was transported to traditional housing, where she will "learn to live in the world after 53 years in prison," in the words of Van Houten's lawyer, Nancy Tetreault.
NBC Los Angeles reports that Tetreault also said, "She's thrilled and she's overwhelmed...She's just grateful that people are recognizing that she's not the same person that she was when she committed the murders."
Well, not everyone is recognizing that!
Anthony DiMaria, the nephew of Jay Sebring, who was killed along with Sharon Tate and others on the first night of the Tate-LaBianca murders in August 1969, told CNN that Van Houten's release "profoundly impacts our families. But I fear that a very dangerous, pernicious precedent is established today that will impact millions of victims of violent crimes throughout California today and in the years to come." DiMaria said that despite Van Houten propping herself up as a "Manson follower, she is anything but," calling her "a cold-blooded killer in one of the most notorious murder rampages in United States history."
Meanwhile, Debra Tate, the sister of Sharon, who has committed herself to showing up at various hearings related to the Tate-LaBianca murders (as well as speaking out on the subject), told TMZ that Van Houten is "likely to kill again after being released from prison." Further, Debra Tate is "disappointed in the criminal justice system in the state, and especially the governor's office," TMZ said. 
In a statement to the Times, a spokeswoman for Newsom, who declined to veto the parole board's decision this time, said, "The Governor is disappointed by the Court of Appeal's decision to release Ms. Van Houten but will not pursue further action as efforts to further appeal are unlikely to succeed."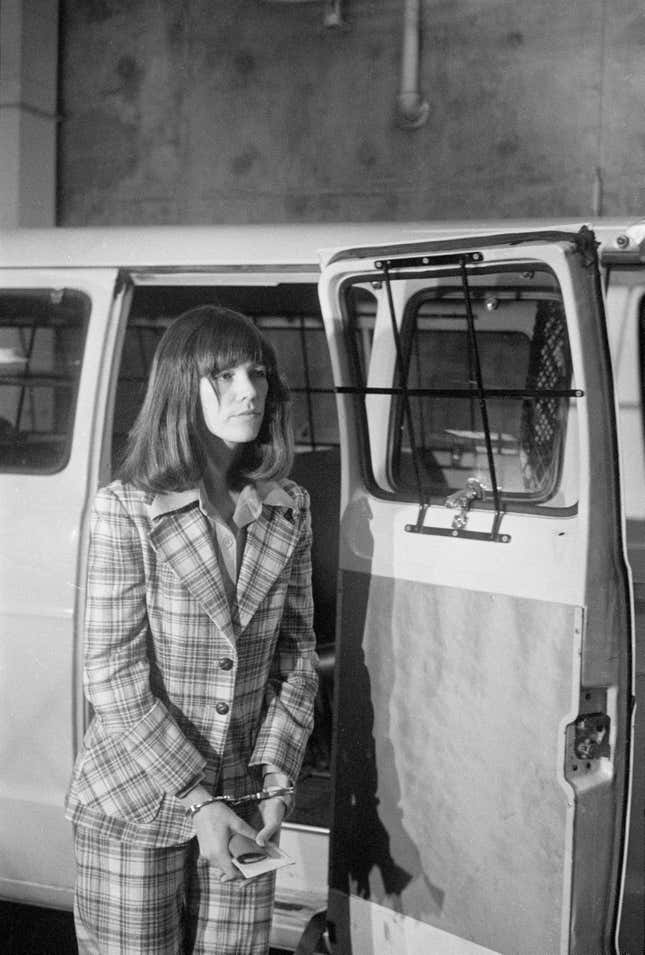 In May, Debra Tate called the board's most recent recommendation for Van Houten's release "appalling," according to NewsNation. Tate, described in the piece as having been "appointed as a representative for the LaBianca family for more than two decades," said the LaBiancas are "in such an egregious situation emotionally and physically over this latest news." She added: "This is catastrophic news to them, to the other victims of the Manson family, as well as hundreds, possibly thousands of other victims' families that I have heard from in the last 24 hours begging me to turn this train around because they know it will eventually affect their cases."
It's understandable that those close to the situation feel so strongly; the Manson family's crimes were shocking tragedies that terrified the country and shifted its culture—Joan Didion famously wrote in The White Album: "Many people I know in Los Angeles believe that the Sixties ended abruptly on August 9, 1969, ended at the exact moment when word of the murders on Cielo Drive traveled like brushfire through the community, and in a sense this is true. The tension broke that day. The paranoia was fulfilled."
One night later, on August 10, Van Houten held down Rosemary LaBianca and stabbed her several times. (Van Houten was not present during the murders at Cielo Drive, where Tate and her friends were.) "And I took one of the knives, and Patricia [Krenwinkel] had one—a knife—and we started stabbing and cutting up the lady," Van Houten testified in 1971.
And yet, according to the parole board, "Van Houten has shown extraordinary rehabilitative efforts, insight, remorse, realistic parole plans, support from family and friends, favorable institutional reports, and, at the time of the Governor's decision, had received four successive grants of parole."
If there is anyone who might exemplify the supposed rehabilitative potential of this country's corroded prison system, surely it is a woman who has spent nearly three-quarters of her life behind bars, only to emerge at the age of 73. She was in a cult whose leader, Charles Manson, had such sway that he was convicted on seven counts of murder and one count of conspiracy to commit murder despite not being present for the actual deaths in question. Maybe John Waters indoctrinated me, but I found his words on Van Houten, whom he considers a friend, in his 2010 book Role Models to be extremely persuasive:
I have a really good friend who was convicted of killing two innocent people when she was nineteen years old on a horrible night of 1969 cult madness. Her name is Leslie Van Houten and I think you would like her as much as I do. She was one of those notorious "Manson girls" who shaved their heads, carved X's in their foreheads and laughed, joked, and sang their way through the courthouse straight to death row without the slightest trace of remorse forty years ago. Leslie is hardly a "Manson girl" today. Sixty years old, she looks back from prison on her involvement in the La Bianca murders (the night after the Tate massacre) in utter horror, shame, and guilt and takes full responsibility for her part in the crimes. I think it's time to parole her.
It's hard to imagine that Van Houten has been biding these past 53 years, waiting for the next opportunity to feed her bloodlust. She's a senior citizen who fell into a bad crowd as a young adult, did something despicable 54 years ago, and watched the last half-century play out from behind bars. She did her time. She's not a threat to society. Let her live.