For the past seven weeks, The Voice has occupied two nights of primetime television—Mondays and Tuesdays, dead days unless you're one of those people who watches The Blacklist, but two nights nonetheless. This week, the show transitions to live performances, in which Americans will exercise their rights to vote on who's the best singer in likely greater numbers than we voted in the midterm election—which means The Voice will occupy not two but three nights per week, Monday through Wednesday, thus demanding more attention from its viewers than a casual relationship while also providing much less dinners and boning.
I am watching The Voice, and I am wasting my life doing so.
I've never really enjoyed American populist musical game shows—American Idol, The Voice, X-Factor, et al. Not because I'm not part of the populace, or that I don't love television (I hate how much I love television). But as a music critic, I spend enough of my time listening to mediocre singers and eliminating them myself that I don't need the entirety of America and an 800 number to tell me what's good or not. Hit me with that Jordin Sparks single and keep it moving. The last American Idol I watched in its entirety was the one featuring Fantasia Barrino, and I watched it for her. When she won, I cried along with her, and I knew I wouldn't return to AI—the rubric felt cookie-cutter, and the show's habit of turning its least talented auditioners into memes felt cold.
That changed last year, though, when both Nicki Minaj and Mariah Carey were announced as judges—I couldn't not watch two of my favorite musicians/people on earth, although at some point I quit even Minaj and Mimi, feeling uninterested in seeing two of my favorite people (and two of the most powerful women in the music industry) stankeye each other in front of a trillion people who inevitably chalk it up to "diva" behavior.
The judges set so much of the tone of the show, and similarly, they're why I started watching The Voice: I love Gwen Stefani, major problems notwithstanding, and Pharrell too, although to a slightly lesser degree. (He's an endlessly talented artist, but in recent years his music has gotten more rote as his personality has become more Jadenesque.) But from the first episode, I was appalled by how the conceit was making these two behave: they seemed shiny, insincere, almost Stepford-television versions of themselves. Stefani's ya-ya cheerleading looked plastered on her face, while Pharrell's Ambien-calm bon mots seemed pillaged from a handbook on pop spiritualism.
G/O Media may get a commission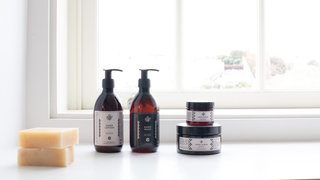 Exfoliate and Hydrate
The Handmade Soap Company
As the weeks trudged on, their personas softened (though Pharrell is still administering advice like he believes he is Yoda), but the show's cloying intolerability reared its head in different ways. During the coaching sessions for the initial knockout rounds, in which each judge brings in a guest mentor for their pupils, Blake Shelton brought country group Little Big Town. Pharrell brought Alicia Keys. Adam Levine brought Stevie Nicks. And Gwen Stefani, oh man, Gwen Stefani brought… her husband, Gavin Rossdale, of Bush—the band that, presumably, the dad on Gossip Girl was modeled after. I am not trying to hate on LOVE, here, but this is a business. And if I were, say, Sugar Joans, who clearly has a promising future in music, and the guy who sang this song showed up to coach me, I might be a little miffed. Everything zen? I DON'T THINK SO.
After these initial knockout rounds—and fortuitously timed to the release of her album—Taylor Swift joined for a few days to coach every contestant. She was great, actually, dispensing advice the singers took to heart and bettering their performances. But her appearances highlighted one of The Voice's fundamental problems: its saccharine enthusiasm, which often overrides the actually cutthroat aspect beneath the show's conceit. Of Ryan Sill, on Stefani's team: "It was masculine, but it was emotional," she told him. "It was accessible; I loved when you would flash a smile." Later, in a one-on-one, she confessed to the producers, "I really hoped Ryan would unleash the boy performer charisma. That's his secret weapon, and that's why he's a force to be reckoned with!"
I'm no David Foster Wallace stan, but every time I watch The Voice, I am reminded of his brilliant short story "Late Night," which dissected the Debordian hoo-ha of a Letterman appearance (or "appearance") into the miniscule details of its anatomy, baring the total absurdity of the spectacle, the plasticity of it all.
"The hokeyness is vital," my husband said as Letterman dropped a squealing piglet off what was obviously only a pretend roof in the studio; we saw something fall a long way from the original roof to hit cement and reveal itself to be a stuffed piglet. "But that doesn't make him benign." My husband got a glimpse of himself in our viewing room's black window. "I don't want you to think the hokeyness is real."

"I thought hokeyness was pretty much by definition not real."

He directed me to the screen, where Paul Shaffer, David Letterman's musical side-kick and friend, was doing a go-figure with his shoulders and his hands.
In the seven weeks that the seventh season of The Voice has been airing, soundbites such as Swift's have been inescapable. They are the primary way people communicate on the show, which, in full reality show format, delivers even bite-ier bits during straight-to-the-camera "confessionals," where Swift delivered that "force to be reckoned with" line. The vocal instruction, too, is delivered in real time, making The Voice a theoretically useful program for aspiring singers to watch. But every line on The Voice's cheat-sheet of ways to become a more resonant performer is interspliced with biographical vignette: viewers learn all about how contestant Luke Wade works at a children's hospital, or that Blessing Offor was the youngest of six children and born with near-complete loss of vision—before one of them is invariably booted off the show. The vignettes are as much consolation prize to the contestants as they are about fostering viewer attachment to them; they are the vital hokeyness that determines the show's bottom line.
The Voice is an example of the American entertainment establishment at its least palatable, disguised as its most palatable. It appeals to the middle class with a down-home, gee-shucks aesthetic, rendered mostly by judge and country star Blake Shelton—who is actually the most likable and sincere of the quartet—and to music fans with the notion that we have a say in what gets signed, promoted, popular, in any other way than with our pocketbooks. It rests on a proscenium of false notions, with the knowledge that the corporate music industry as a monolith has found itself in a downward spiral so dire that it must rely on television shows such as these to shore up its profit margin. Historically, Voice winners have done all right, particularly in the country realm—Season 4's Danielle Bradbury was signed to Big Machine and released a well-received debut, while Season 3 winner Cassadee Pope hit number one on the country charts with last year's Frame by Frame.
The Voice's concurrent vindication and damnation is that this kind of television star-making is now one of the only routes for young, undiscovered musicians to reach such heights, a fast-track that may or may not breed longevity. (Witness the fates of most of the contestants on American Idol.) And that uncertainty is when the whole facade breaks down—the big reveal, that no matter how much we may vote for Sugar Joans (SHE MUST WIN!), we are not active participants in anything but consumer culture on an endless feedback loop. And it is a time suck. And I can't stop watching.
Images via Trae Patton/NBC.