Synthia China Blast is a Latina trans woman who, according to her family, has been in involuntary protective custody (IPC), a glorified form of solitary confinement, for almost 20 years. When we spoke, Synthia was incarcerated at Sullivan Correctional Facility, a men's prison about two hours north of New York City.

Last August, the Sylvia Rivera Law Project (SRLP) launched a petition to pressure New York's Department of Corrections and Community Supervision (DOCCS) to remove Blast from isolation. In a video released to promote the campaign, Laverne Cox read aloud a letter written by Blast, in which she names the abuses she's experienced on the inside: spending 23 to 24 hours per day in solitary, receiving insufficient medical treatment, and enduring violence at the hands of guards.
Just days later, Cathy Brennan—a prominent feminist who claims she does not support "irrational discrimination" against trans people but nonetheless has become known for her steadfastly trans-exclusionary views—publicized that Blast had been convicted for the murder of 13-year-old Ebony Williams. "Laverne Cox and the Sylvia Rivera Law Project are offering public support for a man who repeatedly raped and murdered a 13-year-old girl, because the man, Luis Morales, now 'identifies' as a woman called Synthia China Blast," Brennan declaimed on her site. Blast was threatened and insulted online and received hate mail on the inside calling her a freak and a woman hater, according to her and her family.
Blast was never convicted of raping Ebony Williams, and she adamantly denies killing her. Blast told me that she refused to tell prosecutors or police who committed the crime to avoid retaliation from the guilty gang members. Soon after Brennan posted about Blast's case, Cox asked SRLP to take down the video, saying she never would have read the letter if she had known the nature of the alleged offenses. SRLP complied and subsequently published an explanatory statement. "Supporting any individual person is not about pardoning their crime," they wrote, "but about protecting the rights of all incarcerated people and ending the use of systematic torture as 'punishment.'"
I followed the controversy closely. Sometime during the fall, I received a letter from Blast telling me her story and asking for support. After writing back and forth for a while, I asked Blast if she would be interested in a public interview, and she told me she would. I sent her typed letters, and she wrote back with typewritten responses.
G/O Media may get a commission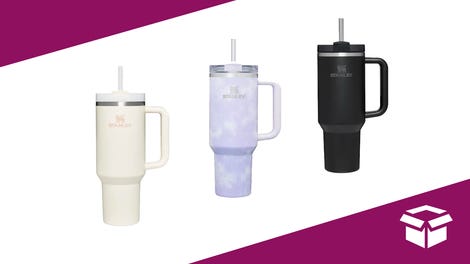 Up to 45% off
Stanley Cup Sale
The controversy around the SLRP campaign was sparked by Brennan's trans-exclusionary blogging, but it was sustained by broader political uncertainties about social and criminal justice. Should someone's guilt or innocence determine their suitability to be the face of a campaign? In what circumstances should we lift up the voices of alleged sex offenders or others convicted of violent crimes? How do we make visible the violence experienced by survivors and respect their right to heal without becoming complicit in the myth that perpetrators are monsters who must be hidden away? The fallout from the video brought to the surface just how paralyzed we are by these questions, how uncertain we are about how to build a future that enables healing and affirms our humanity.
I believe that Blast's experiences and analysis are crucial in our struggle to build a different world. This interview is published in the spirit of SRLP's words: that no one is disposable.
Synthia's interview has been edited for length. Factual assertions related to her alleged criminal offenses have been fact-checked whenever possible.
News outlets, bloggers and commenters have commented freely on who you are and what you did. Tell us about your life in your own words.
I grew up in the South Bronx. My mother was on welfare and her boyfriend was a dope fiend. I was only 11 years old. In order to escape the daily beatings, I found solace living in the streets. If I was hungry I could easily sell myself to eat.
The streets were my life. The drug dealers in my neighborhood gave me drugs to sell. Before you know it I'm 13 years old and I have money.
In March of 1991, a fire is set in a house at 1074 Fox Street. A week later I'm charged with 12 counts of second-degree murder, arson and reckless endangerment. I'm 16 years old, headed to Rikers Island.
The way I move. The way I act. It's obvious to the prison system that they have someone who appears to be homosexual. They house me in C-74 [the adolescent unit] with homosexuals. These girls are more like me. They act like me. This jail becomes my foster home. These inmates become my sisters. The older boys who rape us become our husbands. I endure this for over two years before a jury in March of 1993 finds me not guilty of killing six people.
But now there's a bigger problem. The guys who were sleeping with me were gang members. I now have two options. Option One: I'm dead! They will kill me. Option Two: Join them. In doing so I can continue to secretly live two lives. During the day I'm a Latin King. I can even use the name "Teardrop." During the night I can be Queen Nature. Why? Because the Supreme Crown Leader of the entire NYC chapter of the gang is my boyfriend. He will protect me.
I'm home now. I'm 18 years old. About four and a half months later my boyfriend beeps me. I call and I'm ordered to report to 971 Westchester Avenue. I know that apartment. A Latin Queen lives there. When I get to the apartment (4A) there's blood everywhere. I help clean up a crime scene and I help get rid of a box. What and/or who is inside I don't know, and to be honest. at that very moment in time, I didn't care. Those are my friends. They are my protectors. They needed my help.
I go out to Jersey City. I'm living in the Skyway Motel when the news comes on. I'm wanted for the murder and burning of a body. My mother beeps me. I tell her "Mom, I'm innocent." She tells me to turn myself in. I tell her, "Only with you." She takes me to the 41st precinct. I'm charged with killing an "unknown woman." August 28, 1993 becomes the first day of my new nightmare.
September 1993 the body is identified as 13-year-old Ebony Williams, a runaway who disappeared from Coney Island, New York. In the end the same woman who admitted dumping and burning this girl's body claims "Teardrop told me [she] did it. [She] told me [she] raped her and [she] killed her."
No [forensic] evidence. No murder weapon. No fingerprints. No eyewitnesses [to the crime]. No human connection other than being called to this house and now three years later I'm convicted of killing this child. This girl I never even saw alive. I never heard her voice. Never seen her eyes shine with life. I am guilty for not being a SNITCH! See, if I SNITCHED I would be home.
In jail I'm now seen as a threat. I am a transsexual who has been crowned into the Latin King and Queen Nation. From 1993 to present day I am isolated in a cell 23 to 24 hours a day. Locked in a status known as involuntary protective custody.
Describe your cell, and the experience of solitary, for people who might not be familiar with it.
I live in a cell locked 23 to 24 hours a day. A metal bed frame sits against one side of the wall and on the other side a metal shelf and bar stool-like chair are bolted to the floor. I have a caged and barred window that when you look out you see a grey-colored wall. If you look up you're lucky to see a plane fly over the jail. There's a foggy metal mirror on the wall and a metal sink and toilet that's connected. The water comes out brown and you only get two flushes of the toilet per hour.
The cell door is gated. You can't stick your hand out. The guards feed you through a key locked slot that is slammed in your face every time they closed it. Your ears ring and hurt from the pain. If someone takes a shit you smell it throughout the gallery as all the air vents are connected. When I look out my cell door all I see is a solid grey and white wall. The guard walks every half hour on the hour making sure you're not hanging today. I pace back and forth in the cell made of concrete and steel. Every single minute of my time in this isolation cell is spent thinking of a way to escape. When I say "escape," I don't mean in the "break out of prison way" but in the "how am I going to kill myself" way. So many thoughts start rushing in my head. It seems like a hundred people whispering in my ears telling me over and over again "do it do to do it do it do it."
Do you think there's a relationship between who society sees as disposable and who ends up in solitary?
Absolutely. DOCCS sees me as their #1 Problem Child. I am a woman, and I am redefining what it means to be treated as a woman in a male prison. They hate me, because as much as they try and force me to comport myself as a typical male inmate I am unable to accommodate their desires. Their approach is "isolate and segregate." They throw me in a cell, deny me every single program available to the general population.
When you first heard about it—before all the controversy with Cathy Brennan—what did SRLP's End Solitary campaign, and Laverne Cox's willingness to make the video, mean to you?
For once in my life I felt there was still hope. That my life as not going to end. SRLP has always written letters to DOCCS asking for my release so I could [participate in prison programs] because anyone isolated as long as I have been isolated is bound to have severe psychological issues. So when SRLP told me that they were ready to take my fight a step further I was elated. I felt happy. Then they told me that a transgender woman named Laverne Cox was going to help me. She was going to be my voice. The world was going to hear my words through her video. I was just ready. I told them yes, let's do it. I felt hopeful.
My sister Oshtun-Leti told me about the video. She said when she first saw it, because it was really happening. My family has to deal with the pain I am enduring. They see the psychological harm I am suffering. So for them to tell me about the video gave me hope. There was a transsexual out there who mirrored me in this lifestyle that was becoming my voice. I felt the will to live again.
What were your first thoughts when you learned about the controversy and Laverne Cox's decision to pull out of the project? How did you feel? How has all of this affected your wellbeing?
I was in pure shock. The first thought was "what happened." My sister told me, "Synthia you're not going to believe this but there's a bunch of TERFs who are attacking you, Laverne and SRLP. They started a smear campaign calling you a rapist. Saying you're a danger to women."
I completely lost it. The fact that someone who wrongfully labeled me a rapist based on a theory made up in a trial that was nothing short of a sham, full of hollow formalities, began to break me down. To be called those horrible labels hurt. I was placed on suicide watch. They placed me in a cell where I sat naked for 24 hours a day for weeks crying. The prison mental health staff had to pump me up on anti-psychotics to calm me down. I wanted to die.
For me, SRLP and Laverne betrayed me. They allowed these bullies to scare them away from supporting me. Laverne Cox went from being my hero to my betrayer.
How do you think transphobia shaped the way Cathy Brennan described you—or the danger she claimed that you posed? Would you call her a feminist?
That woman destroyed my name in a few days did what an entire trial and jury could not do. She is a monster. Her views are distorted and full of twists and turns. What writers say was fed to them by the police. Those news articles that wrongfully used the word "rape" are not evidence.
Cathy Brennan is not a feminist. I am a feminist. I am against women being harmed. I am against women being raped. I am against men degrading women or using them as sexual objects. Cathy Brennan gives all real feminists a bad name. I never hated someone as much as I hate her. You see she made Laverne run and hide and she made SRLP bow away silently. But not me.
We met through letter writing. What do letters and pen pal relationships mean to you?
Letters mean everything to me. Every letter I get whether a friend or a TERF's hate mail makes me understand life. I've been in prison since I was 16 years old. I don't know the outside world today. So much has changed. All I know is that I'm loved by some and hated by some. Letters have kept me alive.
Say that Laverne Cox had read a letter written by another trans woman—one who had been convicted of rape and admitted her guilt. Would you feel comfortable with that? Do you think there's any kind of "criminal"/prisoner whose voice we shouldn't hear?
I speak as a trans woman who was 1) wrongfully convicted of murder; and 2) one who was re-traumatized and falsely labeled a rapist. So I would never judge a book by its cover. I would never withdraw my support. I'm a human being. I believe that Laverne's decision was not only hypocritical (based on her support for CeCe [McDonald]) but it was self-serving. She was degraded as much as I was by Cathy Brennan and she ran from her. I hold no ill grudges towards her. I just feel like I was betrayed. She didn't fight back.
Do you have any dreams or fantasies about the future?
I was a kid when I came to prison. I stand convicted because 12 jurors wanted to convict me. I am a guilty woman as far as the state of New York is concerned and I will take that sentence as a woman. The sad truth is this: no one is granted parole if they don't admit to their crimes.
I was not born perfect. My dream is to come home to my family. To my beautiful nieces and nephews. My sister who loves me. Both of them. My aunt who adores me. I have a beautiful family who has supported me. I want to come home and advocate on behalf of the transgender inmates who suffer in prison. The New York State Department of Correction and Community Supervision has incarcerated me. They have not silenced me.
Last year SRLP curated a series of video interviews about prison abolition called "no one is disposable." In your view, what would a world look like that adhered to that principle—that no one is disposable?
It's funny because I am living proof that I became "disposable." Allegations and poverty defines my future. Everyday our criminal justice system is found to have wrongfully convicted innocent men and women. Society looked at these innocent people as garbage. Trash that deserved to rot in their rightful home. Then you hear of the few lucky cases of people vindicated by newly discovered evidence or DNA evidence and you say to yourself, "Wow! How shameful I have been?"
I live in a segregated hell where I see the true suffering of my peers. These human prison numbers that come and go. I know that there's some really bad people in here. Some of them I've grown to love because my incarceration has not given me the ideal candidate who is worthy of my affection. If this world knew what I knew, if they could look, and not feel human afterwards, then we are lost.
There comes a time in life when one person's trash become another person's treasure. I'm searching for treasure. I believe that everyone has a life worth saving.
UPDATE: Since this interview was conducted, Synthia China Blast has been transferred to Mid-State Correctional Facility, a men's facility near Utica. She is now on a long-term IPC wing, and is able to spend the vast majority of each day out of her cell and around other prisoners. Blast finally has access to programming and is working on getting her GED, and is also able to cook and prepare her own food. After years of campaigning by Blast, her family, and advocacy groups including SRLP, Blast is finally on a unit where she feels safe. Rebecca Morales, Blast's sister-in-law, told Jezebel that she has never seen her this happy.
Images via Blast's family, top image frames from Shutterstock
Aviva Stahl is a Brooklyn-based journalist who writes about prisons, particularly the use of solitary confinement and the experiences of terrorism suspects and LGBTQ people behind bars. You can follow her @stahlidarity.