If anyone on this planet deserves a nice, relaxing vacation it's Huma Abedin and she seems to be giving herself exactly that. Fleeing to the sun and lack of Anthony Weiner in Los Angeles, Huma seems to be enjoying herself and enjoying some interesting company. Now, I'm not saying she's doing all this to make Anthony jealous, but how great would it be if she were?

The world briefly stopped earlier this week when we all thought she was dating Tony Goldwyn after TMZ caught the pair together in Disneyland. This was made all the more (potentially) Scandal(ous) when you remember Tony Goldwyn has been married for almost 30 years.
Upon a closer look, the visit was much more innocent than it looked. Huma's son was there, as was Tony Goldwyn's daughter, and a source later told E! News they're simply good friends who worked together during the Clinton campaign.
However, you know that for a few brief moments, when Anthony Weiner got that Google alert while lying on the couch in his mother's basement, he didn't know that for certain. Let us all bask in the idea of his panic and jealousy in that moment.
If that wasn't enough, last night Huma, for some reason, attended Haim Saban's Hollywood Walk of Fame ceremony with David Foster, of all people.
G/O Media may get a commission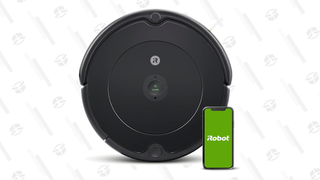 35% Off Black Friday Deal
iRobot Roomba 694 Robot Vacuum
Though I would be significantly less excited about this pairing anyway, turns out they're also just friends according to People Magazine.
Reacting to an event photo caption that referred to the Clinton staffer as Foster's "date," one Abedin friend tells PEOPLE, "This is utterly ridiculous." A source close to Foster confirms the same: The two do not have a relationship.
Hm, is it ridiculous? She's not exactly Foster's type, but maybe he's pulling a George Clooney after all these years.
No, Huma is simply enjoying her vacation in LA with some male companions who may not be stellar, but are certainly better than the man who did everything in his very small power to help fuck up an important election in the only way he knows how.
I can only hope Huma is also spending this time recovering, reevaluating and considering future relationships with successful, respectful men who don't send pictures of their genitals to teenagers. Go ahead and get your groove back, girl and move on with anyone—seriously, anyone—else.