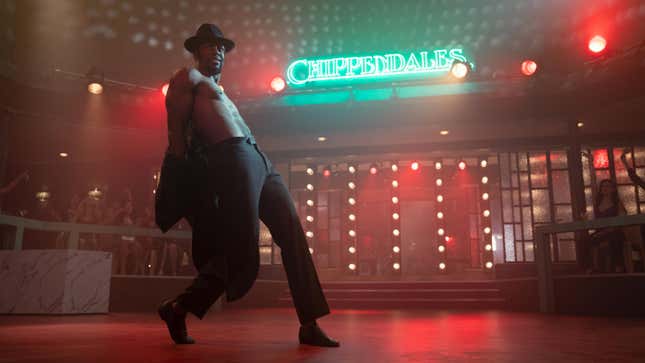 Tucked away in a fairly routine New York Times profile of New School history professor Natalia Petrzela is an accusatory line of inquiry, probing how heavily Hulu may have borrowed the idea for its show Welcome to Chippendales, which is about the rise and fall of the Chippendales empire, from Petrzela and her colleagues.

Raquel Leviss Told Us 'I'm Like, A Good Person' Just 48 Hours Before #Scandoval
Petrzela's podcast, Welcome to Your Fantasy, is a successful Spotify Original podcast that was co-produced by Gimlet Media and Pineapple Street Studios. It chronicled the macabre story of how immigrant Somen "Steve" Banerjee made and lost Chippendales, the male stripping revue phenomenon. It has all the markers of a fun true crime-y podcast, and made a number of year-end "best" lists, including one in the Times.
Though the show was backed by major podcast studios, it had nothing on one of this saga's biggest players: Hollywood. According to the Times, a producer on the podcast starting the optioning process (which is how things are adapted into film and television) about a year before the show premiered, sharing early episodes with movie and TV writers and producers.
One of the potential option-ers was writer/actor/comedian Kumail Nanjiani and his wife, screenwriter Emily V. Gordon. They turned it down. In an email shared with the Times, Gordon said: "Kumail and I listened to the podcast and it's such a fun story, but unfortunately I don't think it's the right project for us to write. As much as we love watching crime stories, I don't know if that's a strength that we have as a writing duo. It didn't spark an immediate take in our brains."
Fair enough! The Welcome to Your Fantasy crew went on to sign a deal with Netflix, and the podcast premiered in February 2021. It seemed like everything would proceed as normal and move on.
Not so fast. Just a few months after the podcast premiered, Hulu announced that Nanjiani would be playing Banerjee in its own Chippendales series—with him and Gordon appearing as executive producers. (It was originally titled Immigrant, according to multiple industry publications.) This one was, the streaming service said, inspired by the 2014 book Deadly Dance: The Chippendales Murders by K. Scot Macdonald and Patrick MontesDeOca. Interesting!
I must note here that Hulu and show creator Robert Siegel declined to comment for the Times story. Nanjiani and Gordon told the Times that their executive producer roles meant their involvement "was limited to casting consultation, communication with the studio/network, marketing, and editing."
But the Welcome to Your Fantasy crew felt something was off. One senior producer created a spreadsheet chronicling "more than a dozen similarities between the podcast and the Hulu show." They contend that "at least two key characters" in the TV adaptation were only mentioned in the podcast and not in the show's source book. One of those is Candace Mayeron, who was a producer for Chippendales and seems to be the inspiration for Juliette Lewis' Denise character in the Hulu show. Mayeron is firmly on the Fantasy side: "There is no doubt that they relied on the podcast," Mayeron told the Times.
Though this story is ultimately a lot of inside baseball, it's interesting because it raises the point that no one has sole rights to an era of history. Imagine trying to claim in court that only you, dear reader, are allowed to adapt a story about any medium-relevant incident from the last three decades. It just wouldn't hold up.
Sometimes, dueling adaptations do work. Hulu released Candy in 2022 about the accused murderer Candy Montgomery. HBO's version will drop in April. Both takes will have their moments. But another recent example shows that competition doesn't always work: the race to adapt the story of Anna Sorokin/Delvey. Netflix won that race, with Shonda Rhimes adapting New York's magazine story, while it seems as an adaptation of the book written by Sorokin's former friend Rachel is on ice.
To be fair, the historians at the center of Welcome to Your Fantasy agree. "You don't own history, and the lines of intellectual property can be really blurry," said Nicole Hemmer, an associate professor at Vanderbilt, who was involved in making the podcast, along with historian Neil J. Young. "But it raised big questions about what we do as scholars and what happens when that work becomes part of the entertainment field."
Welcome to Your Fantasy host Petrzela said the whole thing was a brand-new experience she hadn't expected. "I found myself really flabbergasted by this whole situation. But then again, I come from a world of footnotes and source citations," she told the Times.