Let us turn, with utter corporate seriousness, to the big business of pee-pee and poo-poo.
The Wall Street Journal reports that Huggies—owned by consumer packaged goods giant Kimberly-Clark—would like parents to begin toilet training earlier. Why would a diaper manufacturer encourage you to ease your child out of their products earlier, you ask? That's because the real money is in Pull-Ups:

Kimberly-Clark Corp. has benefited as more parents opt for Huggies Pull-Ups disposable training pants over less-expensive diapers. U.S. sales of Pull-Ups, which absorb wetness like diapers but can be pulled on or off like underpants, grew by double-digits on a volume basis in 2015 and again in 2016, offsetting a decline in diaper sales.

A pack of 74 Pull-Ups costs $24.99 at Target.com, while a box of 140 Huggies Snug & Dry diapers goes for the same price. In addition to helping the company's bottom line, executives said parents' willingness to pay for Pull-Ups signals an economy on the mend.
Operations chief Michael Hsu told analysts that it's a deliberate strategy "to say, 'Hey, we want children to start training earlier and we want them to stay more consistent in the training pant.'"

Of course, as anybody who's ever peeked into the seething caldron of firmly held and fiercely dependent opinions that is the mom Internet will attest, suggesting almost anything to parents of toddlers is a risky business move. And so, while Huggies has "started a marketing campaign aimed at teaching parents to recognize when children are ready for potty training and training pants" and now features advice on its website "discouraging parents from returning to diapers once they have begun using training pants," Arist Mastorides, head of Kimberly-Clark's North American childcare business, insisted that:
"We would never tell mom implicitly when to start," he said. "It's a hard journey and it's messy and time-consuming. We're trying to help educate parents on the signs of readiness to help moms get comfortable with training."
G/O Media may get a commission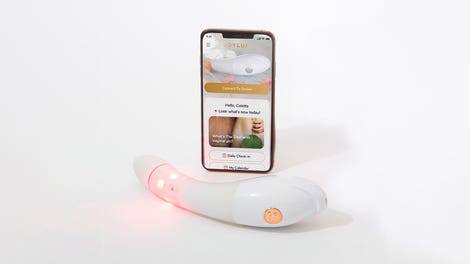 $50 Off
Joylux vFit Gold Device
"We're not telling you what to do—we just want to help you get comfortable with the right thing to do." Mmm-hmm. One wonders how much time is spent at Wharton teaching that sort of two-step.
But are training pants even worth a damn? "No kid will use a trainer like underwear, which is what marketers want people to think," scoffed potty-training consultant Sarah Grover. "If a child can pee and poop in there and not get wet, that's not potty training."
What is certain is that if you are between the ages of 25 to 40, the mid 1990s Pull-Ups jingle is now stuck in your brain for the rest of the day, sorry.