There are plenty of lingering questions around the resignation of HP CEO Mark Hurd following sexual harassment claims, but one thing is clear: You're about to hear a lot of shit-talking about his accuser's "skin flick" background.
Jodie Fisher was hired by HP as an independent contractor to hold events; The New York Times describes her role as "introduc[ing] him to customers and keep[ing] him company." She accused him of sexual harassment but said she had never had sex with him and that she was "surprised and saddened that Mark lost his job over this." HP's board has said he lost his job despite their finding that he had not violated the sexual harassment policy, because the subsequent investigation found he had falsified expense reports and tried to cover up his relationship with her.
What was his relationship with her? That's not clear from the reporting so far. But anyone covering this particular business story now has a juicy morsel of scandal now that Fisher has now voluntarily disclosed her identity, via (of course) her lawyer Gloria Allred. She was in movies. With sex in them! And on Age Of Love, trying to get a man. You know what that means.
Trust the British tabloids to blow up Fisher's past in movies like Body Of Evidence 2 and Intimate Obsession. (Also: Blood Dolls.) Here's The Sun:
G/O Media may get a commission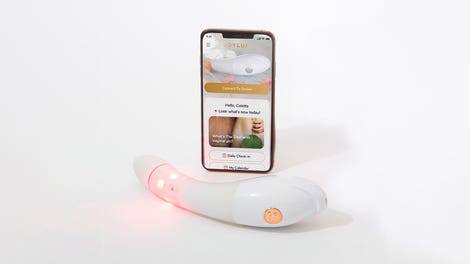 $50 Off
Joylux vFit Gold Device
For the record, the movies appear to have been the soft-core cable variety. Whatever, right? But it's not just those disreputable venues. In one of its several stories, The Wall Street Journal's sole description of Fisher was as "an actress who appeared in several R-rated movies as well as in 2007 on the NBC reality show "Age of Love," which paired older women suitors with a younger man."
It's quite the contrast with Allred's description of her as "is a single mom focused on raising her young son," with a degree in political science and a resume that included serving as vice president of a commercial real estate company. (Happily, The Journal was rather more measured in its separate profile of Fisher.)
Let's get something clear here, before the Cinemax jokes and the cougar references take over: Mark Hurd, described as "one of the best-performing CEOs in corporate America," screwed up all by himself, by falsifying expense accounts in a company already demoralized by the antics of its leadership (including current Senate candidate Carly Fiorina). Repeat: He brought down himself.
His departure — which included a $35 million severance package, despite the board asking for his resignation — sent HP stock down 7.6 percent on Friday. Cathie Lesjak, the CFO, is in charge for the time being.
Boss's Stumble May Also Trip Hewlett-Packard [NYT]
H-P's Hurd Reaches Settlement With Contractor [WSJ]
Porn Girl Behind HP Boss's Exit [The Sun]
Hurd Neglected To Follow HP Code [WSJ]
HP's Hurd Reaches Settlement With Contractor [WSJ]
Hurd's Reign As Hewlett CEO Is Bookended By Scandal [WSJ]