I tottered off my platform sneakers and scraped up my leg on a pitch of gravel just as the sun was coming up. It was 2:30 a.m. Scandinavian summers are brutal if you've got to get to a job, but if you're crawling out the ass-end of a rave—only so early because you really can't make it 'til the 5 a.m. closing time—it's lightly invigorating. Vitamin D helps to offset all the boozy Red Bulls.

Ana Gasteyer Satirizes the Girl Boss in 'American Auto'
The problem is that in the sunlight, everyone can see your sweat. And your smeared mascara. And, as it happens, the blood making rivers on your leg, a minor scrape that nevertheless busted some capillaries. If ever there were a perfect battle scar from a good rave, though, it's sweat, smeared mascara, and tiny spots of blood. I Google Maps'd myself back to my hotel, with a slight detour; Copenhagen is a city of rivers, I wasn't about to wait for a ferry. I walked around some college campus and ran to catch a bus. I had been raving for four days, 12 hours at a time, at Distortion Festival—my third time at the best and wildest massive Euro party I've ever attended—nearly to the point of ecstatic, invigorated collapse.
In the United States, music festivals have reached a crossroads, for reasons as varied as oversaturation and over-corporatization, to attendee fatigue, to the market decline of festie staple genres like rock and EDM. To many music lovers, though, a decline means a chance to breathe. To many music journalists and (I suspect) most readers, a decline means a chance to upend the neverending, often workaday lists and interviews and thoughtzones that accompany festival coverage. (In March, music critics at The New York Times declared they wouldn't be covering the biggest festivals at all, explaining, "we are trying to figure out intelligent ways to cover the big, cross-genre, medium-cool outdoor pop festivals, which look increasingly alike in their vision of a codified, consensual, safe and purchasable bohemia.") The best freewheeling music events in the US—hello, raves— have usually been off the grid, anyway; though tamped down in part by the RAVE Act of 2003, increasingly under-the-radar, if legal, parties in warehouses and fields have been having a resurgence. It's been, in part, a reaction to the corporate, infinitely more moneyed versions of the PLUR life.

G/O Media may get a commission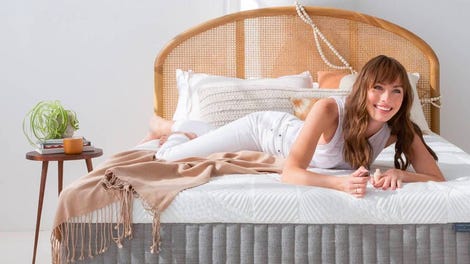 Sleep Sale
Sleep Sale - Brentwood Home
But what does it mean, really, to rave? Not as an existential query—that's between you and your god(s). I'm talking about the corporeality of it, the essential freedom, the reason that, even without the assistance of substances not endemic to one's body, it takes you to an ecstatic adrenaline high. I thought about this on my third night in Copenhagen, at three in the morning, when I was losing my mind to a bass-heavy set by British DJs My Nu Leng while jumping up and down to a degree that would concern my mother. The low-end is my sweet spot, always has been, from back when I was a tween and my father's stepson entered car and sub-bass competitions with what I recall to be some kind of muscly Firebird; these days it's the whiffs of frenetic ragga/jungle that puts me on that elevated plateau, whether through nostalgia or because, shit, the warmth and propulsion is tight.
For the last few days, music lovers—club lovers—have been engaged in a conversation about how to maintain the sanctity of the dancefloor after Orlando. Particularly for clubs that are gay and/or of color like Pulse was, the dancefloor is a crucial (if not the only) safe space of a lifetime. For those of us who need dance music, and dancing, to conjure a protective wall, this is the freedom we need.
And so the Distortion Festival is one I keep spending forkloads of kroner to attend, because it feels so open—it caters to people who love music, and dancing, and who revel in that fact together. It's a well-oiled machine, but it's still a homegrown festival. Copenhagen, in all its gleaming and cleanly pretty socialist foundation, somehow allows the fest to take over entire neighborhoods during the day, and shows revert to club environments at night.
Begun in 1998 with the hopes of celebrating Danish dance music nightlife, Distortion's booking has expanded to a huge roster of global acts, including Stateside stars (Waka Flocka, Kelela, Empress Of) and party-starters of varying countries and genres (Ghanaian highlife band Ata Kak, for instance, or German techno DJ Helena Hauff). And yet with this presence, it maintains a renegade feel, almost DIY and shambling on purpose—not dangerous, but fully invested in the core purpose of celebration, rather than returns. Most of the bigger acts end up at the clubs, or at the expanse of abandoned container yards where the party/rave is held over the weekend. But it's all a journey—a chaotic, jubilant, bananas five-day journey—and this year, it began for me with a Tuborg.
Tuborg, manufactured by the Carlsberg Brewing Company, is a Danish lager dating back to 1873, and it is legal to drink it and any other alcoholic beverage in public, wherever. Public drinking en masse is something that would never happen in most American cities, least of all New York, where the locals haven't exactly had Viking ancestors to teach us how to drink without barfing or fighting, but because Denmark is, in my experience, an overall polite environ, it seemed to be fine for the most part, a recreational activity enjoyed by mature adults.
Distortion's first day kicked off in the cool, young, immigrant neighborhood of Nørrebro, where 41 separate DJ stages smattered the packed streets, in styles ranging from "Lederhosen" and "Acid Trip" and "Heavy Bass" and "Gotta Have Dat Funk" and "100% African." The latter stage was part of an ongoing series called Sort Distortion—translation: Black Distortion—which varyingly included a man shredding on the kora like a metal riffer, and local Afrobeat DJs like Born Naked and Ernest Fru dropping flames from the Nigerian and Cameroonian pop scenes.
Also, a relatively popping soca stage:
It's difficult to convey how massive this street party is, and my iPhone pics don't do it justice.
This is at approximately 10 pm.
Looking back at these photographs just 10 days later, I find myself exhausted by proxy. But when you're there you feel nothing but elation, even when the music is bad. That in itself is the true essence of raving, though I was too jetlagged to hit up any of the night parties, missing Babyfather (UK) and Gaika (UK) and Steffi (NL). I had to save energy for the next day party, in Vesterbro, a less interesting neighborhood but one featuring Waka Flocka Flame, as if by magic.
I kept an eye on the man who surfed the crowd to get closer to his idol, as Waka seemed to, too; security just opened the gate and let him back into the audience without incident. (Look at how easy that is!) That night, I made my way to Pumpehuset for grime icons Wiley and Slimzee, but they didn't show (they canceled in London that weekend, too); instead, rising British rapper Bonkaz took their place, an initial disappointment that worked out awesomely.
The raviest part of this rave was, during the weekend, moved to Refshaleøen, an industrial island where an assortment of stages were set up inside shipping containers, on a beached boat, in a proper tent stage and, in one case, a tiny mini-rave inside an inflatable army tent, where I watched five minutes of Aurora Halal with a strobe light and a Scottish journalist friend's arm as my guide before I decided I was having a claustrophobic panic attack and had to get out. Before that, though, I filmed a little tour, where I first survived the Tekno Tunnel—a terrifying little shipping container blasted with fog and flashing lights to disorient against a backdrop of Dutch hardstyle, the kind of music where even in Europe the devoted are jacked from deadlifts, shirtless and incredibly lacking in body hair.
One of the main complaints about American music festivals is that they do not book enough women acts, particularly when it comes to the major EDM festivals. It's not precisely because there's a lack of women to book, it's because there's a near-total lack of trying—as though promoting a club bill with more than three woman DJs over a weekend might tip the inequity scale and keep frat boys with floozy wallets at home in protest.
This was not that. While the split of genders was far from totally equal at Distortion, there was not a time slot in which a woman musician or DJ was not performing; and one of the benefits of the festival is that it's a place for new music as well as established classics. I discovered Danish trap that sounds like Future, and watched legendary DJ David Rodigan play massive Beenie Man tracks. I heard Rihanna's "Work" about 7,300 times, in as many contexts, and watched people from all over the world get excited and then break it down with a slow wine.
And, at one point, I cried. Maybe from lack of sleep and forgetting to pop my escitalopram; maybe from lack of silence and forgetting to pop my ass; but also I cried from happiness, and an explicit reminder that this kind of freewheeling festival brings: we can't let ourselves be penned in.
The point at which this happened was during Empress Of's performance of "Woman Is a Word." (I also might have been emotionally stoked to see another Latina again after four days. Hey! Scandinavia is really, really white!) I filmed it, and then moved to the back of the stage, too shy to continue bawling in the front.
Is this the point of the rave? To dance yourself raw, where you can't keep your guard up and every moment's an unleashing? To dance yourself to oblivion, where the more mundane hours seem both more bearable and more meaningful? Or is it just a dream, a funny-funny dream, something one does when they're young—or, in my case, not-so-young—and hopefully forever, lord willing?

It never has to have a point, I know. It's a contained situation to set yourself free, an indulgence in an experience and a willingness to live in the moment. Which is truly the raviest revelation of all.
---
Images, video by Julianne Escobedo Shepherd. Face melt gif by Bobby Finger.