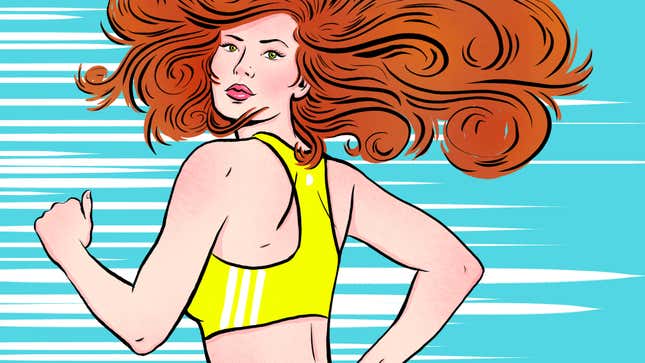 A week and a half ago, as I was packing for Chicago, I noticed that all of my good running clothes are a bright vitamin-piss yellow. My new shoes are that color. My lucky tank top is that color. My favorite socks are that color. Bright vitamin piss-yellow is not flattering on my complexion, and it never will be. My skin is the color of a baby pig.
"This is my power color," I said aloud as I placed a series of neon yellow items into my suitcase. The marathon was in four days, and I had gone irretrievably insane.
By the time they line up by the thousands at a major race's start line, runners have spent months (maybe years) preparing. They've designed a training plan, obsessed over their diet, logged hundreds of miles in all kinds of weather, said no to social events, risen before the sun. There's one thing that no amount of preparation can stave off: during a long race, runners almost universally would describe themselves as looking "like shit." And thanks to the ubiquity of race day photography, that moment can be captured for posterity, forever, if you're willing to pay for it.
The market forces behind race day photography are simple enough to understand: completing a race is an accomplishment, and people like to have professional photographs of themselves or their loved ones in the process of accomplishing something. At running events, where participants number in the thousands (or, at major world marathons and big city races, tens of thousands), it takes a lot of photographers to capture everybody in a light that's flattering enough that they might buy it.
G/O Media may get a commission
25% Off
Coleman SaluSpa Inflatable Hot Tub Spa
MarathonFoto offers nostalgic athletes photo packages for all shapes, sizes and fitness levels of wallet. Those seeking a "value" can order one print of a 5x7 photograph of themselves grimacing with effort. For only $7 more, you get an additional print of the same photo, in the same size. Creative types can make their own collage from snapshots photographers captured during the race, starting at only $39.95. Those particularly proud of their raceday achievement can display it on plaques that range in price from $69.95 to $119.95 for a "deluxe" version that includes display of your finisher's medal. A bargain! And they don't just show up to marathons; every big race I've run in the last few years has had its own gaggle of photographers.
Cost aside, several female runners I spoke to approach their raceday photos with attitudes that range from amusement to concern followed by embarrassment, a source of self-consciousness vanity in the midst of an activity that ideally promotes feeling formidable. Danny Doyne of Chicago says she purchased photos of her first half marathon, because she was running for a cause and a loved one was in the hospital. During that race, she adds, she was wearing short sleeves in 36 degree weather, a detail she now recalls warmly. Conservative columnist and fellow runner Christine Rousselle has never purchased a midrace photo, but she once took a photo of herself as she was falling midrace; truly a feat. Another Chicago runner says she always chooses cute outfits for races but has never purchased a photo.
Despite the fact that looking "good" is about as much the point of running as having a nice manicure is to playing chess, the spectre of the raceday photo is one that's hard for racers to ignore entirely; not everybody buys, but everybody looks. I've always thought it might be nice to own a single photograph of myself running the Chicago marathon, but things never quite worked out. In 2010, I didn't get my shit together in time to order prints from the race before they expired and disappeared from the internet forever, which is probably fine because it was around 80 degrees at street level by the time I finished, and in all of the photos available for purchase, I look like I'm having an allergic reaction. All of my photos from 2013 captured me in a moment of slack-jawed exertion, like a bored heifer mindlessly plowing in the sun, or taut-faced elation, like a manic meth head gleefully outrunning the cops. MarathonFoto, which captured this year's participants in the Chicago Marathon, charges anywhere from $17.95 to $324.95 for precious, professionally captured images, and I wasn't about to spend upwards of $20 on a photo of myself in blurry pain.
I thought this year might be the year, and I did what little I could do to encourage a good midrace photograph. I'd pick a good outfit, I'd take five extra minutes to shellac my hair down, I'd make sure I adequately carb loaded and drank plenty of water in the days leading up to the event. I'd listen to music that made me happy, and smile at the people who came out to cheer on the 40,000+ runners.
The night before the marathon, I woke up after an hour of sleep in a panic that I'd overslept. Then, I drifted back off and had 55 minutes of stress dreams. Then I woke up again. I finally gave up at about 5:30 A.M. and got up for good.
Too panicked to think, I pulled on the neon yellow outfit I'd packed for myself and pinned my race number to the fabric over my stomach. I walked to the bathroom and to the bed several times, each time forgetting why I was going in the direction I was going. My mind was a hamster.
The forecast was in the 70's—about twenty degrees warmer than the ideal temperature for racing—and sunny. I smeared SPF Old Lady on my face and looked in the mirror. I grabbed the tube of Kat Von D "Trooper" black liquid eyeliner I'd packed and lined the top lids of my eyes out of habit, and because wearing black liquid eyeliner makes me feel good. I leaned back and looked at myself and instantly felt stupid. There's no way that will last for the entire 26.2 miles, I thought. One female runner who I spoke to says she always puts on mascara before racing and expects it to evaporate. Another puts on both waterproof mascara and "eyebrow stuff...so I look like a human."
I pinned my bangs off my forehead and pulled my hair into a ponytail. I used about a dozen additional and unnecessary bobby pins and some hairspray that I'd gotten as a sample in a bathroom at an event to secure the flyaways. I looked in the mirror. I looked crazy. I felt crazy. I'd been alone for most of the last 36 hours. I took a photo of myself in the mirror.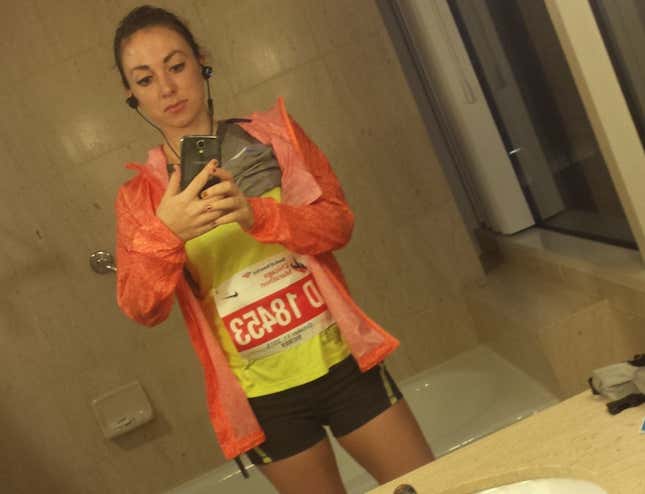 On the walk to the starting line, I pictured the other runners positioned like I had been in front of their suitcases or dressers or closets, picking out what shirts and shorts they were going to wear, perhaps declaring their "power color" aloud in a similar state of pre-race neurosis. There were groups of sorority sisters in matching tank tops and socks, a few knuckleheads in costumes, a lot of people with their names ironed onto their shirts so the crowd would know what to yell. Race day beauty tip: magic markering your name on your upper arm is better than iron-on letters on your shirt.
Until I put on my headphones at mile 10, I could hear the MarathonFoto cameras' electronic snaps as we passed through Lincoln Park. I dumped a cup of water down the front of my shirt. A girl wearing neon pink athletic briefs and a skirt that bounced up to reveal her perfect runner's glutes every time she took a step bounded past me. What freedom, I thought, as another cameraman snapped to my right.
The sun and temperature climbed and my energy reserves dwindled, but the photographers didn't stop. By mile 16, I'd hit what they call "the wall" and was concerned that I might not make it through the race. Volunteers handed us sponges soaked in ice water, which we'd squeeze on our heads and bodies and toss to the side. Because the morning's hairspray had long ago evaporated and wisps of hair were tickling my face, I used a little-known beauty secret I like to call "my own sweat" to slick it back. At one station, I accidentally poured lukewarm lemon Gatorade onto my forehead. Gatorade is not a good face lotion or hair product.
Demoralized racers, eyes focused on the ground, walked off cramps and prayed for a second wind on the side of the road. Photographers continued snapping. At every aid station, I'd down a glass of water and throw another on my face. My sunscreen was gone, and I could feel the freckles populating. I looked like I'd drowned in a commercial washing machine. By mile 20, I felt like I was shuffling along. I took a handful of ice from a bystander and shoved it in my bra.
At the finish line, I threw my hands over my head like I was breaking through invisible tape, posing with what little energy I had left. My muscles felt like they were filled with fire ants. My hands were swollen. My face was framed by a miasma of crusty salt along my hairline. Somebody handed me a water bottle. I called my boyfriend on the phone to tell him I'd finished. "You're babbling," he said.
A photographer stopped me. "Hold up your medal!" he said. I held up my water bottle and grinned.
When I returned to New York, sore but relieved, I paged through the dozen or so photos MarathonFoto deemed suitable enough to try to sell back to me. I looked just as shitty as I expected I would, alternately like a corpse that had been drained of its blood by an athletic vampire and a corpse that had been roasting in the sun for days. There was no stock photo-perfect depiction of race day effort. There was a lot of grimacing, of obviously slow steps, hair askew, but I was proud of all of it. My cousin, who recently completed her first ultramarathon, said of raceday photos, "I don't care if I look pretty, only that I recognize I look badass." I definitely didn't look $17.95 worth of badass.
Another year, another set of photos I'm not comfortable shucking out to download. Besides, I already have a souvenir: the priceless knowledge that my favorite eyeliner can stay on literally through a marathon.

---
Contact the author at erin@jezebel.com.
Illustration by Tara Jacoby