Are you ready for a nail DIY? This project explains how you can layer fabric paint over nail polish to achieve something akin to those "antique" and "distressed" paint effects that are so popular on home-decorating programs. (You know the ones where some hyperactive blonde is always convinced that what this suburban kitchen needs is more purple-and-gold crackle spraypaint.) I first noticed that fabric paint not only plays well with manicures, but gives this kind of layered, sanded-off effect when I was working on a t-shirt DIY with the designer Natalie Chanin of Alabama Chanin. Call it shabby chic nails.
(That project is archived here.) We were applying fabric paint to a t-shirt using a stencil and a sponge, and — as is my wont — I was not terribly careful about keeping the paint off my fingers. I figured I could just rinse it off later. But when I went to wash my hands, a funny thing happened. The paint came off my skin without any trouble, but it stuck fast to my (painted) nails. I could scrape it off with a fingernail, and repeated scrubbing lightened the paint in places, but fundamentally the paint and the manicure had entered into some kind of happy, enduring bond. Because this happened by accident, the white paint was a little uneven — more got on my thumbs than on my pinkie nails, for example — but I knew if it lasted I could replicate it intentionally. The effect proved to last as long as the manicure — actually, because it helped cover up the chips and nail regrowth in what was already a week-old nail job, it technically extended the manicure's life, giving me another week or so of shabby-chic nails. It's a little like one of those "crackle" top coats, only with transparency — and the pleasing contrast of the matte paint and the glossy nail polish — in play. Here's how you can achieve the effect.
G/O Media may get a commission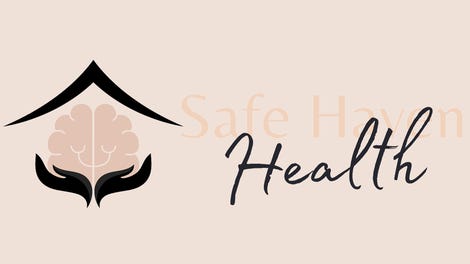 Addiction counseling
Safe Haven Health
You will need, from left: a makeup sponge (optional), a nail polish, a bottle of fabric paint in a contrasting color, a base coat, and a top coat (Sally Hansen's Insta-Dri is the best).
The textile paint that I was using when I first noticed this effect was Createx Airbrush Colors. It actually proved a little more durable than the Jacquard Textile Color paint I used this time around, for an experiment.
Before you start painting your nails, wash your hands with soap, trim your nails, push back your cuticles, and complete all the other preliminary steps that can make a manicure last longer. When your hands are clean, dry, and oil-free, apply your base coat.

Then use two coats of your nail color. I personally like the way this manicure looks with a matte textile paint and a metallic nail polish — the contrast is nice. So I'm using a deep red metallic Essie color.

Apply the top coat.

When your manicure is entirely dry, sponge the textile paint over your nails. It doesn't matter if the paint gets on your cuticles and fingertips. The paint will bond to your nails, but not your skin, so you will be able to wash it off.

Once the textile paint is dry, wash your hands. Get the paint off your skin, then rub and scrape the paint off your nails to reveal the nail polish beneath.

When your hands are dry, rub some oil on your cuticles and you're good to go. The textile paint should be as durable as your manicure.
If there's something you'd like to see as a DIY project, you know what to do. In the meantime, to check out past DIYs:
How To Turn Your Dress Ideas Into Reality By Making A Custom Pattern
How To Embellish Any T-Shirt (With Designer Natalie Chanin!)
How To Make Surrealist Schiaparelli Sunglasses
How To Keep Any Strapless Dress From Falling Down
How To Master The Art Of Ombré Nails
How To Ditch Your Boring Throw Pillows For Something Cooler
How to Make Easy, Fast, Foolproof Bread From Scratch
You Too Can Have Kick-Ass Nails Like Rihanna
How to Make the World's Easiest Purse
How To Wrap The Best Gifts Without Breaking The Bank
How To Pluck Your Eyebrows
How To Winterize A Coat
How To Knit A Burberry-Inspired Cowl
How To Make A Colorful Wrapped Hair Comb
How To Transform Yourself With Special Effects Makeup
How To Give Yourself Paint-Splattered Jackson Pollock Nails
How To Turn A T-Shirt Into A Pillow
How To Make A Felted Soap
How To Make A Manicure Last
How To Make A Corinne Day-Inspired Spiderweb T-Shirt
How To Do A Polka-Dot Manicure
How To Do A 30s-Style Moon Manicure
How To Make An Envelope Clutch
How To Paint Your Nails With A Charming Leopard Print
How To Alter A Thrift-Store Dress