Women's magazines and the womynternet (copyright me 2 seconds ago/my actual rock bottom) have long searched for the secret to Making the Boys Like You. Perfect hair? Skin that glows like you've just swam a lap in a pool of radioactive waste? Giant palm fronds extending from your eyeball skin in lieu of eyelashes? The Perfect Ass? A totally fuckable personality? Crack teams of white coated Harvardians are working in labs right now trying to find out.
XOVain, the deluxe purple Caboodles case full of body glitter gel beneath XOJane's bed, is the latest to join the ATTRACT HIM cacophony with a column called How To Appear Biologically Sexier And More Fertile, which suggests that the best way to ATTRACT HIM is to use evolutionary psychology (science) to appear to his ex-monkey brain stem reactions (more science). Desirable traits live on; undesirable traits just disappear. From the piece,
So while most traits we find attractive are directly linked to perceived fertility, like health and youth, many could be totally arbitrary. For example, the "monolid" many people of East Asian descent have may have started as a way to protect their eyes, but eventually they decided it was hot and just went with it.
Ok. Um, where were we? Oh, right. Science. According to Science, men are drawn to things that are "hot" and things that convey fertility, and if you want to be more attractive, make an effort to appear as though you'd get pregnant by making eye contact with a bearded guy. That's just how science works. Fertility and Asian eyes good. Infertility and, um, no eyelids (?) bad.
There are plenty of women who are preoccupied with man-snagging, and I don't begrudge any of them for that. But what about those of us who aren't looking for adoration?
G/O Media may get a commission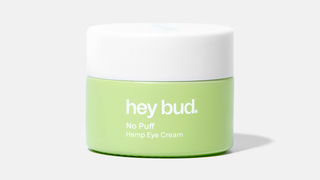 15% off
Hey Bud - No Puff Hemp Eye Cream
Less prevalent in Media: For WOMEN® are tips on how to achieve the opposite of what the XOVain piece advises: getting men to leave us alone. Chasing them away. Really committing to being left to our own devices with our books or our cats or our broken bottles out of which we are drinking straight whisky because we do not give a fuck. So I've done womanity a favor by writing a guide — using SCIENCE — on how to repel men. Take it from me: I'm an expert.
TELL THEM YOU'RE OVULATING. USING YELLING.
OK, I don't know much about men beyond the fact that it seems to me like they have a lot of nerve endings on their penises (I think?), but I don't know how animalistically excited my boyfriend would be if I leaned across the table at dinner and whispered, "I'm ovulating" and then wiggled my eyebrows like one of those Muppets with moving face parts and then gestured toward both of our crotches. In fact, every one of my adult relationships has been at least partially characterized by a mutually shared interest in me not getting pregnant.
So it stands to reason that if you want to chase a guy off, a good thing would be to tell him how fertile you are, and do it in a voice that indicates a disregard for social norms: yelling. Here are some sample things to yell at a man who you want to go away:
I AM NOT ON THE PILL
PUMP ME FULL OF YOUR LOVE JUICE I'VE GOT BABY FEVER
LAST CALL FOR THE GETTING ME PREGNANT THIS MONTH EXPRESS! I REPEAT THE OVUM IS LEAVING THE STATION
I WILL FULLY EXPECT YOU TO PAY FOR 100% OF THE ABORTION I WILL NEED IN ABOUT 5 WEEKS IF WE DO SEX RIGHT NOW
Alternately, Tell Him All About Your Struggles With Infertility

Graphic medical stories are a huge first date No-No, and they're an extra huge first counter No-No. So the next time you're approached by a stranger when you're in no mood, tell a long, elaborate story about how you had to get HPV burned off of your cervix using a laser, or how during your period, you sometimes pass clots the size of a baby fist. Tell him about your eczema. Describe, in detail, your loose stools.
Of course, the trump card here is just saying "Icantgetpregnant." like it's one word.
Three words: Puffy. Cry. Face.
According to the XOVain piece, men enjoy visible cheekbones because it shows them you've gone through puberty. ERGO, the opposite of cheekbones — a puffy face — would show men that you and puberty got in a fistfight and you are not to be bothered.
If your face is naturally bony, don't fret — when I'm upset and particularly antisocial, my stomach gets upset and I can't eat and after a day or two of this my face gets drawn and my cheekbones look EXTRA POINTY, but I'm able to keep men away by scowling constantly. I channel Cyclops from X Men and imagine my eyes are shooting deadly lasers.
If neither of those options work for you, you can't go wrong with a rubber Ronald Reagan mask. I doubt even James Deen could get hard for a woman in a Ronald Reagan mask.
Skip the Glasses (AND the Contacts)
The old saying goes "Men don't make passes at girls who wear glasses," but do you know what men find even less sexy than a four-eyes? A woman who forgot her glasses at home and can't see anything and is squinting at things because she's not sure if they're a subway turnstile or their freshman year philosophy professor. Unsexy is staring at anything located more than 4 feet from your face with the unfocused, dead eyes of a Victorian ghost.
Squinting will also make you biologically unfuckable because, according to the XOJane piece, big eyes mean you're ready to be inseminated. Your eyes are a window to both your soul and your withered, barren womb — so play it up, Ms. Magoo.
De-Shine Your Hair
XOVain suggests that if the dead connective tissue cells that we call "hair" is "healthy" looking, then men will want to love on us. So if we want to drive them away, it stands to reason that we'd try to make it as unshiny as possible. I prefer sticking my head into a bag of flour, but get creative. Wear a hat. Wear a beekeeper hood. Wear a Raggedy Ann wig.
Don't Smile.
It takes more muscles to frown than it does to smile, but you know what uses the least muscles of all? Passive hostility.
Here's a fun story about man repelling — once, I was having drinks with my friend Danielle at at place on the Lower East Side where patrons are seated along counters against windows, so passers by can just look in at you imbibing and you can look out at them like a creep. A stumbling drunk fraternity bro took notice of her and moseyed on over to the window, pointing at her, then at me, then at him, then giving a thumbs up and nodding with a huge grin on his face. Danielle, like a pro, locked eyes with him, made a complete blankface, and shook her head while mouthing the word "NO." It was virtuosic and it took, like, four muscles, tops.
Other "go away" gestures that require minimal muscular commitment: flipping the bird. Rolling your eyes. Widening and then averting your eyes as though uncomfortable and judgmental (Lauren Conrad is GREAT at this).
Tears
Nothing kills a boner like tears. Think about homeless one-eyed puppies and they'll come.
Got other tips for chasing men away? Share them below!
And in the meantime, happy man-repelling!
Image by Sam Woolley.