Tuesday was Kris Jenner's birthday. Happy Birthday Kris Jenner! The Kardashian/Jenner Family matriarch apparently celebrated her birthday not by eating her young in an effort to stay youthful forever, but but consuming cupcakes decorated with her own floating head. She was also showered with love by her offspring, in a desperate attempt on their part to curry favor with the woman taking 10% of the money they make.
It wouldn't be this reality television family, however, without a little competition. In the style of US Weekly's Who Wore It Best?, we ponder the question: Which Kardashian child is the best child?
6th and Last Place Child: Kylie Jenner
Kris's youngest child might deny she's going through a phase, but something's clearly up: unlike the rest of her siblings, she didn't use Instagram to post an amalgam of photos of her and her mother together over the years, a clear snub, given the stunning pictogram she pulled together for dad Bruce Jenner's birthday a few weeks earlier. We get it Kylie: You're mad. Message received.
5th Place Child: Kendall Jenner
G/O Media may get a commission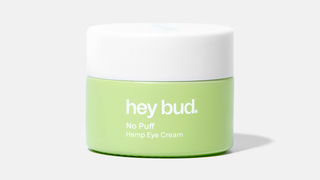 15% off
Hey Bud - No Puff Hemp Eye Cream
Kendall Jenner made a valiant effort with her display of love for her mother, posting a cute mashup of photos with the message "happy birthday mom!!! you're the best mom/ momager ever and I wish you the best birthday! ❤️ you deserve it! love you foreverrrr." Ultimately though, Kendall was a victim of her lack of effusiveness: not even a heart, extra exclamation points and an exaggerated spelling of the word "forever" could make her small token of affection look impressive next to the stuff her half-siblings pulled out.
4th Place Child: Kourtney Kardashian
The eldest Kardashian child did her best with a series of cute photos and the original suggestion that Kris "Shake it like a Polaroid picture." Good try Kourtney, but you know the road of excess is the necessary one to take if you want to be considered a good child.
Bronze Medal Child: Khloe Kardashian
Solid effort from Khloe, the child most likely to call her mother out on her insane antics and bizarre behavior. Unfortunately, while Khloe managed to write some nice stuff about her mom, she still made her offering to Goddess Kris a little bit too much about herself: "No one loves us like you do. No one believes in their children like you do. No one is as crazy as you to have so many kids pester you every hour of everyday. My point is, there's no one like you. Thank you for loving us all endlessly, for teaching us everything wonderful, for always being there no matter what any of us are going through [Ed. Note: Clear secret reference to her current issues with Lamar Odom] and most of all.... Thank you for FAMILY."
Silver Medal Child: Rob Kardashian
Rob did a beautiful job on his mother's birthday, and honestly, was just barely beaten out for first place child. His note was both extensive and from the heart, and the most tear-enducing of all of them, in that it was the only one to mention a dead relative. "I know with my Dad not being here you felt that you needed to fill both roles and you didn't know how but you did everything just right and still do," Rob wrote. "I love everything about you and how you just want to help every single person in this world. People think that you just had it made and never struggled a day in your life but I saw you struggle and overcome everything and that's all I can hope for as your Son. To see you working so hard and in such a happy point in your life makes me smile more than you know." Way to make it about mom, Rob. Also way to pick a photo depicting you at your goal weight. #aspirational.
Gold Medal Child: Kim Kardashian
At first, it seemed like there was no way Kim, Kris's admitted favorite child, was going to win a prize that most years would seem like it was in the bag. Her Instagram entry was fine, with just a few headshots of Kris and a short note proclaiming her mother her "best friend, the strongest person I know, you love so hard & are the most supportive woman on the planet! I hope today is filled with lots of ❤️ & joy! @krisjenner I LOVE YOU."
But then, on Wednesday – a day after her mother's birthday – Kim pulled out the big guns: an adorable picture of her and Kris when she was a toddler, with the caption "I hope you had a good birthday mamma." Kim, you minx. You play this game better than anyone. Hold tight to your title as Best Kardashian Child Supreme. We have faith in you.
Images via Getty