It's not news that girls are feeling more pressure than ever to be perfect. As I've written before in my posts on the Martha Complex, this generation of teen girls is more stressed about, well, everything, than any generation of women before them.* The pressure to do well in school, the pressure to please parents and peers, and the pressure to live up to an impossible ideal of physical perfection is crushing.
Tweens and teens grow up comparing themselves to models and tv stars. Few girls feel as pretty, as sexy, as skinny as the women they see in the media. As a result, many young women conclude that happiness is something that you only get when you get to your goal weight. And even more troublingly, when it comes to relationships, lots of straight girls think that if their own bodies aren't perfect, they have no right to expect too much from guys.
Working with high school and college-aged young women, I've heard the same thing more and more often in recent years. These smart and amazing young women have somehow gotten the idea that in order to be treated with respect and love, they have to be damn near perfect. One student said to me last year, "If I were fifteen pounds thinner, I think my boyfriend would stop looking at other girls." She didn't feel like she had the right to ask her guy to stop checking out other women in public. "You have to be gorgeous for a man to want to be with you and only you. I'm not, so I can't expect that."
A mentee of mine has a boyfriend who uses porn regularly and plays video games for hours. "Sometimes he'll just forget to call or text because he's gaming", she says. "I'm lucky to get a few minutes alone with him a week when we're not doing something sexual. But this is the way boys are - unless you're like freakin' Megan Fox, you can't expect a guy's complete attention."
G/O Media may get a commission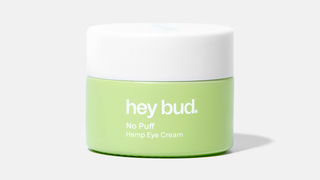 15% off
Hey Bud - No Puff Hemp Eye Cream
Another girl told me that she doesn't feel like she can have a boyfriend – because she's not pretty enough. She has a lot of hook-ups instead. "I'm the girl you get with for a blowjob", she said; "I'm not the hot girl you hold hands with in public." (For more on the connection between perfectionism and promiscuity, see Kerry Cohen's forthcoming Dirty Little Secrets, to be published later this year.)
Words like these break my heart, because these bright and beautiful girls are blinded to their own worth. They don't see that they have the right to demand respect; that they have the right to set good boundaries; that they have the right to pursue a real relationship (if they want one). Believing that only women who meet an unattainable standard of perfection "deserve" to be happy sets girls up to settle for second-best in one area where they should never compromise.
This perfectionism dovetails dangerously with another theme in young women's lives: the "good guys are hard to find" narrative. This belief that reliable and loving young men are rare reinforces the pursuit of skinny, sexy, beauty: the fewer decent lads out there, the more "choice" those guys have. And even the decent ones, so the culture tells us, will make relationship decisions based on women's appearance. For some, that means all the more reason to compete - and for others, all the more reason to opt out and "settle" for what they've been told is the best they can reasonably hope for.
We need to see how the pressure to be perfect - a pressure that is nearly omnipresent in young women's lives, even the lives of those who don't seem to be pursuing an ideal - is rooted in a false scarcity model. There won't be enough for you, the culture says, unless you try harder. And if in your own eyes, you're well short of that ideal, then you need to be realistic and settle gratefully for the crumbs.
Young women often tell stories about their girlfriends, whom they often describe as amazing and wonderful. "It's so sad", Jessica will say, "Amy doesn't see what we all see. She's so pretty and smart, but she keeps dating these losers. She doesn't know her value." Of course, half the time, Amy is saying the same thing about Jessica. Teen girls are almost invariably fonts of great wisdom for their peers - but lousy at taking their own advice to heart. The truth is, of course, even the young women who most closely match the rigid beauty standards are bitterly aware of how they "fall short of the mark", at least in their own minds.
It's not a stretch to point out that the "scarcity model" combines with perfectionism to let men off the hook time and again. The less girls believe they deserve, the less they'll ask for - and the less young men need to provide. Until we ask who benefits from this cruel system, we're not getting close to solving the problem.
*For more, check out the work of Claire Mysko on Supergirls, as well as the solid books by the aforementioned Kerry Cohen, Stephen Hinshaw, Rachel Simmons, and of course, Courtney Martin's seminal Perfect Girls, Starving Daughters.
This post originally appeared at HugoSchwyzer.net. Republished with permission.
Want to see your work here? Email us!