The next time you ask yourself "Whatever happened to predictability," look no further than Candace Cameron Bure, Jodie Sweetin and Mary-Kate and Ashley Olsen — the four women who played the three Tanner daughters on ABC's long-running series Full House — and you'll find it right there. All four of them have grown up to become the exact personalities that their characters set them on the road to becoming — a fundamentalist Christian, a rebel and a pile of old rugs that smokes and occasionally shouts out catchphrases.
Take a look at what I mean...just around the beeeeeeeend!
D.J.
In a recent interview with HuffPo Live, Candace Cameron Bure, who you may remember as D.J. (the eldest of the Tanner girls), spouted off some very, uh, traditional views on gender roles in marriage, saying:
"I am not a passive person, but I chose to fall into a more submissive role in our relationship because I wanted to do everything in my power to make my marriage and family work."
G/O Media may get a commission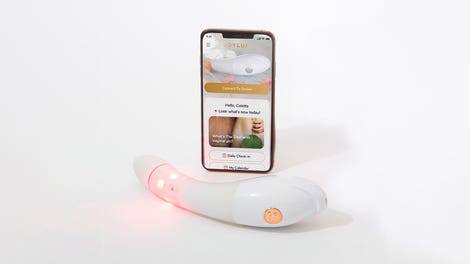 $50 Off
Joylux vFit Gold Device
and:
"The definition I'm using with the word 'submissive' is the biblical definition of that. So, it is meekness, it is not weakness. It is strength under control, it is bridled strength."
Candace. GURL, if having your strength "bridled" is how you want live your life, then you go on ahead and live your life that way. You just gotta stop at trying to make other people live their lives that way, ya dig? (Candace, as it turns out, does not dig.)
But onto the point! Of course — OF COURSE — D.J. would turn out to be a Christian fundamentalist who will never stop talking about being a Christian fundamentalist and why you should be a Christian fundamentalist, too. She was made for that kind of lifestyle. Just look at the evidence:
D.J. was always the most morally righteous of all the Tanner girls. She often found herself in ethical quandaries (like whether to go to her first sleepover or stay home and babysit Michelle or kiss her crush Kevin in a flashy/whorish game of "Spin the Bottle" or privately on the back porch) and always ended up making the right (i.e. most boring) decision. She would then explain her decision-making process in some drawn-out overwrought lecture that was always snore worthy and would leave you begging for the end of the episode so you could switch to Urkel.
She wore a lot of oversized sweatshirts.
She, like a lot of the W.W.J.D bracelet-wearing girls who I knew when I was a teenager, was way too invested in her relationship with her high school boyfriend.
Religious crazies are the only people in America who still wear their bangs like this.
Good thing you didn't get into your first choice school of Stanford, D.J! The swingin' Bay Area would have corrupted you and then where would Candace Cameron be? (Living on an urban goat farm/internet startup with her polyamorous lovers, probably.)
Stephanie
Stephanie — the middle Tanner daughter — was always the loose cannon of the group. She danced the wildest (see video above), was the one who got got her ears pierced (even though Danny said no) and wore the wildest goddamn outfits. She was also a non-stop sass machine who was always sticking her nose where it shouldn't be.
Jodi Sweetin, the actress who played Stephanie, has had a similarly wild past, having battled alcohol and meth addiction (a Stephanie inevitability) and gone through several marriages. Sorry, fellas. You could not tie Stephanie down then and you cannot tie Stephanie down now.
In real life, Sweetin has been sober for the last several years. Well done, woman — if anyone can overcome addiction, it's the grown-up version of the girl who TRIUMPHED over her jealousy of her younger sister Michelle that one time the entire Full House clan went to Disney World. Stephanie was rewarded by with a ride in the Disney parade and hopefully Jodie will get the same.
Michelle
Michelle, the aggressive monkey baby that was accidentally switched with the Tanner's actual human child at birth, was the hardest to character to connect to Mary-Kate and Ashley Olsen, the real-life set of twins who played her when they were young. Sure, both Michelle and Mary-Kate and Ashley all share an entrepreneurial spirit that asshole Michelle would try to sell a plain white tee for $260), but beyond that, there isn't much...or so I thought until I saw THESE: