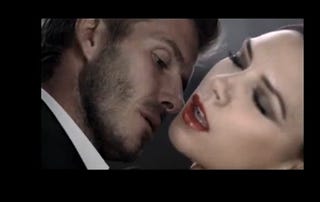 There isn't any dialogue between David and Victoria Beckham in the commercial for Intimately Yours fragrances, so naturally we had to write some ourselves.
Two sexy people in an elevator is not a revolutionary concept for a commercial. But when those people are Posh and Bex, the allure is obvious. As far as we can tell, the spot features the impeccably dressed married couple either pretending not to know each other — or doing a lousy job of acting like strangers — and having a breathy moment in an elevator, during which a bow tie mysteriously disappears. But obviously, this 22-second advertisement is rich with subtext and unspoken thoughts! All is revealed in the gallery.
Here's the triumph of a short film, for your viewing pleasure.
That's Not Very Posh, Victoria! The Beckhams Enjoy Passionate Moments In An Elevator For New Fragrance Advert [Daily Mail]