Hello! I'd like to you take this quiz. We'll catch up after you do.
In a recent LA Times piece about the new spooky existential drama A Ghost Story, star Rooney Mara was asked about a particular scene in which she "eats an entire pie." After revealing that she was "excited" to film the scene from the moment she read the script, Mara added:
"It was such a unique way of showing grief, we've never seen anything like that before. And I'd actually never had pie before, that was my first and last pie."
After the writer does a little record scratch, he asks Mara to confirm that she had actually never had pie before filming A Ghost Story. Turns out she didn't misspeak.

"I just don't really have a sweet tooth and I was a really, really strange, geeky child," she said. "Something about pie always grossed me out and I just never tried it before. And this came along and I tried making them switch it to something else, but David really wanted it to be pie, so we did pie."
G/O Media may get a commission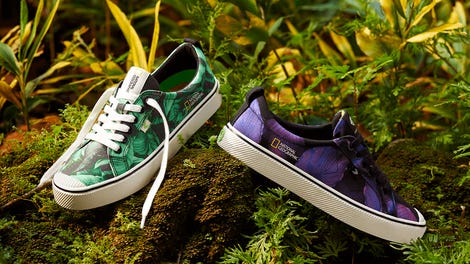 New New New
Cariuma + National Geographic
This sort of revelation shouldn't surprise us, as Mara's...strangeness...has been a topic of discussion since 2011, when she first made waves after starring in David Fincher's adaptation of The Girl With the Dragon Tattoo. In a Vogue piece from the time, Fincher called her "a great weirdo." Two years later, The New York Times began a profile of Mara by describing her reputation as a "standoffish, aloof, icy, remote, guarded, distant, opaque, steely, impenetrable, unreadable" actress.
Mara attempted to explain her strange, guarded behavior in a 2016 Elle profile, saying:
"People want to know those things because they're trying to place you. It's like, 'What did she order for lunch?' When literally most of your life is people trying to corral you or understand you or pin you down, you get kind of protective."
And with this revelation about her waiting 30 years to try pie, it appears Mara is finally beginning to open up. I wonder what she'll tell us next!