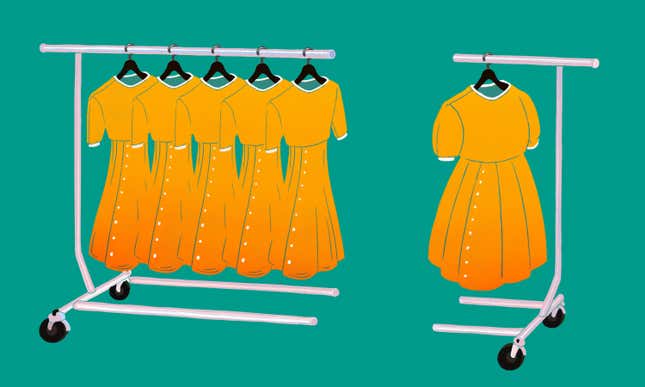 The past couple years have been something of a season of ironic disappointment for customers of modern, ostensibly feminist clothing companies, from Nasty Gal's infamously nasty corporate culture to new allegations of sexual harassment against the CEO of period underwear maker Thinx. Now, current and former employees at ModCloth are pointing to several issues at the company contributing to a sense of dissatisfaction among the staff: frequent layoffs, low pay, and an unpopular CEO. One alleged incident stands out: several insiders told Jezebel that CEO Matt Kaness made negative comments about the use of plus-size models, and wanted to see fewer of them on the site, telling employees in a meeting that they weren't "aspirational" to look at. (Kaness denies having said that.)

Ana Gasteyer Satirizes the Girl Boss in 'American Auto'
ModCloth, a quirky online women's retailer beloved by its customers for its mixture of twee and retro fashions, generated outrage from customers earlier this month when they announced they'd been acquired by Jet, which is owned by Walmart. Kaness defended the sale by saying that Walmart's "culture" is similar to ModCloth's own, a sentiment some of his employees don't seem to share. Indeed, interviews with seven current and former ModCloth employees help illuminate how the company culture has shifted from the time it was co-founded by a now-married couple, Susan Gregg Koger and her husband Eric Koger, changes that echo the growing pains—for lack of a better term—seen at other tech-driven retailers catering to a customer base of young, with-it women.
Gregg Koger has talked often about how the company grew from a humble start in her dorm room to being a large and thriving company, but one core element of their hitting it big, starting around 2014, was an embrace of plus-size customers and models. That generated them a ton of positive publicity, as we noted at the time, as well as a very real bump in business:
Since last June, the company has doubled its plus business, expanding from 35 vendors to 160. They say they now carry 1,200 unique plus-size styles at any one time. It's Modcloth's fastest-growing category and, according to this infographic, plus-size shoppers place 20 percent more orders. (Hell, where else are we gonna shop? Forever 21+ only gets you so far.)
G/O Media may get a commission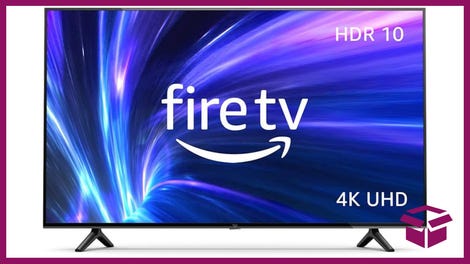 42% Off
Amazon Fire TV 50" 4K Smart TV
Longtime employees spoke warmly about the company's early days.
"It was an absolute dream job," one employee who quit about a year ago told us. "The thing that made it so special is that the company was genuine when it talked abut its values. Everyone that worked there shared those values personally. It was a place you felt good about the work you were doing." Those values explicitly involved feminism, she adds: "Susan is a feminist. She's open about that and the company aligned with those values. I think that's why it grew so rapidly."
In 2010, the company moved its headquarters from its Pittsburgh hometown to San Francisco, although the fulfillment centers, customer care center, and other key elements of the business are still located in Pittsburgh.
The San Francisco move was, the current and former employees told us, the start of a shift towards a more impersonal, stereotypically "Silicon Valley" company.
In size, ModCloth has shrunk recently: at least six rounds of layoffs in the past year dwindled the employee numbers down to about 300 people from 370. In the past two years, monetarily, the company has grown: it's not publicly traded, so we don't know specifics, but they took on millions in venture capital funding, mostly recently $15 million of Series C funding in June 2015. (According to Recode, the company "struggled to operate profitably" in recent years and weren't able to secure another round of funding.)
At the same time that the company grew financially, the hiring also changed, the current and former employees say. "They were hiring from companies with more cutthroat cultures," one former employee told us. "They brought that culture in the workplace." It was also the start of a brief period of tech-startup-like spending, she adds: "They also spent a shit-ton of money in that time. It wasn't smart. We had a nap room. One of the executives insisted we buy an anti-gravity chair for that room."
Kaness took over from Eric Koger as CEO in 2015, when the company needed a more experienced CEO at the helm; Susan Gregg Koger says Eric was asked to step down by the company's investors. She became the company's Chief Creative Officer, a role she remained in until November 2016, she tells Jezebel. "After getting Matt up to speed, and getting Lizz Wasserman, our fashion director, up to speed, I felt like I finally had a chance to step away from the business." (As a condition of agreeing to comment for this story, Gregg Koger and Wasserman requested that we make their full interview available; you can read that here.)
Kaness came from Urban Outfitters, where he was Chief Strategy Officer. Several of his immediate decisions involved plus-sizes and their representation on the site; the company announced in October 2015 that they would remove the plus-size section from the site to create a more "inclusive" shopping experience.

The move was well-intentioned, past employees say, and designed to help plus-size women feel less alienated when shopping in the real life pop-up "fit stores" the company started rolling out that year.
"Plus is not a term that we love," Koger is quoted as saying in a Today Show article from the time. "In the [fashion] industry, it stands for taking a segment of customers and making them an 'other.' And as a person, it never feels good to be excluded in any way... We really feel like shopping categories should be defined by types of clothing, not types of bodies."
Online, though, past ModCloth employees say the move didn't make sense, and seemed to reflect the CEO's discomfort with plus-sizes.

"It was [Kaness's] decision to remove plus from the website," one employee who recently left the company says. "That's when we all really started to think he was not a great fit. A lot of us who'd been there for a really long time and were women who weren't a size two ourselves—who were part of the demographic we were speaking to—felt it was a bad move and was going to make shopping for more difficult." Kaness, she says, responded by saying he was "offended by the term 'plus,'" as she remembers it.
Kaness also objected to showing plus-size and straight size models next to each other, a different employee who recently left the company told us.
"He didn't want us to show a straight size model next to a plus-size," she told us. "He said it 'invited you to compare' the two. It doesn't. Unless you're a misogynist."
Another former employee says Kaness made odd remarks about plus-size models, even when talking about what was ostensibly a good-news rollout: The same year he came on as CEO, ModCloth also launched a private label in July 2015, a collection made exclusively for the company and meant to showcase its particular quirky-retro charms.
"When Matt finally came to talk to us [at an all hands meeting in 2015], he told us his plan for making sure our assortment was mostly ModCloth label," the former employee says. "That sounded awesome." The clothes were meant to run in XXS to 4x sizes, she adds. "That was big commitment he was making, and it was very positive."
But, the former employee says, Kaness immediately added a caveat: "He also said we were going to stop showing as many plus-size models because plus-size is 'not aspirational.' There was an audible gasp when he said that."
Kaness denies having made the "aspirational" remark, and, in an email to Jezebel, pointed out that ModCloth has continued to use plus-size models under his leadership:

No, I did not say that. And if you look at what we have done in my two years at ModCloth, including (1) increasing the % of our apparel offer that is available in a full-size range from less than a 1/3 to more than 1/2; (2) adding both "reg size" and "plus size" studio model imagery to the product detail pages of the commerce sites for the apparel available in a full-size range; (3) creating and opening a new-to-world store model that is specifically designed to include women of all shapes and sizes in the shopping experience; (4) more frequent and pronounced use of diverse models - including plus-size models - in our marketing campaigns; etc etc etc ... I hope anyone would rationally conclude that this allegation is baseless.
A ModCloth spokesperson also responds:
ModCloth aims to be the most inclusive fashion brand in America, and as part of the mission is to try to develop clothing in a full size run (XXS-4XL) for her to shop. We broke away from industry standards by retiring PLUS language and segmented shopping sections on and offline. We plan to continue to create what Susan started, a place where all women feel comfortable to shop and express their individual style. So our attitude towards plus sizes and showcasing plus size models remains the same as it has always been, that style has no size. Our portrayal of women on our site, advertising, store is never retouched or altered in Photoshop, (we were the first retailer to sign the anti-photoshop pledge) and regularly cast our own employees and community members in our marketing campaigns. Look at our site today and let us know if you think we have moved away from showcasing plus size models.
Gregg Koger, meanwhile, says Kaness was "adamant" about creating clothes in "the full range of sizes," adding, "If you look at all we've done since the beginning of 2015, I think it's clear that ModCloth, under Matt's leadership, has continued to lead the charge in our industry and has become even more inclusive and diverse."
On Glassdoor, however, several anonymous employee reviews say that Kaness did make comments about plus-sizes. "The CEO wanted to start using less plus size women in features as they wanted to create a more 'aspirational' feel for customers," one writes. Another called him "dismissive of plus-size models/customers," and some are harsher (and their claims harder to verify) than that:
The current CEO has singlehandedly destroyed this brand, its culture and the morale of hundreds of employees. His conservative, misogynistic views are the opposite of what ModCloth used to stand for. The decision to eliminate 'plus' from the site, despite strong protests from employees who had been there for years and been part of the research on it, was the first big indicator of his ego problem.
Another employee who recently left the company says that she, too, experienced Kaness pulling photos that featured plus-sized models, and that the marketing team had to fight past him to use them. She writes, via email:
Matt consistently tried to get us to not use plus imagery, it was an everyday occurrence that happened in a lot of little ways. He would pull rank on striking down photos that featured plus models and give no explanation (but we all knew why). The only reason why plus models were featured at all in the last year and a half was because the core marketing team would go against him and still choose those models, but if he happened to be at the meeting where images were being chosen, he would try and get us not to use them.
Lizz Wasserman, ModCloth's fashion director, says ModCloth has always been committed to showing a diverse range of models: "I'm hugely inspired by Susan and ModCloth starting 'real-casting' so long ago, and being able to cast and shoot with inspiring (and yes, aspirational) women (cis and self-identifying) of all shapes, sizes, religions, races and ethnicities is one of the reasons I'm super proud to work at ModCloth."
Wasserman adds, however, that occasionally "finding models that fit our plus photoshoot samples (size 2x) and are aspirational to our community (meaning they demonstrate that certain special spark/quirk and don't just look like an un-attainable idea of someone else's idea of beauty) has been challenging."
It's absolutely true, as Kaness and a ModCloth spokesperson contend, that plus-size models and plus-size clothes still appear on the site. But one current employee disagrees that plus-sized clothing is still emphasized the way it was around 2014, and said there are verifiably fewer extended-size options.
"When he first got to the company he wanted to get rid of the term plus-size," she says. "He didn't want to single anybody out. We just want them to be able to go find something on the site and not be labeled as such." At the fit shops, that was often the case, she said: plus-size clothes were grouped with straight sizes. On the website, she said, "We were told they were going to bring in fewer styles, but at more size variety." That hasn't happened, she says: "On the site there's fewer and fewer options available in these extended sizes that we were told they were going to focus on."
The current employee says that in the end, the plus-size items on the ModCloth label fell short: "All the stuff on the private label fit poorly. We got tons of returns," from plus-size customers, she says. "I don't know what the sizing was with that but there was a lot of feedback on the private label that the plus-sizes were not good fits."

Since 2015, the company has also been trying out other expensive experiments, included an extensive site redesign and opening a brick and mortar store in Austin, Texas, after a "fit shop" tour that experimented with physical stores across the country.
"It was the fit shops" that contributed to financial difficulties, a current employee says. "They sank tons and tons of money into fit shops all over the country and refused to close it up when they realized it wasn't profitable."
With the Walmart acquisition, a current employee says, the mood at the company is dour, and divisions between the company's San Francisco and Pittsburgh offices are feeling particularly sharp. For example, nobody in Pittsburgh—where the customer care and fulfillment centers are located, what the employee calls the "more blue collar" part of the company—was aware that the San Francisco headquarters got to take International Women's Day off.

"All the women [in Pittsburgh] went to work for fear of retribution," she says. "All the hard labor happens in Pittsburgh." In that office, too, another former employee tells us, the pay is not high: "I wasn't even making $15 an hour by the time I left. I have a college degree." (In a response via email, a ModCloth spokesperson said: "I am not able to comment on specific $$, but I can say that our wages are in line with similar wages for similar positions in the Pittsburgh area.")
The Wall Street Journal reports that the Kogers sent an email to a small group of employee stockholders warning them that nobody will make money on the sale or see a return on their stocks. On Facebook, Gregg Koger wrote a post that also sounded somewhat downbeat, and emphasized that she's not making money on the sale:
I am incredibly proud of my time at ModCloth (literally almost half my life so far) and grateful for all the amazing people who helped make it happen. Every employee, past and present, and every customer. We couldn't have done it without you.

I'm also filled with regret. We did a lot of things right but also made tons of mistakes. No one, in life or business, is perfect. To those who are calling me a "sell out", or worse, please know this: I'm not making any profit on this sale. I haven't had a controlling stake in the business for years. And this was the only way forward that allowed ModCloth to continue to exist. Trust me, it's a good thing.

Now I'm going to take some much needed time off and practice some self-care. Who knows, maybe I'll write a book about this entire circus one day.
Gregg Koger also told Jezebel via email the criticism is difficult for her to hear: "I spent the last 15 years of my life working on this business and trying to make a positive difference in the world. It hurts to hear former employees and customers tell me that I am 'selling out' or that I'm ruining the brand (aka: my life's work, so far).
"But," she added via email, "now that I've had some time to think about everything, I've realized that the negative reactions are actually an indication of how strong the ModCloth brand and community are. People truly and passionately care about it, and feel like it's something they own. And that's extremely hard to create in a brand. So I'm proud of the reaction too, in some way."
Gregg Koger says that she and Eric will spend the next year "traveling the world" and writing a book: "We have lived three lifetimes in the last 15 years, and I think it would feel really good to share our successes, failures and learnings with others."
ModCloth's current employees don't have the option, of course, to turn to world travel to salve their wounds.
"I'm really sad and I'm really conflicted," one told us. "I've been actively boycotting [Walmart] for years. Having to sign papers saying I now work for them is a tough pill to swallow."