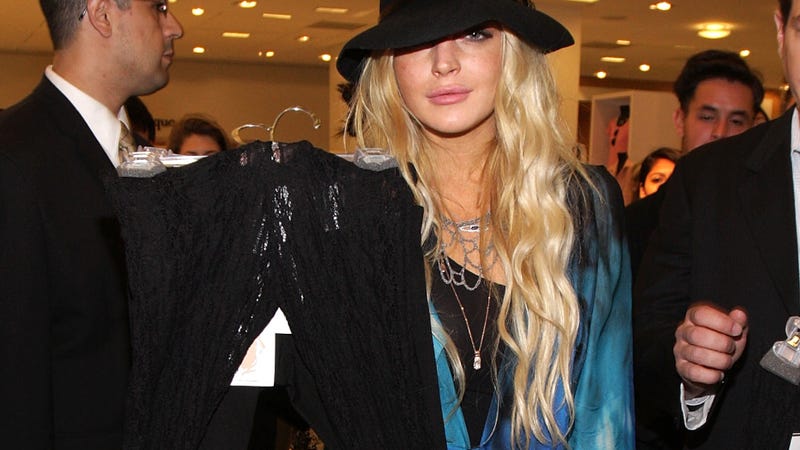 The apparel company behind Lindsay Lohan's ill-fated leggings line, 6126, is suing the actress. Their argument? That Lindsay Lohan's public association with the brand made the brand seem like something a bad Elizabeth Taylor impersonator would wear to get Starbucks.
Lohan sued DNAM Apparel Industries in January, alleging the company had failed to pay her contractual royalties. DNAM is now counter-suing Lohan on the grounds that the brand became unsellable because stores "did not want to be associated with Lohan's drug addled image."
6126 launched with a bang — who could forget those blowjob leggings! — in 2008. Lohan promoted the brand heavily, adding clothing, handbag, and shoe collections and even posing nude for ads in 2010. One 6126 photo shoot was documented by the (since cancelled) reality show Double Exposure; in the episode, Lohan was more than eight hours late to the set. Also in 2010, 6126 was accused of copying designs by Jen Kao and the Australian designer James Lillis. There were photos of Lohan wearing the Jen Kao dress that was later copied by 6126. Although initially carried by major department stores, by early 2011 Nordstrom, Macy's, Bloomingdale's and Neiman Marcus had all dropped it.
Lohan's lawyers say the DNAM suit is baseless, because their contract with the apparel company didn't include a morality clause. So no matter how many SCRAM bracelets Lohan had to wear, no matter how many Porsches she totaled, no matter how many stints in court-ordered rehab she failed to complete — none of it is a contractual issue.
Lindsay Lohan Sued For $5 Million, Apparel Company Says 'Drug-Addled Image' Destroyed Leggings Brand [HuffPo]