Lady Gaga is talking politics again — this time, immigration politics. You could be skeptical about the impact a celebrity could have on the political conversation — or you could look at certain other examples, including Gaga with the Don't Ask Don't Tell repeal.
We were inspired to look into this recently when a reader wrote to ask why Lady Gaga hadn't been more visible in the struggle against defunding Planned Parenthood in Congress. (Previously she worked with Planned Parenthood, among others, on a designer condom meant to promote safe sex.) We wondered how effective celebrity involvement in political advocacy even was, and how it came about.
Typically, there are two ways a celebrity advocates for a cause: fuzzily, with lyrics and interviews or targeted activism, and when it came to the Don't Ask, Don't Tell repeal, Gaga did both. Emily Sussman, a legislative associate at the Servicemembers Legal Defense Network, told us they'd spotted Gaga on Larry King Live in July talking about LGBT issues. SLDN contacted her management to suggest introductions with servicemembers discharged under Don't Ask Don't Tell. Not only did Gaga say yes and receive four discharged servicemembers backstage, she brought them with her on the red carpet at the VMAs, where they were widely photographed.
"We actually never had gone to a celebrity before," Sussman said. "We're a legal services advocacy organization." Gaga, she said, "wanted to go all in. She was ready to come to Washington."
But ultimately, SLDN decided that a Washington rally featuring a flamboyant celebrity "didn't play to our strengths in terms of the argument. The military is a conservative organization and the servicemembers we put in front and center were real heroes," Sussman said. The argument that discharging gay servicemembers was harming military readiness was not only accurate, it was the one most likely to sway lawmakers. Meanwhile, polls had already shown that the majority of voters didn't need to be convinced — they needed to be energized to call out some vacillating political officials.
G/O Media may get a commission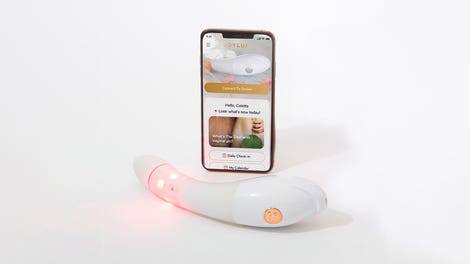 $50 Off
Joylux vFit Gold Device
Nevertheless, Gaga's star power was at the ready, and that's how she wound up going to Maine instead, home of two moderate Republican Senators, and holding a much-publicized rally. She also repeatedly tweeted the number of the Senate switchboard, which briefly had to shut down because of overload. People actually made constituent visits. Don't Ask Don't Tell was urgently in the news. Eventually, the Senate passed repeal.
Celebrity, said Sussman, is "an avenue for people who are predisposed to your cause but don't have a mechanism for getting involved on it."
The same held true in the Planned Parenthood fight, with or without Gaga, though that much-bigger organization has a significantly more developed celebrity outreach infrastructure, including an arts and entertainment department that works with high-profile supporters who may volunteer or may get approached after they've said something in an interview that suggests they'd be interested. (The same department works with TV and movie writers on how to best incorporate themes from reproductive health and sexuality.)
"It's ramped up over the past ten years," said Planned Parenthood's Tait Sye. "You're looking at a bunch of different ways to engage folks, including social media and email. If you go back ten years, fifteen years, the main way to have people engage was to have them speak. But now you can say, 'Can you do a tweet.'" It's usually tied to a specific campaign, though Paltrow and her mother Blythe Danner had already done a Mother's Day greeting for the organization.
When the House Republican budget passed with an amendment to defund Planned Parenthood, some of those celebrities obliged. Gwyneth Paltrow put a supportive video on her YouTube channel, reaching her subscribers outside of Planned Parenthood's database. Scarlett Johanssen's video got almost 50,000 views. Cynthia Nixon did an op-ed for CNN, and even David Eigenberg, who played Steve on Sex And The City, proved a draw. It was a coincidence that Kathleen Turner was on GMA and did her impromptu rant, though not entirely coincidental — she'd spoken at Planned Parenthood's New York rally. And they might not have given so much airtime on a morning show to, say, Planned Parenthood president Cecile Richards, and that clip would have been less likely to go viral.
Did it make a major difference in the defunding not making it into the final budget? It's impossible to measure. What is possible to measure is that when it was all over, Planned Parenthood saw a 500 percent increase in the number of people donating online from February to mid-April.