Over the summer—before his Oscar campaign, before the Harvey Weinstein allegations, and before Franco's Time's Up pin prompted women to come forward with their stories of Franco's sexual misconduct—James Franco did a cover story with Out Magazine. The tone between Franco and the renowned queer writer Edmund White is one of warm camaraderie as they discuss sex in the 1970s, porn, and Franco's new therapeutic approach to what was once a work-obsessed life. Looking back at the article after the allegations against Franco have gone public, the exchange is weighted with hypocrisy. For over a decade, while James Franco was indulging dubious sexual impulses in his private and artistic lives, he was publicly courting the gay press with teases about his queerness.

In a report with the LA Times, five women came forward to discuss James Franco's history of sexual harassment. One of the women is Violet Paley, a former girlfriend of Franco's whose tweets about him went viral after the Golden Globes. She accused Franco of coercing her to perform a blow job at the start of what became a consensual relationship. In the Times report, she elaborated that their relationship began after she sought Franco's advice on scriptwriting.
The rest of the recent allegations come from women who worked with Franco as students or as performers on his short films. The Times piece exposes a pattern of behavior in which Franco abuses his clout in the industry to allegedly coerce younger, less powerful women to perform sexually explicit material. The report recalls an off-the-rails and thoroughly heterosexual version of Franco's 2013 film Interior. Leather Bar, in which Franco enlisted queer filmmaker Travis Mathews to help him shoot an unsimulated gay orgy. In that movie, Mathews exemplifies the responsible approach to filming sex, by communicating clearly and early to his performers what the expectations will be on set.
By contrast, the report describing Franco's unsupervised conduct as a director includes an incident in which Franco came to set with the expectation that the aspiring performers he hired through his acting school will take their tops off without advance warning, without legal reassurance, and without additional payment."His former student, Sarah Tither-Kaplan, describes watching Franco remove the plastic lining protecting women's vaginas during a scene of simulated oral sex in an upcoming project of his, The Long Home. Tither-Kaplan also describes being told that the nude scenes she performed for a Franco project would be uploaded onto Franco's Studio 4 Vimeo page, eventually making their way to porn aggregation sites—all without her consent.
G/O Media may get a commission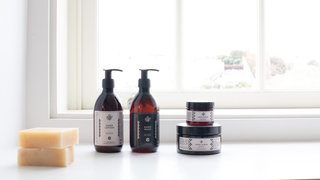 Exfoliate and Hydrate
The Handmade Soap Company
Some of the details in the Times report are shockingly simple for their blunt stupidity. James Franco taught a class called "Sex Scene," and the students who took the class were called "Sex Sceners." James Franco sent mass emails to former students looking for women to play sex workers—roles he called "hookers and prostitutes."
The portrait that comes together in the Times report is of a man fascinated by sex who has been given the power to creatively explore it, but who doesn't possess enough insight to wield that power responsibly. For queer readers, this image might seem familiar, and not just because we actually saw Interior. Leather Bar.
Franco has been performing in queer roles since his James Dean TV-movie days, but shortly after appearing as Allen Ginsberg in the movie Howl, Franco began a series of public stunts that attempted to evolve his queer performances into queer performance art.
He posed in drag on the cover of Candy Magazine in 2010. His Comedy Central roast in 2013 was a parade of jokes about sucking dick and anal intercourse. In 2016, he published a book called Straight James/Gay James, which included musings about identity and sexuality, including lines like, "Hello woman, I'd like to be you./Not because I don't enjoy my own man/ Body, my man strength, my man looks, / My man mind, but because I love yours/Even more."
He produced and starred in a film called King Cobra about a gay porn killer, and he refashioned the Tori Spelling Lifetime movie Mother, May I Sleep With Danger? as a teen lesbian vampire movie. Maybe most notoriously, Franco published a piece in which his straight persona interviewed his gay persona, coining the term, "gay in my art and straight in my life." As clarification for anyone confused by what in the hell that means, Franco replied, "I guess it depends on how you define gay. If it means whom you have sex with, I guess I'm straight."
This list is not exhaustive, but as a queer person, it is exhausting.
For the most part, the gay press indulged him. Besides OUT Magazine, he has also covered The Advocate. His "straight in life" comments appeared in FourTwoNine, in a bimonthly queer men's magazine. In response to the FourTwoNine piece, Lambda Literary published a consideration of "heterosexual queer" as an identity. But if queer magazines spun revenue off of Franco's provocations, Franco's relentless courtship of queer readers was met with trepidation, frustration, and in some cases open disgust.
Why does James Franco's queerbaiting matter, when the issue at hand is his sexual exploitation of women?
In the months since the accusations against Harvey Weinstein went public, we have seen a thorough audit of men's sexual practices, and not all of those men have been straight. Some, like Kevin Spacey or Bryan Singer, have male victims. But some queer men—and some "gay in their art, straight in their lives" men—have female sexual partners. And though publicly trumpeting your identification with queer identity and queer ideas is usually described as "coming out," in Franco's case, claiming some form of queerness proved a valuable tactic in defusing alleged transgressions and abuse.

When James Franco was caught soliciting a 17-year-old girl he met at the stage door of one of his performances in "Of Mice And Men" in 2014, it was four years after CANDY Magazine. It was two years after he debunked rumors (published by Gawker) that he had raped a male lover with a project called "GR"—an acronym for "Gay Rapist." Franco issued an apology for his teen solicitation on Live With Kelly and Michael to little notoriety. In less than a year, he was making headlines with FourTwoNine for calling himself "gay up until the point of intercourse."

In some respects, the accusations regarding James Franco call to mind the allegations against PWR BTTM musician, Ben Hopkins. By vocally trumpeting their queerness, both Franco and Hopkins were able to divert attention away from behavior behind closed doors that was anything but enlightened. In each case, the abusive party retained their institutional power while declaring themselves free from the confines of heteronormativity. In each case, their transformative thinking did not include the role that was meant to be played by their female partners.
For the universities that employed him, for the organizations that funded his art projects, for the industry that gave him an award last Sunday, James Franco's persistent entitlement to queer space should have served as a red flag. Here is a man so deep in a thought experiment, he doesn't understand that how you think doesn't excuse how you live.

Teo Bugbee is a film and culture writer. Bylines include The New York Times and MTV News.
An earlier version of this piece erroneously stated James Franco directed King Cobra; it has been changed to reflect his role as star and producer.