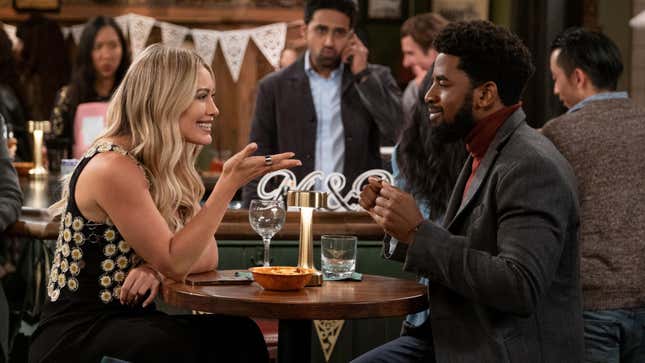 At the beginning of the first episode of How I Met Your Father's second season, Sophie (Hilary Duff) has, over the past 48 hours, broken up with her boyfriend Drew (Josh Peck), hooked up with her friend Jesse (Chris Lowell), and then decided that they're actually better off as friends, even though they've had a spark since the day they met. Now, she's meeting up with Ian (Daniel Agustin), the "one that got away" who has finally returned to New York, to see where things could go with them. "All I've ever wanted was to find love, and I think maybe it was just right in front of me and I ran from it," she tells him. "And until I figure out why I did that, I'm just gonna keep ruining things that could be great."
It's an astute revelation—but it feels entirely unearned and too soon. In fact, it's one that took How I Met Your Mother's woeful protagonist Ted Mosby nine whole seasons to reach (if he ever did at all). And that, in itself, is a good distillation of HIMYF's ultimate problem: The show relies on its audience being intimately familiar with its predecessor, but instead of using that familiarity to chart new ground, the narratives, characters, and situations bumble along well-trod territory. In interviews promoting How I Met Your Father, Duff has insisted that she isn't trying to be the new version of any of the original's beloved characters, but it doesn't seem like the show's writers are on her side.
The show also feels painfully dated. It's set in the same universe as HIMYM and revolves around the same premises (and more or less the same friend group—that is, a motley crew of millennials trying to take the city by the horns) with an overall tone that feels very beginning-of-Obama's second term. Sophie's earnest, devoted, blinders-on quest for love—however less annoying than Ted's—is out of step with the zeitgeist, one that's largely characterized by nihilism and dissociation (thank you, dating apps!). And for one couple, Valentina (Francia Raisa) and Charlie (Tom Ainsley), their entire dynamic is about how much they love having sex—which is not just notable or edgy anymore.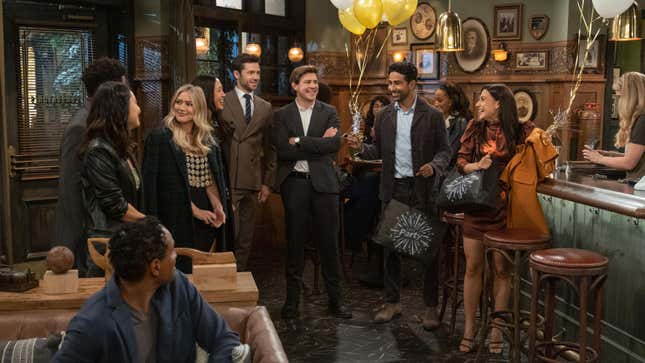 Perhaps one of the biggest giveaways that HIMYF is too afraid to stand on its own two feet is the fact that by the end of the second season's first episode, Sophie has already teased the series' second cameo of the original HIMYM cast, which will come in the form of a fender bender (and probably much more) with Barney Stinson (Neil Patrick Harris). It's quite the choice, given how poorly Barney's misogynistic character has aged since HIMYM's 2014 conclusion. (My hope is that he's aged into some sort of respectable DILF in the last decade.) Nostalgia is obviously one of HIMYF's biggest draws, but the series is already toeing the line between inspiration and dependence (usually hewing more toward the latter, unfortunately).

But for all of my (substantial) criticisms, I'll still be watching this season, returning to it like a security blanket—familiar not only in its setting and storytelling format, but in the childhood nostalgia that Duff and Peck (former Disney and Nickelodeon stars, respectively) both elicit. With a whopping 19 episodes left in the season, HIMYF still has plenty of time to prove that it's more than just a carbon copy—I just hope it's worth sticking around until then.