In 2002, I went to the movies with my mom to see Star Wars: Episode II: Attack of the Clones—a choice that, to this day, makes little sense to me. As a family, we had never been into Star Wars, and in fact, I had never seen any other movie in the series before. But I was about 11 years old, and I loved it—mainly because Hayden Christensen and Natalie Portman suck face a lot on screen.

In Attack of the Clones, Anakin Skywalker (Christensen, who I now realize cannot be older than 19 or 20 in this movie) and Padmé Amidala (Portman) are hopelessly in love, but because Anakin is training to be a Jedi, and Jedis cannot marry, they are forced to hide it from the world. You can see this conflict on their faces because they stare at each other for half the movie, both clearly in agony.
"I'm in agony," Christensen tells Portman, as they sit side by side near the glow of a fireplace, having already shared a kiss. The increasing flirtation between them makes it obvious they want more.
The plot didn't matter much to me at that point. I did not know that Anakin would one day become Darth Vader, or that when Padmé first meets Anakin, he is a child—and in retrospect, I was probably able to enjoy the movie more because I didn't know these things. What really entranced me was the idea that forbidden love is the sexiest love, especially if you are on the edge of puberty.
Attack of the Clones convinced me that more movies should have kissing in them. But just how horny are the other Star Wars films? Friends of mine insisted that Attack of the Clones, on top of being laughably bad, is also an outlier in the Star Wars universe for its high sexual content. But even blockbuster franchises set in space need sex, I thought. After watching eight Star Wars movies—the first two trilogies, spanning from the late '70s to the early 2000s, and the two installments of 2010s trilogy—I set out to rank the kissing and potential for horniness. Here are my findings.
---
Star Wars: Episode IV—A New Hope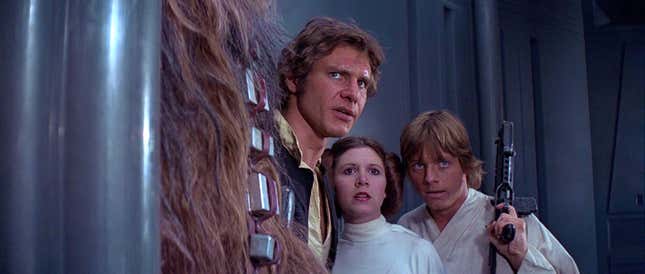 How horny?: Not very
Is there any kissing?: There is virtually no kissing in this movie. Princess Leia (Carrie Fisher) kisses Luke Skywalker (Mark Hamill) on the cheek at one point, but it's platonic. I think they had to include this because the movie plays up how both Han Solo (Harrison Ford) and Luke Skywalker think Princess Leia is devastatingly beautiful.
In one earlier scene, Luke and Obi-Wan Kenobi walk into a bar, and it looks like there are two creatures canoodling in a corner. They do not kiss.

---
Star Wars: Episode V—The Empire Strikes Back
How horny?: Pretty horny
Is there any kissing?: Yes, and it's surprisingly hot. This is the movie that really sets up Han Solo and Princess Leia are in love, so there's a lot of heavy flirtation, given that they sort of hated each other in the last movie. At one point, Solo confronts Leia about her feelings in a hallway. "You like me because I'm a scoundrel," he says, massaging her hand. "I happen to like nice men," she says, backing away from him. "I am a nice man," he says, and goes in for the kiss, pushing her up against a wall. This is the movie where I decided I Would Harrison Ford.
---
Star Wars: Episode VI—Return of the Jedi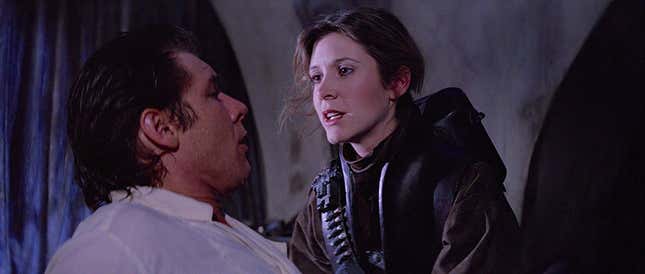 How horny?: Decidedly not
Is there any kissing?: Yes, but sometimes it happens so fast that you may not even notice it. There are no sultry make-outs in a hallway and no flirting of the caliber we see in Episode V. There's really no passion in the kissing to speak of, but the movie is rated PG.
---
Star Wars: Episode I—The Phantom Menace
How horny?: The opposite of horny
Is there any kissing?: No kissing or anything remotely sexual here, except there's what I perceived as very, very light flirtation between Padmé and Anakin Skywalker (Jake Lloyd) when they first meet. This is weird because Anakin is a child at this point in the series, even though he can already fly things and Qui-gon (Liam Neeson) can sense he is going to be a great Jedi. After Qui-gon frees him from slavery and takes him under his wing, Anakin tells Padmé he misses his mom, planting the seed for all the mommy issues he'll deal with later.
---
Star Wars: Episode II—Attack of the Clones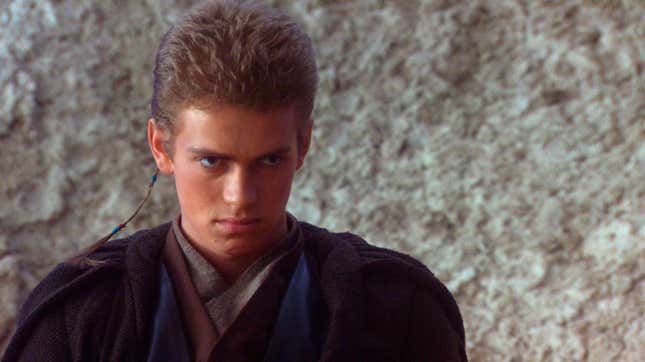 How horny?: Alarmingly horny

Is there any kissing?: Yes! The sexual tension between Anakin (now Christensen) and Padmé when they meet again as adults is palpable, but still uncomfortable because Anakin, again, looks so young.
---
Star Wars: Episode III—Revenge of the Sith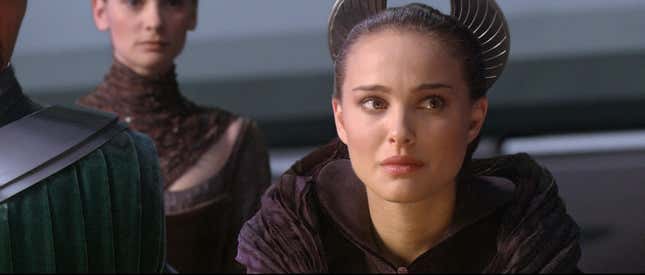 How horny?: It has its moments, but any sexual tension between Padmé and Anakin is eventually overshadowed by his descent to the dark side.

Is there any kissing?: Some, but it's brief. At the beginning of the movie, Padmé and Anakin are reunited after some time apart, and are still ready to bone, risking exposing their relationship by making out in public (albeit, still in the shadows, a heavy-handed metaphor for their secret marriage). The sexiness of their initial romance is gone, but they still show Anakin with his shirt off for good measure.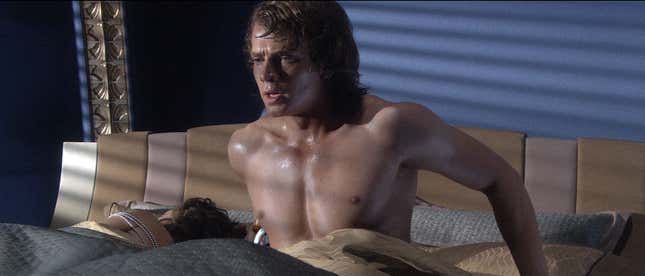 Their marriage eventually falls apart after Anakin turns on Obi-Wan Kenobi and the other Jedi masters and decides he wants more. It's sad—love changes Anakin's life, but it also spells his demise; it is his fear of losing Padmé, of seeing her in pain, that leads him to seek answers outside of his Jedi powers. In short, way sadder and more poignant than horny.

---
Star Wars: Episode VII—The Force Awakens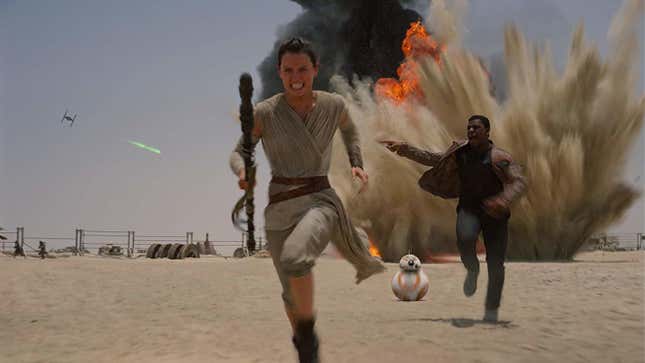 How horny?: Staunchly asexual.

Is there any kissing?: No. Two characters really seem to care about each other, but it's unclear if it's just friendship or something more.
---
Star Wars: Episode VIII—The Last Jedi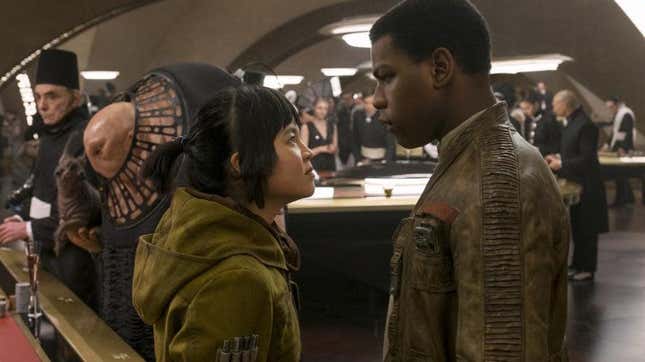 How horny?: Super not horny.

Is there any kissing?: Very little. Although there is an admission of love towards the end of the movie, there is only one very brief kiss that is more tender and respectful and almost heroic than ragingly horny. J.J. Abrams has really succeeded in reversing Star Wars' legacy of sexualizing its main female lead, which—is great! It's refreshing to see Rey explore her own identity, thumbing through her limited family history and imagining her future role alongside her friend and mentors in the Resistance.