Flat Tummy Co., the appetite suppressant brand that was catapulted into the national discourse after an Instagram plug from Kim Kardashian and subsequent backlash, wasn't always so big. It seems to have always relied on a special kind of turbo-charged word-of-mouth marketing to sell its products to women. A new report from Julia Carrie Wong, a technology reporter at the Guardian, pulls back the curtain on how Flat Tummy Co. built its business around influencer marketing and gets away with breaking Instagram's rules about what kind of content advertisers can post on the platform.

Ana Gasteyer Satirizes the Girl Boss in 'American Auto'
Wong spoke to multiple former employees to learn how Flat Tummy Co.'s chooses influencers to market the brand—which has evolved from a natural, almost crunchy aesthetic to the millennial pink-drenched fake-feminist look it boasts today. Based on Instagram posts labeled as #ads or paid promotions, Flat Tummy Co. enjoys a working relationship with a surprising number of the Kardashian-Jenner clan: Kim, Khloe, Kourtney, momager Kris, and Kylie. But not all of the influencers who are paid to promote Flat Tummy Co. are that famous, and its these women who are subject to stricter vetting.
Wong writes:
"They had a rating system, depending on how 'on brand' you were," explained one of the former employees. "You don't want someone who already has a six pack. You want a mum who is on her fit journey trying to lose weight after having kids."
G/O Media may get a commission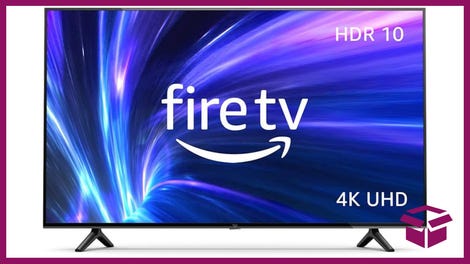 42% Off
Amazon Fire TV 50" 4K Smart TV
Flat Tummy Co. seems to prefer paying black and Latina women to promote their products because they are easier to profit off of: "African American and Latina models were prized because their posts "converted" well into sales," writes Wong. And the company similarly avoided working with anyone deemed "too 'slutty' on the assumption that their followers would be mostly male."
Relying on a flash-flood of attention on social media isn't new for Flat Tummy Co.; it's been integral to the business since founders Bec and Ted Polmear set their sights on American consumers. According to a 2017 interview:
The Polmears then entered the US market, with manufacturing swiftly moving to New York. Social media figures climbed at a frenzied pace, today totalling 1.4 million Instagram followers.

"We promoted our tea through influencer marketing which has become the main engine of what we do," explains Tim. "Back then, influencer marketing wasn't all the rage. Today, it's far more commercialised".
And yet Flat Tummy Co.'s current brand identity seems like it could only exist today: its Instagram is littered with pictures of young girls in sports bras and leggings, headphones and running shoes, the occasional slice of pizza or donut, and an overwhelming amount of millennial pink. It's also heavily reliant on the increasingly vague languages of women's empowerment and body positivity. A recent Instagram post outlining the "story behind" the brand, emphasized that the product was "made for girls, by girls." Flat Tummy Co. emphasized that the program was "all natural" and designed for "all babes" who "enjoy eating their pizza without feelin' like sh*t the next day."
There are also before-and-after collages of women who have reportedly lost weight using Flat Tummy Co.—which, according to Instagram's guidelines around weight loss and health products, advertisers are prohibited from doing. Flat Tummy Co. gets around it specifically because of its paid partnerships with influencers:

Flat Tummy Co is almost entirely immune to Instagram's strictures because those policies only apply when an advertiser pays Instagram to promote their posts, not when the advertiser pays an influencer. So Flat Tummy Co can run as many "before and after" shots of zoomed in bellies as it wants – and it runs a lot of them – as long as it doesn't pay Instagram to boost the posts' audience. And if Flat Tummy Co wants to target teenage girls, it need only find an influencer with a young fanbase.
All of this furthers Flat Tummy Co.'s brand as a healthy supplement to one's weight loss or wellness regimen, when in fact, it may be anything but. The head of the National Eating Disorders Association (NEDA) told the Guardian: "There is a shift away from language that explicitly talks about weight loss and a shift toward wellness and lifestyle changes. It's the same old products marketed in new language."