In this edition of Face Cadet, I try to pick at least one product each for eyes, cheeks, contour/highlight, face, and lips, with a special eye toward new releases, "innovative" formulas, and value sets/multipurpose jams.

COVER FX Cover Click Concealer + Foundation (in N30), $18, Sephora
What it is/is supposed to do: Per Sephora: "An ultra-creamy, stick version of COVER FX's bestselling COVER FX Total Cover Cream Foundation." Well, what's that supposed to be? "An antioxidant-rich cream foundation and concealer in one that provides radiant, full coverage."

What it actually does: Deliver on the latter promise! I like it more as an all-over, skin-evening foundation than a powerhouse localized concealer, but you could use it for either and be satisfied with the outcome. It comes in 24 shades (the Total Cream Foundation is available in 40), and they're inclusive in range and tone.
Though this formula looks fine lightly patted on with your fingers, I used a damp beautyblender to diffuse it a bit more dewily, and you can easily layer and build more coverage. It was lovely as a base for my blush, highlighter, and contour. I found I needed an additional concealer to convincingly wipe out my purple sub-eye bags, but as an all-over two-for-one, this is an A+ value for the price.
G/O Media may get a commission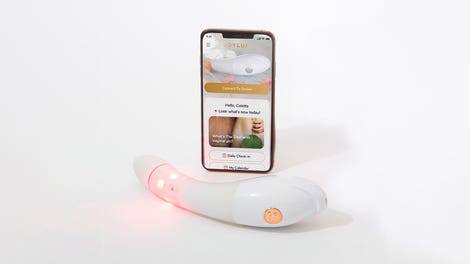 $50 Off
Joylux vFit Gold Device
Wet N Wild MegaGlo Makeup Stick Blush (in Hustle & Glow), $4, Wet N Wild
How I applied this blush.

What it is/is supposed to do: Per the brand's website: "In one swipe of a stick, you can get catwalk-ready cheekbones, naturally flushed cheeks or an insanely glowy complexion. Toss one of these portable makeup sticks in your purse or pocket and you'll be camera-ready in less time it takes to double-tap."

How it looked after the fact.

What it actually does: Blush-wise, if I'm not smearing a given day's lipstick into my cheeks (synchronicity! I swear by it) or using bright-red NARS Exhibit A, I love a creamy, nearly imperceptible peach-pink. This cream doesn't interrupt or overwhelm other face makeup, but blends agreeably into it, leaving behind the slightest wash of color. Most of the time when I'm buying makeup, I prefer a super-pigmented product, but it worked out nicely that this is sheerer than other cheek cream sticks/crayons I've tried (like this one from NARS, which was far more HELLO, DARLING, IT'S ME, 1940s ROUGE in its boldness). This is a great and stupidly easy to apply product to keep in your desk for days when you don't have time for anything else before work. I resolutely stan for Wet N Wild, and this demonstrates why.
Tarteist PRO Glow To Go Highlight & Contour Palette, $23, Sephora
Le contour.

What it is/is supposed to do: Per Sephora: "A portable highlight and contour palette with three luxurious shades inspired by professional makeup techniques." (And: One of those lil' minis you impulsively snag if the Sephora checkout line is interminable and, well, it's right there.)

What it actually does: Hm! My standards are high for Tarte contour products—for months, I used their "slenderizing" (ugh) stick exclusively. The powders are usually as good as the creams: the Amazonian Clay bronzer and and Colored Clay bronzer/blush work as advertised, and I always prefer to buy a cruelty-free brand (Wet N Wild is another).
This bronzer—or, as Tarte says, "chisel," a word I usually find satisfying except when it implies I want to remove a part of my face because it's fat—doesn't quite do what I hope a given contouring product will: add depth to my face, like intense smoky eyes, fake lashes, or dark lips do. (When you apply those kinds of makeup well, you barely see them as DRAMATIC, because they look like they makes sense, even though they're prominently shaded or otherwise intensified.)
The tone of this bronzer is a little wimpy, even though I'm very pale. It shows up and makes a difference, but it takes a LOT of layering and blending to get it there, and even then, it's not altogether life-altering. Chisel my butt.
Le highlight.
I like that there's both a pink/almost lavender highlighter for tops of cheeks/cool complexions, and a more universal white/gold one, which is ideal for highlighting under brows and at temples. If you use either or both of them, you'll want to take a very light hand or apply them in the kind of lighting you'll be wearing them in—they're glittery, meaning that, unlike matte highlighters, they are INTENSE to the eye if you go buck. Compare this idea to wearing a very subtle matte pink eyeshadow versus a metallic one—both are excellent, but perceptibly different.
It Cosmetics Superhero™ Elastic Stretch Volumizing Mascara, $24, Sephora
Here I am sans mascara (albeit in my omnipresent eyelash extensions)—you'll see the difference on my bottom lash line!

What it is/is supposed to do: Per Sephora: "A game-changing mascara that gives lashes the appearance of volume, length, and elastic stretch in just one coat. Developed with plastic surgeons, Superhero™ mascara is like skin care for your lashes. The proprietary Elastic Stretch Technology stretches the look of your lashes wider and longer, and wraps each individual lash in a volume-boosting, lengthening, ultra-conditioning coat of support and color for the strongest, thickest, most defined results."

A big difference, no?

What it actually does: Make me glad that the Sephora I visited was sold out of the new YSL mascara (though I still want to test it, and even more so now that it's elusive!). After this initial letdown, a saleswoman approached me and asked if I was finding everything OK. I asked her for a comparably volumizing mascara, and all the better if she knew of one whose quality was often overlooked. She thought for a second, then flipped out, jogging—it was implied I'd follow—to the It Cosmetics display, where she leaned in close and stage-whispered, "So, I smoke. The other week, I accidentally burned off the ends of my lashes. I'd just started using this mascara, and they grew back in DAYS." She listed the ingredients this mascara has that might make my own lashes grow—biotin, keratin, peptides, etc.—finishing, "It's amazing, it's ONLY $24, and it'll make your natural lashes huge." SOLD.

I have extremely blond, minuscule, and generally invisible-without-mascara lower lashes, and this mascara coaxed them into robust existence! I love the brush, which seems like a regular spool, but mysteriously picks up my stubby, outer-corner lashes, a.k.a. the most impactful ones if you care about looking like a doe-eyed lash expert. (I obviously and dearly do.) This mascara can collect and get muddy on the wand, and especially on its tip, so make sure to remove clumps on the side of the tube or with a tissue if you happen to spot them. A light hand will give you long, defined lashes; two or more coats deliver that volume. Here, I've opted for GIRTH, but I like that this product is capable of both results. In fact, this is the only mascara that I've ever used which actually works better without my #1 ride-or-die (or so I thought) Lancôme mascara primer.
I found it quite difficult to successfully factcheck whether the active ingredients here for-sure result in longer/fuller eyelashes, especially when biotin, peptides, and keratin are applied topically and not metabolized through food. Anyone have a reliable source for verifying this? I want to believe that Sephora girl! Still, even if you don't need to regrow cig-extinguished lashes, I highly recommend this jawn.
Buxom Plumpline Lip Liner (in Undercover), $17, Sephora
What it is/is supposed to do: Per Sephora: "A plumping lip liner with versatility to define, shape, and fill in lips—plus, a built-in brush to blend and contour."
What it actually does: Impel one of my hottest friends to ask what it was on Instagram, which is the kind of imprimatur I'm about to stamp this baby with, too. I'm an ardent collector of Buxom's Full-On lip polishes and creams, plus a lip liner fanatic, so it makes good sense that I intend to wear this all day, every day, and, eventually, in my crypt. This is because it was easy to find a slightly-darker-than-neutral brown shade that announces and pronounces my mouth as possibly the most important part of my face without drawing too blatant a circle around it. Lip liners and plumpers are both intended to magnify one's chomper, so it makes good sense to combine them! This pencil puffs my lips up with only the faintest of the porcupine needle–sting that comes with applying many plumpers (a feeling which I actually don't mind—as with the burn of bleaching my hair, I like feeling a product at work).
A nighttime glimpse at this lip liner and color—also visible in this look are the mascara, Tarte palette, and Wet N Wild cheek stick!
This pencil is actually a triple threat: The attached lip brush makes it easy to blend the creamy-ass formula all over your mouth, so it can easily become a lipstick, which is how I prefer to use it—the color's just so good. See for yourself, and if you want further confirmation that it rules, post it online and see what your hottest friends have to say about it.
HOURGLASS GIRL Lip Stylo (in Futurist), $32, Sephora
What it is/is supposed to do: Per Sephora: "A lip color with the intensity of a lipstick that's infused with a blend of hydration for the appearance of softer, fuller lips."

What it actually does: Make my lips look gently lipsticked and moisturized, but I don't think 32 whole dollars' worth of those effects. I tried a few of the rosy neutral shades—here, I'm wearing "Futurist"—and they were certainly hydrating, but unlike most expensive lip products, I barely reached for them again after trying them on. The effect is half-balm, half–metallic/neutral lipstick.
It seems like HOURGLASS is trying to ape the Glossier "your lips, but better"–style marketing ploy to jazz up this fairly boring product. By this, I mean the a priori assertion that you, yourself, are babe enough without cosmetic interference—but, by their logic, this is true only on the condition that you spring for a sheer lipstick. I'm convinced they're going for this "contemporary natural cool-girl" rhetoric even more so because the names of the GIRL Lip Stylo shades are all, like, "HEROINE," "GENIUS," "MATH-HAVER," "FEMALE," and so on.* The branding borders on apologizing for being makeup, or trying to act like, "Oh, I'm not makeup, I'm just a pigmented blend of natural and artificial ingredients that noticeably change the color and appearance of your facial features. You're thinking of the other guy. I'm actually politics."
[*Actually: The ones I tried were "Activist," "Achiever," "Peacemaker," and "Futurist," but you get my genius female heroine drift.]
I'm bored of language used in the service of women's rights used instead to service brands. ("Liberator" is literally another shade of HOURGLASS GIRL Lip Stylo.) Of course, deciding that one is an Activist because their $32 tinted lip balm bestowed that title is as goofy as the branding itself, and to single out one cosmetic brand's product names as absurd when they ALL ARE—cf. every other one there is—is logically flimsy.
Yet maybe it's a good thing that women with the means to comfortably buy a product of this price are presented with messaging that "empowerment" is attractive and glamorous. A friend who recently presented a fundraising event to a well-to-do audience strained to communicate to them that the #1 kind of support that political organizations need is their money. So: If you want to spend $32 on feeling like a Liberator who also happens to have beautifully moisturized lips, it might be nice to donate $27 of it to Women's Learning Partnership and pick up one of these $5 Burt's Bees Lip Shimmers instead—they also contain shea butter and sunflower oils, and they're way longer-lasting and prettier. (Especially in Fig.) Obviously, I don't think it's bad to spend money on makeup! But I do think it's bad to spend money on fake-o empowerment makeup that doesn't do very much.
Amy Rose Spiegel is a writer and editor and the author of Action: A Book About Sex. Her interests include irises, style guides, and meatloaf.