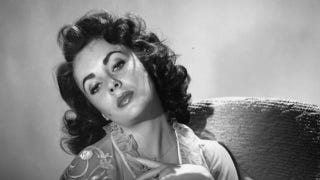 A 55-year-old photo of Elizabeth Taylor posing nude "from head to toe" for friend and actor Roddy McDowell has recently surfaced.
The photo was made public by its owner, Jim Shaudis, in the wake of her March 23 death —which is sure to become an increasingly common practice after anyone who's ever posed for a nude photo dies.
Taylor, then 24, posed with her eyes closed, kneeling and leaning slightly forward, with her head and tousled hair tilted toward the camera. The violet-eyed beauty presented the shot as an engagement gift to her third husband, producer Mike Todd, cited by some as the love of her romantically challenged life. The couple married in 1957, but Todd died just 13 months later when his private plane crashed in New Mexico.
But just when you think this story couldn't get any sadder, it definitely, definitely does.
After the tragedy, Taylor entrusted the photo to her makeup artist Penny Taylor, who sold it to collector Jim Shaudis. Shaudis displayed it in his bedroom.
Ah, yes. I'm sure that's the way Taylor would've wanted it.
Elizabeth Taylor gave third husband, producer Mike Todd, nude photo as an engagement gift [NY Daily News]