Salon's Rebecca Traister hates the word "cougar," when it applies to older women dating younger men. She writes:
"How sad and backward that we have to give it a nickname, animalize it as if it's outside the boundaries of civilized human behavior, make it a trend, pretend that Demi Moore invented it. That's not progress, and it's not a step forward for women." She continues:


Cougars. Pussies. Foxes. Faster pussycat! Kill! Kill! Active, aggressive female sexuality is always talked about as feral, often feline. When it's older, apparently, it develops sharper claws and teeth. Unless, that is, it's exhibited by a primmer and more contained MILF. That's just a lady with kids who men want to fuck. It's impossible to tell, until we get closer to the specimen, whether she has any interest in doing the fucking herself.
But what about women of a certain age who want to feel fierce, sexy, powerful? Haven't older women historically been stripped of their sexuality? Instead of making them feel like their "best" years are the fertile ones, shouldn't we allow them to celebrate a healthy sexual life?
Traister says yes. "Communication of the fact that women have sexual motors that run far into their retirement years is of course valuable." But: "turning those revelations into mindless characterizations of va-va-voom youth seekers who wear too-tight animal prints and talk like children about stalking men as prey is not important, valuable or empowering in any way."
Also, she recalls, "When Cher used to date Rob Camilletti, I think they called him a 'boy toy,' and they called her 'Cher.'"
The problem is that this country loves a buzzword, and right now, "cougar" is it. In addition to the new TV Land show The Cougar, and several cougar-themed books, there's an indie film called Cougar Hunting, a website called UrbanCougar, and Courteney Cox-Arquette is producing and starring in a pilot for an ABC sitcom called Cougar Town. The question is, are we allowed to be glad that women of a certain age are in the spotlight as sexual beings and not as dried up spinsters? Or does hating the term "cougar" mean not supporting any cougar-themed projects? Let's just say, for instance, that Courteney Cox's show (about a newly single 40-year-old mom with a 17-year-old son) was called something like Aging Disgracefully or Back In The Game? Would you watch it then? Or are you willing to give it a chance with the word "cougar" in the title? Is there a dignified way to survive this cougar attack?
G/O Media may get a commission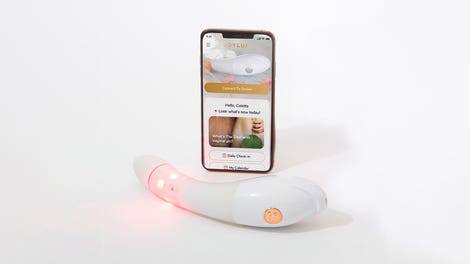 $50 Off
Joylux vFit Gold Device
Hot Cougar Sex! [Salon]