Wesleyan University students are understandably upset by the news that Scott Backer, their recently-fired Associate Dean of Students, was accused of sexual misconduct against a 16-year-old girl at a previous job. Wesleyan didn't learn about the allegations against Backer until they were the subject of a story in the Boston Globe.
In a case that's darkly, almost painfully ironic, the Globe reported on October 1 that Backer was accused of propositioning the 16-year-old via "lewd text messages" while he was an assistant dean at Vermont Academy in Saxtons River, Vermont. Backer was fired in 2007, but VA still wrote him three letters of recommendation that landed him the job at Wesleyan, where he oversaw student sexual misconduct hearings. The recommendations were apparently not accompanied with any kind of warning about why he was fired.
A campus newsletter says that Backer "departed" his job in June, which is when the Globe began their investigation. The Globe highlighted him as part of a fairly stunning report, in which they found 31 educators dating from the 1970s on who, as they wrote, "after being accused of sexually exploiting, assaulting, or harassing students, moved on to work at other schools or other settings with children, sometimes with a warm recommendation letter in hand."
Backer's case is uniquely infuriating because the job he landed in required him to adjudicate sexual misconduct hearings on campus. It's also surprising that the school evidently never learned about a lawsuit the girl filed against him in 2011, while he was employed by Wesleyan. (The case was settled out of court the same year.)
The Globe says that Backer was fired "hours" after they inquired as to why the hell he had that job. But the university still sounds pretty tight-lipped about how this happened, except to say that he handled sexual assault hearings properly:
Hours after the Globe inquired about Backer's past, Wesleyan fired him and promptly hired a law firm to review about eight years of misconduct hearings that Backer participated in. The review concluded he handled those hearings properly, according to Wesleyan. Backer did not respond to repeated requests for comment. Stanley Colla, the recently appointed interim head of Vermont Academy, said the 2007 recommendations were "unauthorized letters'' but declined to elaborate.
G/O Media may get a commission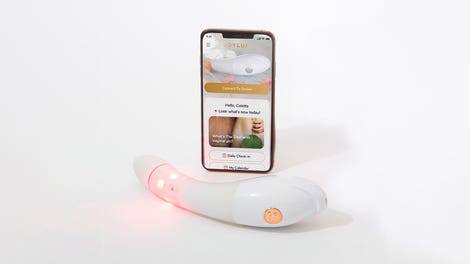 $50 Off
Joylux vFit Gold Device
University president Michael Roth wrote a letter to the student body on October 2, defending the decision not to disclose the reasons for Backer's firing until the news did it for them:
Some have asked why we didn't make all this public ourselves? Although I did inform the leadership of the Board of Trustees and the Cabinet, after much deliberation I decided that it would have been wrong to discuss publicly why we had fired an employee unless there was a compelling reason to do so. If Pepper-Hamilton had found something problematic in Mr. Backer's work at Wesleyan, that would have been a reason to bring this to the attention of the campus. Unlike Vermont Academy, Wesleyan has created an employment record that includes termination for cause for Mr. Backer. But I do not think it appropriate to publicly discuss a personnel matter, unless that situation was already made public. That has happened today, which leads me to write now.
(Pepper Hamilton is the law firm the school hired to review cases Backer was involved in.)
Roth later amended that letter to add an apology: "I apologize that the university hired someone who had been fired for grossly inappropriate behavior and put him in a position of responsibility for dealing with survivors of sexual assault."
The Wesleyan Argus reports that students are fairly pissed, particularly students who reported sexual assaults to him. One, Maggie Cohen, told the student paper that the "unearthing of Scott's past twisted the knife," and damaged her already fragile feelings of safety.
Backer won a special award from Wesleyan in 2014 for completing the (federally mandated) Clery Act reports, in which the university delivers their crime statistics to the federal government. It's unclear why doing something that's mandated by law would merit a prize but then, a lot of things about this are unclear.