About Last Night is a modern reworking of a 1986 Brat Pack film starring Demi Moore and Rob Lowe, which was itself based off a David Mamet play called Sexual Perversity in Chicago. OK, so we've all seen remakes and reboots before from Hollywood, so this is nothing new, right? Well in this case, there's one twist—the 2014 version features an all black cast.
In a column for The Hollywood Reporter, screenwriter Leslye Headland explains how she reworked the film for a modern day audience. She describes the typical writers nerves of not only reworking a classic film and play, but being a relative newbie to the business. "Don't write jokes, Leslye. Write people," she told herself. Which is pretty damn good advice. It wasn't until after she'd turned in her first draft she found out that producer Clint Culpepper had had hired an all black cast:
A few months after I turned in my draft, Clint called me to tell me he had cast Kevin Hart, Michael Ealy, Regina Hall and Joy Bryant, as the four lead characters. He asked me to do a rewrite now that casting was set. I asked what he wanted me to change. The only note was to make the secondary characters (Bernie and Joan) equal to the two protagonists (Dan and Debbie). A pretty cool directive given that the "best friends" in romantic comedies are almost always commenting from the sidelines. It was a nice way to change up the old formula.

Anything else? Nope. Clint said: "I want your voice. These are your characters. And you are the only person who knows how to write them." There was no discussion of changing the characters' lifestyles or any of the storyline as a result of casting black actors. I had written a script. The studio had decided to go with the strongest cast for that particular script. That cast happened to have black actors.
Headland, unsurprisingly, notes that some people were quick to be rather dismissive the project. She describes being asked "How's your David Blamet script going?" (Wow, people are awful.) "It was like my script was suddenly not as good or less than or just plain not cool because of the casting" she writes. "Whatever. Those people suck."
The screenwriter draws parallels between her experiences writing and directing Bachelorette, which she was actively promoting while writing About Last Night:
The questions I was repeatedly asked during that press junket were about the trend of "Women in Comedy." Now the trend is "Black Films Perform at the Box Office." This kind of marginalization represents the same narrow-mindedness that sparked the racist "jokes" I got during my rewrite. When anyone marginalizes the success of a female-driven comedy or an urban comedy, there's something more sinister at work.

These types of comedies are treated as fads because the stars of these films and the protagonists they portray would usually be sidelined in mainstream cinema. So if the success of films like Bridesmaids and Think Like A Man lead to more films with female or black leads, well, crap ... That might mean more scripts that represent minorities as people. Realistic, sympathetic or compelling PEOPLE. Instead of banishing them to one-dimensional joke-machine supporting roles to the white male characters.
G/O Media may get a commission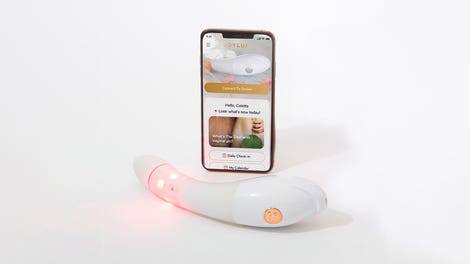 $50 Off
Joylux vFit Gold Device
So were there any times that her writing changed to reflect the inclusion of an all-black cast?
"Impressive but not threatening. It's the John Legend of penises." This is how Joan describes her new lover Bernie's, um, equipment at the beginning of the remake About Last Night opening this weekend. It was one of three jokes I changed when I re-wrote the script for a black cast. It used to be "the Phil Collins of penises." If you ask me, John Legend is funnier.
FYI, About Last Night opened with $28.5 million over the weekend, placing second to the The Lego Movie. Not too shabby, especially when you considered how it fared against another remake of an 80's movie, Robocop. That film, according to The Hollywood Reporter, "came in No. 3 for the weekend after opening on Wednesday. The $100 million sci-fi epic took in a lackluster $25.6 million for the four days, putting its six-day total at $30.5 million."
Image via Getty Images.