Alexander Maksik's new novel You Deserve Nothing tells a steamy story about a student-teacher affair at an international school in Paris. Reviewers have called it a "bravura performance" and "rivetingly plotted" written with "dazzling clarity and philosophical rigor." But what they don't know, what Maksik has never mentioned, is that the story may be true.


According to former students I spoke with, in the spring of 2006 Alexander Maksik lost his position teaching at the American School of Paris (ASP) for having an affair with a seventeen-year-old student. Their relationship allegedly lasted over a semester, and ended when Maksik was quietly dismissed by the school shortly after the young woman, named Marie in the book, had an abortion. The students said nearly everything that happens in the book happened in real life, and almost all the characters are based on real people. 




The real-life "Marie," whom I corresponded with via email, said that she is disgusted that he is getting literary kudos for re-telling her very real story. She said Maksik included a number of very personal things she told him in confidence in the book, and that she has worked for the past five years to move past the shame and guilt she felt as a result of the affair only to re-encounter it all again in a widely praised novel. Maksik never asked her for permission.


So far, You Deserve Nothing has had the kind of reception many first-time novelists dream of getting. The book has received praise in prestigious publications like the New York Times and The Times Literary Supplement, has been translated into six languages including Russian and Korean, and has earned Maksik prestigious fellowships. For many, including "Marie," Maksik's success has made things harder, because they feel that he is profiting from their pain.

 One former student called him "manipulative" and a "sick bastard," another said she couldn't finish the book because it made her sick, and another said that its publication "stirred up a lot of unnecessary and unwanted memories for everyone."
You Deserve Nothing has three narrators. They are Will Silver, the American English teacher whom nearly everyone is sweet on; Gilad, an introvert who develops a non-sexual obsession with Mr. Silver; and Marie, a budding young woman who seeks the validation from Mr. Silver that she doesn't get from her well-off parents. In the book Will is presented as charismatic and engaging, even life-changing; reviews, negative and positive, draw comparisons to Robin Williams' character in "Dead Poet's Society." Some students I spoke with felt that the fact that Maksik not only uses "Marie's" story, but also speaks in her voice, makes the whole thing much worse. 

Maksik's "Marie" is all warmth and flesh and assumes the role of the seductress while still maintaining a youthful innocence. Will, on the other hand, is cautious and becomes more and more stoic as he assumes the role of the seduced. The affair is something that happens to Will, rather than something he does.
G/O Media may get a commission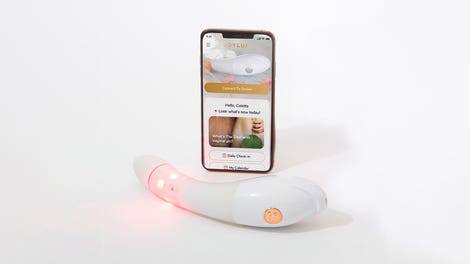 $50 Off
Joylux vFit Gold Device
While most of the details of the romance were allegedly based on or inspired by real-life events, the ending, perhaps conveniently, is not. In the book "Marie" scoffs at the guidance counselor who tells her, after news of the affair gets out, that she was used and that she should be angry. Her last line in the book is: "I still dream about him." Real-life "Marie," however, felt taken advantage of and violated.


Former students of Maksik say he was a very popular teacher, and many saw him as a mentor. Some said that he treated them like adults and got them thinking about life's big questions. They say that anyone who reads the novel can get a sense of the way he taught because many of the conversations in the book were lifted directly from ones they had in class. A few I spoke with said they felt that he courted adoration — he flirted with girls and would eat lunch and play sports with boys — but even they concede that he was an inspiring teacher for many, which made the initial betrayal of the student-teacher affair, coupled with the second betrayal of publishing a novel about their lives, all the harder to cope with. They also say that because the novel is so obviously based on real people and events, it's hard to know when the truth ends and fiction begins.


"Everyone from ASP has been talking non-stop about this book from the first press-release on. Rumors and speculation have been making the rounds, and now that we all have read it, there is more gossip still. . . And because of the lack of disguise, there is speculation about what is factual and what is fiction. Of course there are things that were invented, but those readers, who were not as close to the events and cannot distinguish, are likely misattributing actions and dialogue," wrote Siobhan Steen, a former Maksik student and good friend of "Marie" in a recent letter to the author and his editor, Alice Sebold. Steen never heard back from either of them. Other students also say they wrote to the New York Times reviewer and other outlets about the fact that the story was based on their lives, but nobody took much interest.


Like many first-time novelists, Maksik has talked about how he sent his book far and wide before finally finding a home for it. He found his savior at Europa Editions, where Sebold had just been brought in to launch a new imprint named Tonga Books. Sebold is best known for her novel The Lovely Bones, a bestseller about a young girl who narrates the aftermath of her rape and murder from heaven, and her memoir Lucky, which is about her experience trying to cope with being raped in college. While this student-teacher affair and Sebold's rape aren't parallel situations, they both deal with, on some level, men using power to have their way sexually with women. Many of the students I spoke with wondered whether Sebold knew that there were real people involved when she decided to publish the book, and if she did, whether she considered their feelings, especially "Marie's."
Of course, the line between fact and fiction is often a blurry one, and has gotten authors in trouble before. Thanks to James Frey, we have seen what happens when an author sneaks fiction into memoir. But what of books where memoir is veiled as fiction? A related issue came up recently with The Help, when a woman named Ablene claimed Kathryn Stockett used her personal story for the Aibileen character — her lawsuit was dismissed because it was filed too late. There wasn't much backlash against Stockett, possibly because she was honest in the book's afterword about the fact that it was partially inspired by her life. Maksik never even hinted as much.
The New York Times praised Maksik for his "moral ambiguity" and his refusal to give readers a "more satisfying moral or resolution than the one provided." Novelist John Burnham Schwartz called You Deserve Nothing "a bracing, challenging, enthralling debut. It is a novel that rings true from first page to last, refusing the false notion of easy choices, inhabiting, rather, the moral maze of lived life." And Sebold, who also called it "fearless," wrote,
It is a triumph of Maksik's that his deeply flawed teacher, who engages in a relationship with a young student is, in the end, if not thoroughly sympathetic to the average reader, thoroughly understood as the non-monstrous man he is. Is he a testament to the world of passion, or to the limits of the intellect when applied to daily life? It is these more subtle questions that the novel provokes, that make these pages sing for me. In the end, all of us deserve nothing and perhaps everything.
But how does this praise stand up when one considers that the book may be fact, not fiction? Some of the students feel that if Maksik really wanted to write a book that was fearless and took on the subject of moral ambiguity, he should have written a memoir. But only after asking for permission first.
Alexander Maksik, the American School of Paris, and Europa Editions were all contacted for this story, but none commented by the time of publication.
---
Elissa Strauss is a freelance writer and blogger who writes about gender and culture.