For someone who works from home and primarily in her bed, I don't watch much daytime television.
On paper, I'm the perfect candidate for an afternoon pick-me-up from Ellen, or to be loyal and unironic fan of The Chew. I'm home during the day and I'll watch almost anything that airs on television. Seems like a perfect combination.
But for as often as I spend entire days on my couch blogging, it never occurs to me to ride the daytime TV wave. Until this week, I'd never actually seen a full episode of The Real—a roundtable talk show featuring Tamar Braxton, Loni Love, Tamera Mowry-Housley, Jeannie Mai, and Adrienne Bailon—for reasons that had nothing to do with the quality of the show itself. I just didn't seek out talk shows.
My unfamiliarity is now a thing of the past. I have now fully and enthusiastically experienced The Real, and, I think, the essence of daytime television. I have to admit, when I initially RSVP'd for the show's "Blogger Day," I went in with the vague presupposition that I'd act a bit like a smartass—it's my natural inclination, even when the setup doesn't feel this canned. But I also wanted to learn more about the talk show that I was only really familiar with from their neat unpacking of Rachel Dolezal's bullshit.

The Real is a bit of an anomaly. Daytime talk shows come and go with the seasons, literally. It's a tough business—one that both Meredith Vieira and Katie Couric couldn't quite master in their second go-rounds. More recently, it's looking like Kocktails With Khloe isn't going to be able to hang, either.
G/O Media may get a commission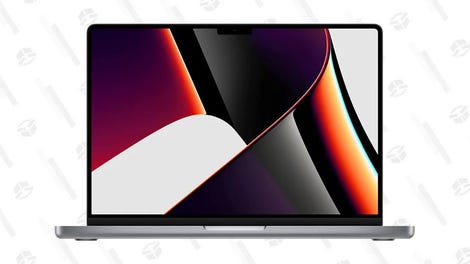 Save $300
2021 14" 1TB MacBook Pro
Meanwhile, The Real is finding early, uncharted success, and doing particularly well with women ages 25 to 54. In October of last year, it became "the first syndicated talk show show in years to earn a third-season renewal," according to Deadline.
Still, on "Blogger Day," I make the drive to Burbank feeling a bit skeptical. Upon arrival, I'm met by two publicists. One leads me to a conference room where a few other bloggers, all women, are waiting. Already, it is not lost on me that both of the representatives I have met from the show happen to be women of color.
One of the publicists shows us a custom donut order they placed for all of "the girls," with their names spelled out on frosted donuts. I have to admit that this is very cute. It is around this time that I text Jezebel Managing Editor Kate Dries, "Everyone is so nice."
The other bloggers and I chat about Beyoncé and gossip about celebrities and Real Housewives. This is Los Angeles, and stereotypes are often true.
After a quick breakfast we load into golf carts and head to the set. The Real's soundstage provides a pretty clear idea of what kind of operation they've got going on. The aesthetic order seems to have been, "Make it like The View, but cooler," and it works.
I notice again how many women—and specifically, women of color—they've got running this joint. (The Real is executive produced by Rachel Miskowiec of Good Morning America, The Tyra Banks Show, and The Ricki Lake Show.) The show's stage manager, who by my observations is the de facto HBIC, is a black woman.
Because bloggers are important people, we are already seated by the time the audience gets brought in. It is immediately obvious what type of viewer The Real attracts. I would venture to guess that 90 percent of the audience are women of color, and most are black and Latina. Most have come in groups of two or three and are fashionably dressed and wearing very high heels. The diversity of hairstyles one observes while sitting in a room of black woman truly is a marvel, and I have to stop myself from staring at everyone with a psycho, beaming smile on my face.

In New York, I worked for a public relations firms and staffed countless red carpets, large events and live interviews. Living in LA now and doing what I do, I find myself semi-regularly in "backstage" or otherwise privileged, behind-the-scenes situations. Still, I am reminded that for many in the audience, this is a completely new experience and possibly a one-time deal. Everyone looks so excited, and my jaded heart swells.
We meet Jay, a comedian type whose job it is to tell jokes, play music and warm up the audience for the show. He also acts as a sort of cheerleader during much of the actual taping—keeping the energy up and signaling when the audience should applaud.

Jay is a cute blonde man who knows how to work a room full of black women. He makes a lot of "yaaaassss girl" jokes and even has one about the "oh no you didn't" Z-snap. He plays Beyoncé songs on loop and gets the crowd counting down on a beat, only to transition into a group singalong of "This Is How We Do It," and "I Believe I Can Fly." There is also a part in Jay's schtick where he makes the audience give each other shoulder massages. Because I am sitting on the aisle, I, Kara Brown, end up giving Jay a shoulder massage. I laugh like a fool during the whole thing.
I should have hated all of it. A straight white man pandering to an audience of mostly black women with jokes about twerking should be my perfect nightmare. But for some unknowable reason I loved it. And the audience loved it! There is a black man sitting behind me who I believe would have bought an "I Heart Jay from The Real" t-shirt if they were available for purchase.
Jay reminds me of Gary Owen, a white comedian with a mostly black fan base who has managed to tap into black humor in a pretty authentic way. Owen has appeared in both Think Like a Man films, Ride Along, and a Tyler Perry show. What I'm saying is, Jay was a smart choice for this particular position.
For those who haven't seen an episode of The Real (or any of its predecessors like The View), the show starts with a hot topics-type round. Tamar kicks things off with a story about a "The Devil Is a Lie" party her mother threw over the weekend. As she tells this story, she probably says the phrase, "the devil is a lie" no less than 12 times. Her on-air personality should come off as much more obnoxious than it does. She throws in a lot of "yaaassss" and dramatically sassy eyerolls and gestures.
This should have been annoying, but dammit, why didn't anyone tell me how charismatic Tamar Braxton is? Her persona is over-the-top, yes, but she doesn't cross over into caricature. Tamar seems sweet and engaging and she wears cute glasses along with what is, quite literally, the biggest diamond ring I'ver seen in my life. All of this is new information to me because I never watched Braxton Family Values. WHAT IS HAPPENING? Do I love Tamar Braxton? I think I love Tamar Braxton.
It is also during this segment that Jeannie reveals an amazing picture of her mother from the "The Devil Is a Lie" party. We now must take a moment to appreciate the fabulous majesty of Olivia Mai.
Now, I know nothing about Mama Mai aside from a glorious video of her appearance on the show and some of Jeannie's Instagram posts, but I am deeply in love with this woman. I want her to teach me everything she knows—including her skin regimen because HOW, LORD?
It is my belief that if Mama Mai is not our next overlord, America will never be great again.
As I wrestle with the feelings of love that have overtaken me, I start to remember how much time talk shows have to fill. Today they're filming two interviews, one with Janel Parrish from Pretty Little Liars—a show I've legitimately never seen a minute of—and the record executive L.A. Reid, who spends much of his interview pressuring Tamar Braxton to get back into the recording studio. They also film some sort of fashion segment that I miss because we are backstage, talking to Parrish.
We return to the audience with about 30 percent more of the show left to film. It is around this time that three women in front of us, who I noticed all came in alone, are asked to leave their seats. They are replaced by what looks like a mother and her two grown children—a son and a daughter. The daughter is clearly mic'd and is dressed like she knows she's going to be on television. A producer stops by their seats and passes along information, most of which I can't make out. I do, however, hear him explaining that they're all mic'd so "there's no need to shout."
The next segment begins and the ladies introduce one of The Real's "biggest fans," a woman named Bailey, who they've invited to come onstage and play a Mardi Gras-themed game. Bailey, the recently relocated young woman in front of me, gleefully sprints in front of the camera. Adrienne explains that the game needs the help of a "Mardi Gras jester" and a man that I had seen earlier backstage comes out in a ridiculous jester costume. Almost immediately, he falls down and takes off his mask.
Bailey is shocked. The hosts ask if she knows him. Yes, she explains. That's her baby-daddy-slash-boyfriend.
Bailey doesn't seem too thrilled with this dude ruining her big moment on her favorite TV show. You can see it on her face: What is this fool doing?
That fool is proposing, that's what he's doing. Turns out they've been together for eight years and have gone through many ups and downs. In particular, Bailey notes that it's been a challenging year in part because their son is autistic.
"Oh my god," I remember thinking. "How is this real?"
Bailey's baby daddy gets down on one knee and presents a huge rock that was donated by a local jeweler. This poor girl is so overcome with emotion that she squats down with her face in her hands for a solid 20 seconds as Loni intervenes, jokingly adding that the show is only an hour long.
They also offer to pay for her wedding dress or something along those lines. I can't hear the rest over the all the applause. Bailey asks if the ladies will go to her wedding and Loni promises that they'll try to come. I believe her. A few minutes later, during a break, Tamar asks Jay to play some music so that she can fulfill Bailey's wish of "twerking with Tamar." How can you be mad at that?
What is happening? Am I completely buying into this? Is this goofy smile on my face ever going to fade? I am loving this shit.
From there we go on to the final segment: the Grammy makeover reveal of a woman we met at the top of the show. I don't remember what she looked like before, but she sure looks great now. Her three friends are sitting onstage admiring her transformation. It's an awkward setup, but I don't question it because by now I'm in deep.
Tamar then ups the game by telling the young woman that she's scored a ticket to THE GRAMMYS. "Just one?" I think. Who wants to go to the Grammys by themselves? Nobody. That's why Tamar informs the squad that ALL FOUR OF THEM WILL BE GOING TO THE GRAMMYS. They were happy, even when they had to reshoot their reactions to the news.
It's all clicking, and I realize how simple this equation is. To a certain extent, all daytime talk shows are going to be the same. They all have to fill a lot of airtime, every day. The ones that manage to be just slightly more engaging or ridiculous or viral than the rest win the game.
And, in general, overselling sells. See: the Kardashians, Lena Dunham, xoJane, et al. From my fairly limited experience with The Real, they seem to throw in a healthy amount of, "Did we really need to know all that?" but I don't think it's essential to their success.
Closer to the point is the way The Real has tapped into a diverse market, which is both a financially and ethically sound decision. But also, there's something else. This is almost grossly on-the-nose, but the The Real works because it is about as real as daytime television can be.
In between takes, the women are all laughing and chatting with each other. They genuinely do look like they enjoy each other's company. You can tell that the women in the audience truly do see some of themselves in Tamar, Loni, Tamera, Jeannie and Adrienne, and that's not something you can duplicate with extravagant giveaways or viral videos.
We have a chance to ask all the hosts a few questions after they wrap. When I ask why she thinks they've done so well, Adrienne Bailon attributes their success to just that: authenticity and relatability.
"Our chemistry. I think it's the five of us. People like the fact that we like each other and I think that makes such a big difference," she says. "People have a sixth sense to what's real and what's not and they can feel that we are real in that way."
I can't front like I'm suddenly going to become some avid watcher of The Real, but I do have a newfound appreciation for what they've done with the fairly tired talk show format. You can't fake authenticity; you've got to be about it. During the taping, I was most struck by the relationship between the show's stage manager and the hosts. She frequently grabbed the women by the waist or linked arms with them to get them moving on to whatever they needed to do next. During one break, she and Adrienne broke into a few seconds of salsa dancing. It was warm and familiar, and it seemed appropriately real.
---
Contact the author at kara.brown@jezebel.com.
Top image via Fox, photoshop featuring the writer by Bobby Finger.