In June, a New York woman named Julie Schwietert Collazo heard a news story about Yeni Gonzalez-Garcia, a woman from Guatemala detained at the Eloy Detention Center in Arizona, while her three children were detained at the East Harlem Cayuga Center in New York as a result of the Trump administration's brutal policy of family separation. She learned that a $7,500-bond stood between the reunion of Gonzalez-Garcia and her kids and immediately launched a fundraiser, paid Gonzalez-Garcia's bond, and organized a caravan to transport her to New York. Collazo, a freelance writer, raised $50,000 and launched Immigrant Families Together, a network that stretches across the nation to post bond and offer aid to families separated by the administration. Since June, Immigrant Families Together (IFT) has posted bond for about 50 families, and works with around 100 families across the country to help them navigate the byzantine immigration justice system and offers them basic support by ensuring families have food, shelter, and clothing.

Ana Gasteyer Satirizes the Girl Boss in 'American Auto'
Their organization is run by a network of what Los Angeles-based IFT organizer Casey Revkin calls "normal" people, mostly moms, across the country. While other, more established organizations, like the American Civil Liberties Union and the Refugee and Immigrant Center for Education and Legal Services offer essential services to immigrant communities, IFT is one of many smaller groups providing a smaller, but equally vital service: posting bond and connecting people with necessary resources while their cases proceed. 
Revkin recently spoke to Jezebel about the bond process, how the IFT volunteer network works, and what migrant families need after they have been released from detention.
JEZEBEL: What happened after Julie posted Yeni's bond, and how did Immigrant Families Together come together?
G/O Media may get a commission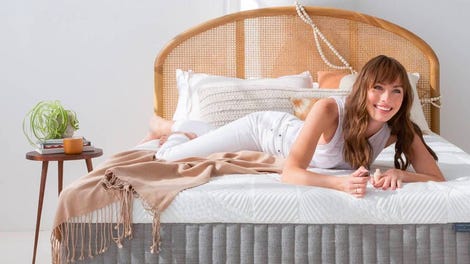 Sleep Sale
Sleep Sale - Brentwood Home
REVKIN: Yeni came with a list of other women who were in detention with her, so we raised more money for bonds for more women in the same Eloy Detention Center in Arizona. Their kids were all over the country and so we organized caravans to different places. We didn't want to be too public about it because we were afraid of crazy racists showing up and trying to hurt these women, but we needed to reach out to people. So I thought: who do I know in Arkansas? Who might I know who might know someone in Arkansas? We did that for ten mothers, and it was pretty incredible the way people would come together to find someone.
And then the reunification deadline happened and [most] families were reunited by Judge [Dana] Sabraw's order. Our mission sort of shifted to taking care of these now-reunited families: families that had been separated, been in detention for weeks and often months, and were just given a bus ticket and a sandwich and sent on their way. We had a team in the Dallas bus station that was identifying families and approaching them: Oh someone's going to be in the Memphis bus station at 4 in the morning. Would you go and meet them and bring them some supplies and maybe give them $40, some food, some diapers? It was kind of amazing how that worked out. We didn't always find everyone–sometimes the bus was really late, sometimes the bus would come through and we didn't see a family—but it was pretty incredible how people came together. We did that for about three weeks.
What are some of their biggest needs for a family recently out of detention?
My team in Los Angeles covers about 18 families. Most of the families that we support in LA are clients of the Immigrant Defenders Law Center. Our focus has very much been on supporting them and helping them comply with the terms of their release and helping them navigate that process as they are adjudicated. The most important thing that we do is give them rides to their ICE check-ins, their ankle monitoring check-ins, or their court appointments or meetings with their lawyers.
Some families just need a little bit of help, like rides once in a while, and other families a lot more. We also organize a meal service provider to get people to donate $20 and that $20 covers the whole meal. We're able to provide a chicken dinner to each of these families within range once a week for the next several weeks. Sometimes volunteers have actually gone shopping for groceries for them.
What are the biggest challenges, especially working through an administration that frequently changes its directives, doesn't always communicate court dates, and doesn't offer transparency over its process?
Living in another country is difficult when you don't speak the language. Living in another country is even more difficult when you have suffered through a detention and separation, where you're very untrusting of the system. The ICE system makes it even more difficult.
One of the problems that we encounter all the time is that there are three things that a person who is released might have to comply with, the terms of their removal proceedings, which is like parole: they have to show up to court, they have to check in with ICE periodically. If they have an ankle monitor they have to go in and check-in in person with the ankle monitoring company and the company has to come in an inspect their home, usually every week, but it depends on each particular case.
One family, when they were released from Texas, they said they were going to Oakland, but for some reason their court dates and their check-ins were never moved. They didn't know what to do, because they couldn't go back to Texas. The only way to do any sort of change of address is to go into the building, which is very intimidating if the last time you encountered government officials they separated you from your child and detained you. This father, we took him into the ICE building. I just Googled and looked up the address of one building in San Francisco, so I got a volunteer to take him to that one address. They got there and there was a sign that said it was only open on Tuesdays and Thursdays and it turns out that there was this completely different address that was labeled on their website as a mailing address. So they went there and then he was able to check-in.
There are things like that that just make it very complicated and frustrating. We helped him file a change a change of venue, the paperwork is confusing for anyone, let alone when you don't speak the language. It took a while to process; we had to overnight to it. His court date was Tuesday but the Friday before we were on the phone with him, calling the clerk at the judge's office over and over again until we finally got through to confirm that his court date was actually moved.
Who are the volunteers and how do you find out about the various hearings and coordinate them?

Our network is mostly mothers. I found this group through a mom's circle. We have about 5,000 followers on our main Immigrant Families Together Facebook page. In addition to that, there are four regional Facebook groups. We use the groups mostly for volunteer issues. One of the things we've done is, when we identify families, we create an Amazon registry for them and publicize the registry in the groups and people will come together to buy the family towels and blankets and other things.
Because of the sensitive nature of who we are serving, when it comes to actual volunteers to go to meet someone at their house or to bring them a meal or to pick them up, they have to be vetted. The law firm that we work with, Immigrant Law Defenders, is also run by a mom in my neighborhood. It's very much a women-oriented network.
One of the things that really distinguishes us from a lot of other organizations is that our philosophy is one family at a time. You can do something for the family—you can pay this person's bond or you can get this person to their court hearing, or you can buy this person specifically a blanket—things are very direct and there's no overhead. I think that people like that. This crisis was just so overwhelming and so horrible that [you can feel] I contributed today directly to this family being together a little bit longer.