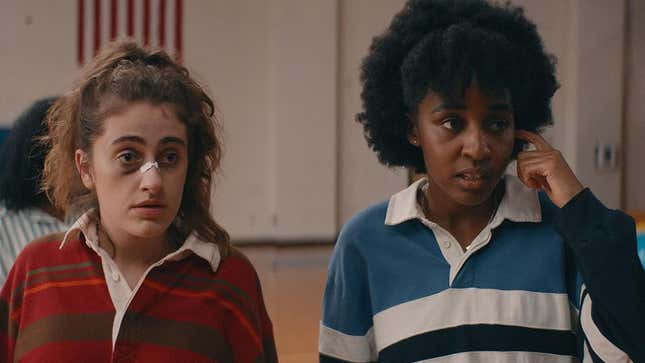 After the runaway success of indie darling Shiva Baby, it was unclear how debut director Emma Seligman and breakout protégé Rachel Sennott might ever outdo themselves, comically speaking or otherwise. But along came a kernel of an idea so horny, so feral, and so lawless that the neuroses of Seligman's first film shriveled up like a pair of balls in the Atlantic in comparison. Thus, Bottoms—a film about two queer high school students who start an all-women's fight club in hopes of seducing the school's hot cheerleaders—was born, and the teen movie genre was never the same.
Mica Burton's Rebellion Against Her Dad, LeVar Burton, Was Being a 'Star Wars' Fan
Starring Sennott and The Bear's Ayo Edebiri, Bottoms draws upon classic teen coming-of-age comedies like Wet Hot American Summer, Bring It On, and Jennifer's Body and then twists them into a surrealist fever dream flooded with angry teenage hormones and buckets upon buckets of bright, cherry-red fake blood. Together, Sennott's PJ and Edibiri's Josie navigate the everyday horrors of high school while falling prey to the siren calls of their It girl crushes, Isabel (Havana Rose Liu) and Brittany (Kaia Gerber). But it's the film's balance of innocence without infantilization and horniness without hyper-sexualization that renders Bottoms an instant classic.

Integral to that balance was Natalie Christine Johnson, the film's makeup department head, who worked alongside Seligman to construct a world of gay teen fighters. See-sawing back and forth from bare-faced beauty to unrelenting gore and photorealistic wounds, Johnson sat down with Jezebel to chat about blemishes, bruises, and all of that blood.
The following conversation has been edited for length and clarity.
What was it about this script that sparked something in you?

Well, first, I love high school movies, even as an almost 40-year-old woman. But then I read the script, and the whole lesbian Fight Club, the comedy, the one-liners…I needed Emma Seligman to fall in love with me.
How does that meeting go?

We literally just geeked out about '90s movies and everything in that genre: Can't Hardly Wait, Jawbreaker, She's All That, and obviously, Fight Club. Emma really wanted this movie to stand alongside those films, but she wanted this generation to have its own teen movie to cling to.

When it comes to the aesthetics of the film, we have a few different shifts going on from bare faces to a sort of gag-worthy bloodiness. How did you arrive at these two polar opposites? 

We wanted all of the cast to look like real people—that was number one—while still giving you hints of the cliques that everyone was in, just a little taste of familiarity and nostalgia. I clearly took that sensibility to the Fight Club setting, too. The makeup needed to match up with the stunt choreography and the wardrobe…I wanted everything to be married so perfectly.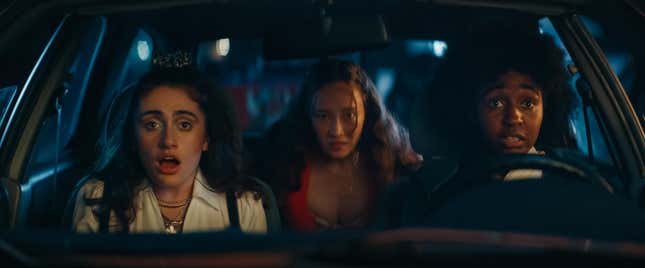 How did you use makeup to communicate details about each of the cliques?

Take PJ (Rachel Sennott) and Josie (Ayo Edibiri). We wanted them to stay pretty natural to communicate that although the confidence is there, they're inexperienced, young girls. Brittany and Isabel were our "it girls," so their makeup veered more cutesy: They have their lip gloss on, you can tell that they wake up every morning and do their hair and makeup, even though it's still not over-the-top. And then, all the other girls—one has a little more of a punk rock look, one doesn't care so much…I really wanted to touch on every genre of kid you would see in a high school lunchroom.

As a makeup artist, you have a wealth of knowledge in the horror genre, but there's a version of this film that didn't have to be this bloody (although I loved that it went there). When strategizing with Emma, how did you decide to go for full-out, surreal blood and gore?

That was all Emma. (She laughs.) She was like, "I want all the blood," especially in that last scene. If she could have gotten more blood, it would have been there. It was almost a Kill Bill vibe with the brightness of the blood. I mean, when Emma wants blood, you just give her blood!

This is a brighter cherry red blood as opposed to a more realistic hue of human blood?

Yeah, we played around with the color to brighten it up as much as we could. It's one of my favorite bloods that I've used, called the Fleet Street Fresh Drying Blood, and it helped portray a bit of a dream aspect to the film. I brought some visual realism into the project with the tracking of the wounds (bruises progressing as they would naturally over the course of the film), but all of that blood was intended to create an element of fantasy.

Still, the wounds and gashes needed to represent how inexperienced fighters would fight: scratches on the face from girls just going at you, hair pulling, technically poor punches. So you'd see the redness of the knuckles, sometimes they'd split. But for the most part, it was a lot of bruising because these aren't expert fighters. They weren't in a basement at a bar with money on the line; they were in a gym, and they were playing a part to get to the end goal, which was the cheerleaders.

The characters in Bottoms feel as though they could exist in the same universe as Euphoria, but the makeup in Euphoria trends hyper-sexualized, whereas the makeup in this film feels true to form for 17-year-olds. Was there a conversation about how to portray their unrelenting horniness while still having them look like teenagers?

My whole life watching movies, it's been my personal pet peeve when I see an actor playing a high schooler who is clearly 40. I really wanted them to look age-appropriate, and obviously, it is a sexualized script. The ultimate goal is to have sex with cheerleaders at the end of this by learning how to defend themselves. But it's almost funnier seeing someone age-appropriate talk like that because it's relatable.

Like horny 15-year-olds on AIM at two in the morning pretending they have game. You also added natural blemishes to communicate that they've got hormones raging, right?

Right, just adding a little redness here and there where you'd actually break out as a hormonal teenage girl.

Then, on the flip side, how did you use aesthetics to enable the actors to express the fullness of their desires? Because to me, it seems that desire is driving the plot of the entire film.

When the cheerleaders were in their uniforms, for example, we made sure they always had a red lip, which totally changes their vibe. But also the fair scene where PJ does her own makeup: It's her interpretation of what a teenage girl should look like. She's got a heavily contoured face, cut crease, splotches of mint green in her tear ducts…almost like she's trying to incorporate every TikTok trend and smashing them all together. When Rachel and I talked about that particular look, she was like, "I want to look insane."

It's sweet because PJ's clearly trying so hard to impress her crush, Brittany. It's just not her.

Exactly. And that's such a moment I think we could've all related to as young girls. If you were interested in makeup and saw something on TV, you'd try to do it yourself and wind up looking like a crazy person. Glitter everywhere. Why was that ever a thing?! But back then, you were like, "I am it."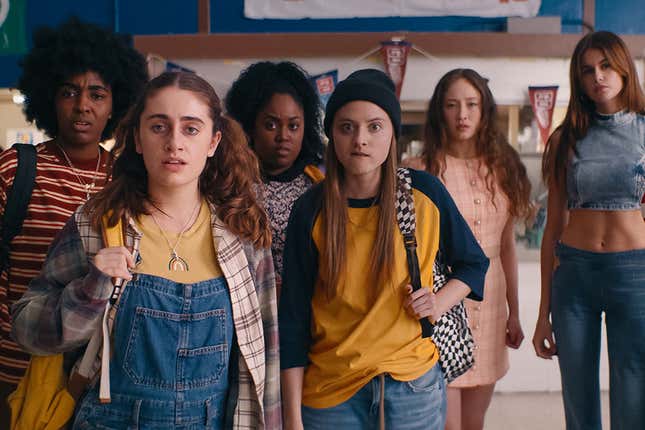 In terms of the queerness of the film, I had read an interview with Emma in which they said, "I really just wanted to see superficial, horny, messy teenage girls who happen to be queer." How did you ensure that the actors looked authentically queer without leaning into a caricature of queerness?

My perspective on this is, "You are who you are." A lash or some lipstick is not gonna change that. It might make you feel a little more beautiful if that's your vibe, but for the most part, queerness didn't define the characters visually.

Rachel said in an interview, "I think no one actually thought that we were gonna make it bloody." Why might it be strange to assume this women-led film would be so bloody?

I mean, it's such a big buildup. You're seeing all the fighting montages, some punches, blood, spit, all the typical stuff. But then you get to that football field, and it suddenly becomes another movie. It's raining blood. Emma wanted to shock everyone at the end. I mean, everyone still gets the girl, so it's cool.