Not only have the shadowy hedge-funders backing Fordham Law professor and anti-corruption advocate Zephyr Teachout's opponent in her bid for Congress so far declined her invitation to debate, now national Republicans—backed by those same financiers—are getting involved in the upstate New York race.
The Congressional Leadership Fund, a super PAC endorsed by the House Republican leadership, announced that it would spend $10 million in its first wave of spending on various House races—including $300,000 in New York's 19th District. In a statement announcing the funding, CLF said:
The initial independent expenditures include nearly $7.4 million in broadcast and cable television advertising reservations. CLF will supplement this TV buy with robust online advertising campaigns. Partnering with 0ptimus and Deep Root, CLF is utilizing data analytics programs to help advertising buys reach voters more accurately and efficiently. Additionally, CLF will initiate new ground game operations, with $1.5 million slated for districts in California and New York.

"This is the first wave of efficient, strategic ad reservations," said Mike Shields, President of Congressional Leadership Fund. "We will continue to add to these buys in the coming weeks, including more television advertising, digital advertising, and further ground troop investments. Our historically strong fundraising has put us in a position to not only protect Republicans in tough races, but also to take the fight to Democrats on their turf."
Super PAC spending helped Republican candidate John Faso secure the party's nomination in a contested primary: Together, secretive Republican financiers Paul Singer and Robert Mercer contributed $1.1 million to New York Wins, which spent $905,268 against Faso's Republican opponent. The rural district lies between New York City and Albany; Singer lives in Manhattan and Mercer lives on Long Island.
Singer, whose hedge fund, Elliott Management, netted $2.4 billion from Argentina's debt crisis, contributed $1 million to the Congressional Leadership Fund in June, FEC filings show, as did multinational oil giant Chevron. (Chevron previously contributed $2.5 million to the PAC in 2012 and $1 million in 2014.) Teachout has advocated for a statewide ban on fracking and vocally opposed the Keystone Pipeline, which Chevron—among other energy companies—aggressively supported.
G/O Media may get a commission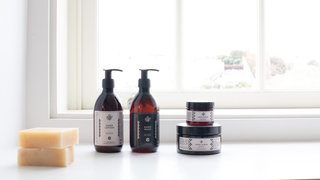 Exfoliate and Hydrate
The Handmade Soap Company
In 2014, Chevron spent $3 million supporting four candidates for city council in the small, working-class city of Richmond, California, where the company employed 1,200 at a large refinery. All four candidates were defeated, despite Chevron outspending the left-leaning Richmond Progressive Alliance by a 20-1 margin.
Meanwhile, Faso's campaign just released this ad.
Am I right, ladies?