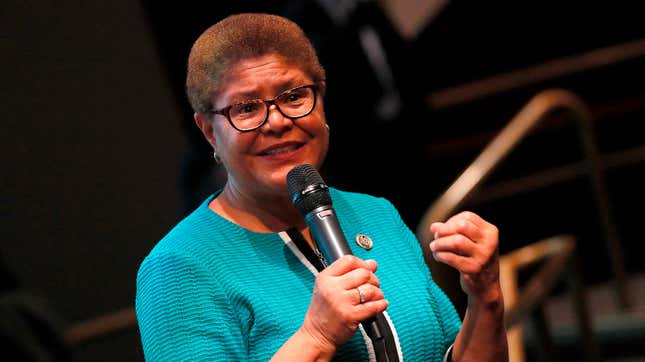 The House has finally passed the reauthorization of the Violence Against Women Act. The bill, which has been reauthorized three times with bipartisan support since 1994, expired in February and is critical for funding services that aid victims of domestic violence, sexual assault, and stalking.

The 2019 draft includes provisions that would close the so-called "boyfriend loophole" that enables abusive ex-partners and convicted stalkers to buy firearms. The National Rifle Association urged Republicans to vote against VAWA and has protested the amendment, telling Jezebel that the provision is "a smokescreen for its real goal—banning firearms ownership."
The bill also includes two amendments that aim to protect indigenous women and girls, who face the highest rates of sexually assault in the country. The rate of murdered and missing indigenous girls and women constitutes a crisis, yet there is currently no official way to track the number of missing indigenous women and girls. The amendments, introduced by New Mexico Rep. Deb Haaland—the first Native American woman in Congress—would establish victim advocate services for Native Americans in state courts and improve accessibility of the Tribal Access Program (TAP) criminal information database to protect victims of domestic violence. And, despite Republican attempts to introduce anti-transgender amendments, the bill also ensures protections for trans people.
"While we have made significant progress, we still have much to do," said California Rep. Karen Bass, the Congressional Black Caucus chairwoman and bill's co-sponsor. "Movements like MeToo, across this country, demand Congress' attention to better deal with the gaping holes left unfilled in current law around the issues of domestic violence, dating violence, sexual assault/harassment, and stalking."
Ultimately, the measure passed with a 263-158 vote, including the support of 33 Republicans. However, the victory may be short-lived. According to Politico, "The GOP-controlled Senate is expected to ignore the House-passed bill and try to come up with its own plan." The battle for basic rights and protections continues.