Five people, including House Majority Whip Steve Scalise (LA), were shot Wednesday morning during a Congressional baseball practice. According to reports, a gunman walked up to practice and opened fire on the baseball practice in Alexandria, Virginia.

According to Representative Mo Brooks (AL), Scalise, who was standing on second base, sustained a "hip wound." Brooks also told the Associated Press that numerous people, including two law enforcement officers, were hit by the gunman. Scalise is reported to be in stable condition, as are the two Capitol Police offers who were hit.
In an interview with MSNBC Senator Rand Paul (KY) recounted a "rapid succession of shots...five or ten shots" and saw "Representative Scalise shot but moving." Paul also said that he saw staffers laying on the baseball field while bullet shots hit the ground around them. Paul noted that the shooter reloaded and that without the quick response of the Capitol Police, more would have been injured or died. "Had they not been there, it would have been a massacre," Paul said.
G/O Media may get a commission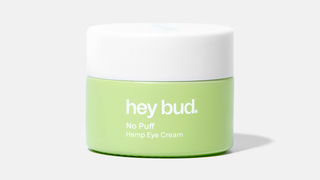 15% off
Hey Bud - No Puff Hemp Eye Cream
Mo Brooks described the "trail of blood" he saw on the baseball field as Scalise and staffers tried to crawl off the field. According to Senator Jeff Flake, who was also at the practice, the shooting lasted around ten minutes.

Brooks identified the shooter as a "white male, armed with a rifle." Representative Ron DeSantis (FL) told Fox News that the shooting was politically motivated. The Alexandria Police said that they had the suspect in custody and that the shooter is "not a threat."
In a statement, President Trump said:
The Vice President and I are aware of the shooting incident in Virginia and are monitoring developments closely. We are deeply saddened by this tragedy. Our thoughts and prayers are with the members of Congress, their staffs, Capitol Police, first responders, and all others affected.
Update: Representative Roger Williams (TX), confirmed that a member of his staff was shot and "receiving medical attention."
Former Arizona Congresswoman Gabby Giffords, as well as numerous members of Congress, shared condolences on Twitter:
Additionally, the House Committee on Natural Resources as decided to postpone a hearing scheduled for later today the SHARE Act (Sportsmen's Heritage and Recreational Enhancement Act), legislation that would make it easier for gun owners buy silencers.
Update, 9:50 a.m: Ohio Representative Brad Wenstrup, an Army veteran who served as a surgeon in the Iraq war between 2005-2006, told CBS that it "felt like I was back in Iraq as a surgeon." "Steve [Scalise] was conscious and okay," he added.
The Washington Post reports that George Washington University Hospital has two patients, both of whom were involved with the shooting, in critical condition.
Update, 9:55 a.m.: Steve Scalise has released a statement reaffirming that he is in stable condition and undergoing surgery for a hip injury:
Update, 10:05 a.m.: The White House has canceled all of today's scheduled events and the House has canceled all votes.
Update, 11:00 a.m.: The shooter has been identified. According to the Washington Post, James T. Hodgkinson, 66, has been named by law enforcement. Hodgkinson, from Illinois, is the owner of a home inspection business.
Update, 11:45 a.m.: In a brief address, President Donald Trump praised the "heroic" Capitol Police, first responders, and Representative Steve Scalise. Trump said that the shooter, identified as James T. Hodgkinson, is dead.
Trump said that "Melania and I are grateful for the heroism [of the Capitol Police] and praying for the swift recovery of all of the victims," and described Scalise as a "patriot and fighter." In his uncharacteristically short address, the president called for unity, offering the reminder that "everyone on that field is a public servant" (one of the injured, Matt Mika, is not a public servant but a lobbyist for Tyson Foods). "We may have our differences but we do well in times like these to remember that everyone who serves in our nation's capital...because they love their country," Trump said. "We are strongest when we are unified and work together for the common good," he added before imploring Americans to "remember those who serve and keep us safe."
Update, 12:00 p.m.: NBC News reports that James Hodgkinson was arrested in 2006 for assaulting his girlfriend.
Update, 12:30 p.m.: In an address to the House, Speaker Paul Ryan said, "We are united. We are united in our shock, we are united in our anguish."
"An attack on one of us is an attack on all of us," Ryan said to an enthusiastic round of applause. Ryan named David Bailey and Crystal Granier as the two Capitol Police who were shot this morning. He also thanked first responders.
Senator Bernie Sanders released a statement denouncing today's shooting. According to multiple reports, the shooter volunteered on Sanders's campaign in Illinois. "Violence of any kind is unacceptable in our society and I condemn this action in the strongest possible terms. Real change can only come about through nonviolent action, and anything else runs against our most deeply held American values," the statement read.
Update, 1:00 p.m.: In a full statement, Gabby Giffords echoed Paul Ryan's words saying that the shooting was an "attack on all who serve and on all who participate in our democracy." "I know the courage it takes to recover from a shooting like this, and I know Steve and everyone there this morning have such courage in great supply."
Update, 1:45 p.m.: The Daily Beast details Hodgkinson's long history of domestic violence, including a 2006 arrest and an allegation that he abused his daughter on at least one occasion. It appears that all of those charges were dropped. As of this year, it appears that Hodgkinson had a valid firearms license. Hodgkinson was also a "prolific writer of letters to the editor," outlining his intense dislike for Republicans and their policies. On his now deleted Facebook page, Hodgkinson shared his anti-Trump views and vocalized his support for Bernie Sanders.
Update, 2:35 p.m.: An update on Scalise's condition from the hospital where he underwent surgery:
This is a breaking news post and will be updated.